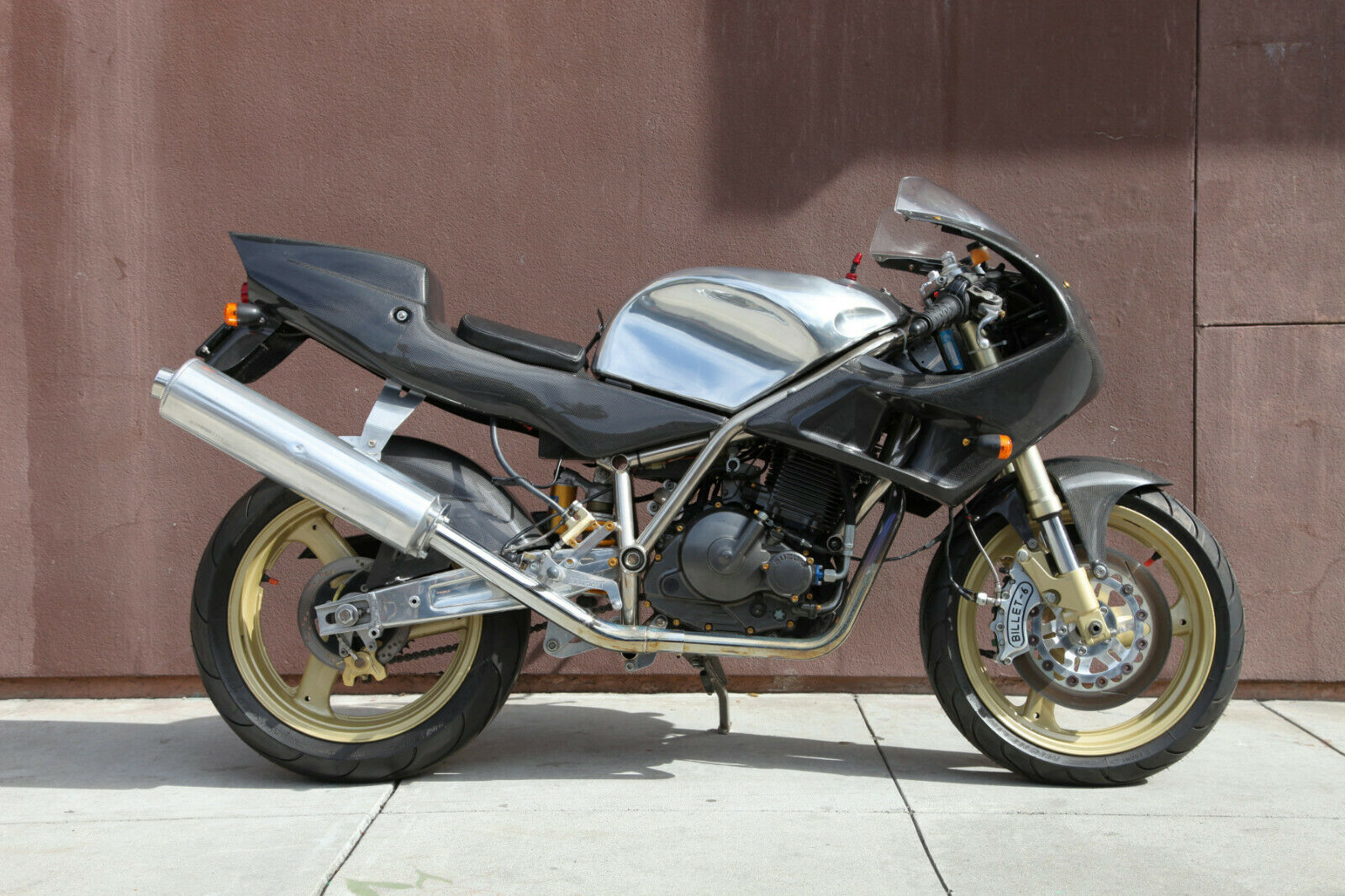 You don't need to get caught up in the UK drama as it steams towards its messy divorce with the European Union to enjoy the fruits of Great Britain. And it doesn't matter if you cheer for the Conservative Party or the Labour Party, or if you even know who the Prime Minister is – what we have here today totally eclipses that minor kerfuffle. For here we have a US bred, California registered, Harris Magnum 4 chassis kit built out into a full bike. Think of Harris (or Spondon or Rickman, for that matter) as an English variant of the early days of Bimota – frame kits comprised of the chassis, suspension and bodywork sold to buyers who supplied donor motorcycles and the labor to build out the full bike. The resultant machines were nearly always more performant than the donor packages, and always very rare. In this particular case, we have never seen a Harris Magnum 650 offered for sale – much less right here in North America. What a cool opportunity!
As a frame builder, Harris is probably more well known for their Superbike level chassis supporting big bore machinery. But they have been involved in the two stroke game (both 250 and 500), offered frames for Ducati builds, as well as had some success in TT racing. No beginners to the racing scene, Harris products are drool-worthy and relatively exclusive. There is a passion in creating something as significant as a motorcycle, and the Harris website has all you need to fuel that fire. And today's specimen could definitely light a few fires. Starting with a Harris Magnum 4 kit, this build-out results in a super single sport bike; undoubtedly light and agile, with loads of low-down torque. This kit must have been a complete custom order, as generally the Magnum 4 chassis are aimed at GSX-R750 and 1100 motors, not lowly DR mills. There is a considerable size difference between those lumps, which could explain why this chrome moly chassis does not resemble any Magnum 4 offering I have ever seen. But the end result looks great, and the build has Harris Performance parts sprinkled throughout. Even the Harrison Billet-6 braking components are UK sourced, making this bike a true ex-pat.
From the seller:
Harris Performance company in the U.K. manufactured the frame, bodywork, tank and other parts of this motorcycle as part of their Magnum 4 series. The Magnum 4 series was designed to house Suzuki oil cooled engines. This particular frame kit was designed to accept Suzuki DR 650 engines. The perimeter frame consists of chrome moly tubes. The swing arm is of rectangular section polished aluminum. The tank is polished aluminum. All body work is structural carbon fiber. The rear shock and spring is Ohlins. I think the front fork is Suzuki. Wheels are Suzuki. Based on the engine number, I estimate the Suzuki DR 650 engine was manufactured in 1991 or 1992. The Harris frame number is TMRSR004, so perhaps this is the fourth frame kit they made of this type. I don't know the year the frame kit was manufactured, so I guessed 1993 when I titled and registered the bike. I have never seen another Harris Suzuki DR 650 motorcycle.
More from the seller:
This motorcycle has a California Special Construction VIN sticker because Harris is not listed as a motorcycle manufacturer in the California DMV database, although Harris did and still does manufacture complete motorcycles as well as frame kits. For information about Harris Performance, see www.harris-performance.com. This motorcycle uses unique and exotic Harris manufactured parts throughout. This bike has no paint other than on the Suzuki wheels and front fork. All else is polished aluminum or unpolished billet aluminum or unpainted carbon fiber. This bike handles incredibly well, which is not surprising since Harris is famous for the fantastic handling which their frame designs provide. The Suzuki DR 650 engine is a single cylinder engine which is counter balanced and air and oil-cooled. Due to its counter balance design, it is quite smooth. This bike is electric start and everything works on it. The bike is fully sorted and needs nothing: you can get on it and ride it and enjoy it. It is very quick, fun, unique, and gorgeous: I ride it around San Francisco and everywhere I go bikers and non-bikers ask about it and comment on its beauty. The bike has a California title and current registration. Mileage is unknown. There are 52 miles on its new speedometer.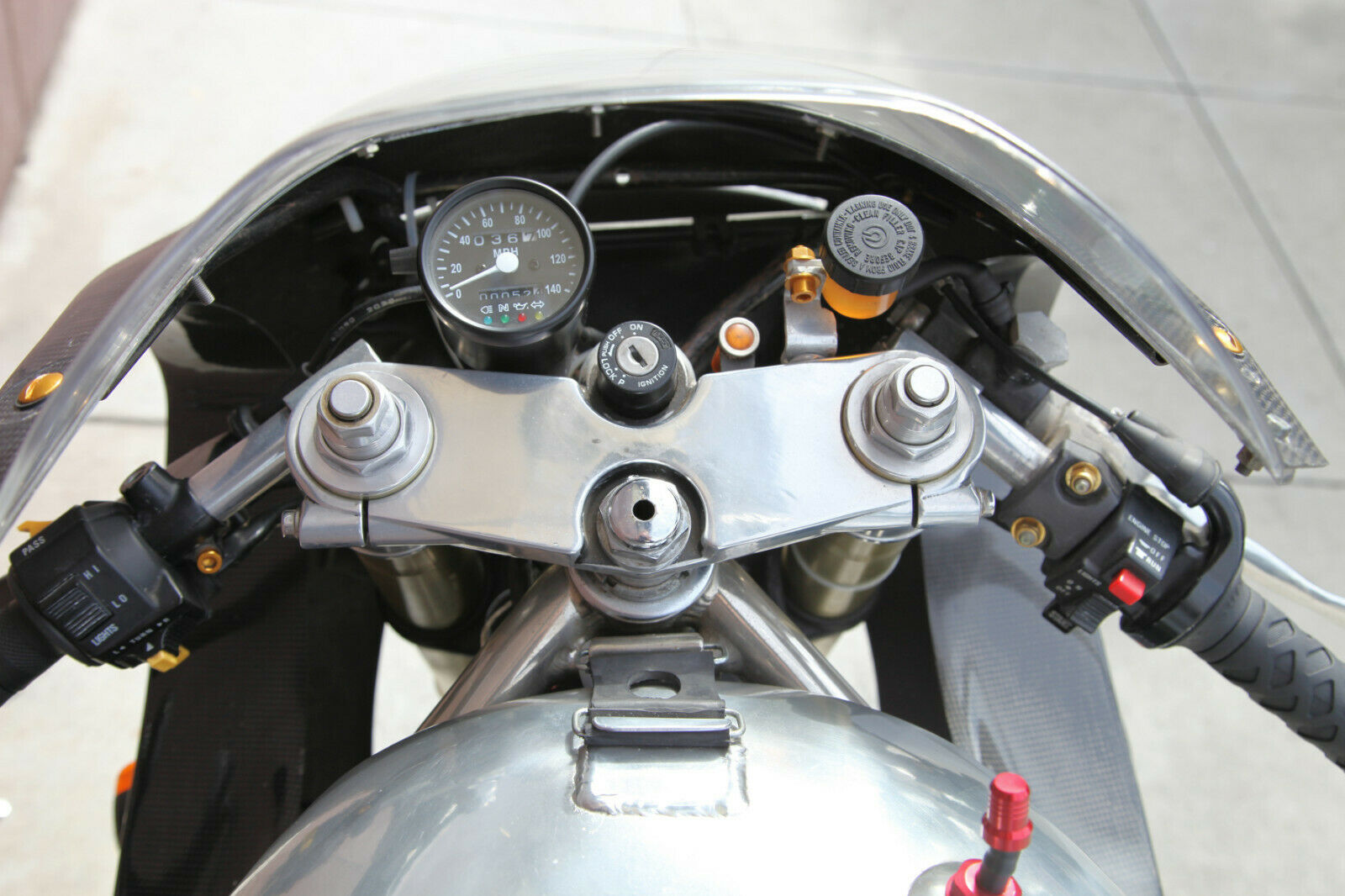 Current prices for Harris frames start near $3k territory – that's bare frame with nothing attached, and not counting export fees. Start looking at some of the pieces on this bike, and you can see how quickly the cash starts to fly. When you are building a dream, you are generally not building yourself an inexpensive motorcycle. And that is why the asking price for this rare little gem is a relatively steep $10k. It looks to be an amazing motorcycle, and I, for one, would love to ride it. But it begs the question of value. This is not a well-known kit model like a Bimota KB2 Laser. And while the Magnum 4 (or any Harris chassis, for that matter) is a well-regarded piece of kit, the sum of the parts is a relative unknown. You have the opportunity to own what literally nobody else will ever have. Even if you see another DR 650 kit bike yours will be different due to the choices made by the owner during assembly. This leads to another possible problem; what you are looking at is not exactly your "wash-n-wear" motorcycle experience. Sure, the Suzuki one lunger is going to be easy to find parts for, but nearly everything else on the bike is custom. And although Harris Performance is still around (now joined with the Royal Enfield group as part of Eicher Motors Ltd based in India), stock of parts is limited as nearly every kit they created was custom. This is not to scare potential buyers away – but rather to ensure readers have a healthy understanding and engage in a bit of a gut check in terms of self reliance.
I am a huge fan of specials such as this. The entire motorcycle industry was pushed along by the likes of Baker, Bimota, Egli, Foale, Harris, Rickman, Spondon and many others. The OEM bike builders would not be at the level where they are today – you would not be able to purchase a street bike that handles better than racers of not more than 5 years ago – had specialists not responded to the need for chassis solutions that worked. The difficulty in low-volume specials is establishing value and provenance. The seller seems to know about this bike and can likely help trace back its origins – although I was under the impression that Harris frames started with HR and then digits, and am unfamiliar with the TMRSR ID nomenclature. Perhaps I am thinking of the older vintage units (Magnum 2 & 3, and F1). If we have any Harris Performance aficionados in the gallery please do chime in! As for value, with so few units available – and only ONE known DR 650 configuration – this is going to be a true test of the market. It's my estimation that you can't build another one for the price listed here (especially if you count labor – even if it is your own), and this one appears to be complete and registered in California. That is a golden ticket for imports, to be sure (and no additional Brexit vote needed). Check it out here, and then share your thoughts in our comments section. Do you like the custom frame builder specials, or should we stick with OEM hardware only? Good Luck!!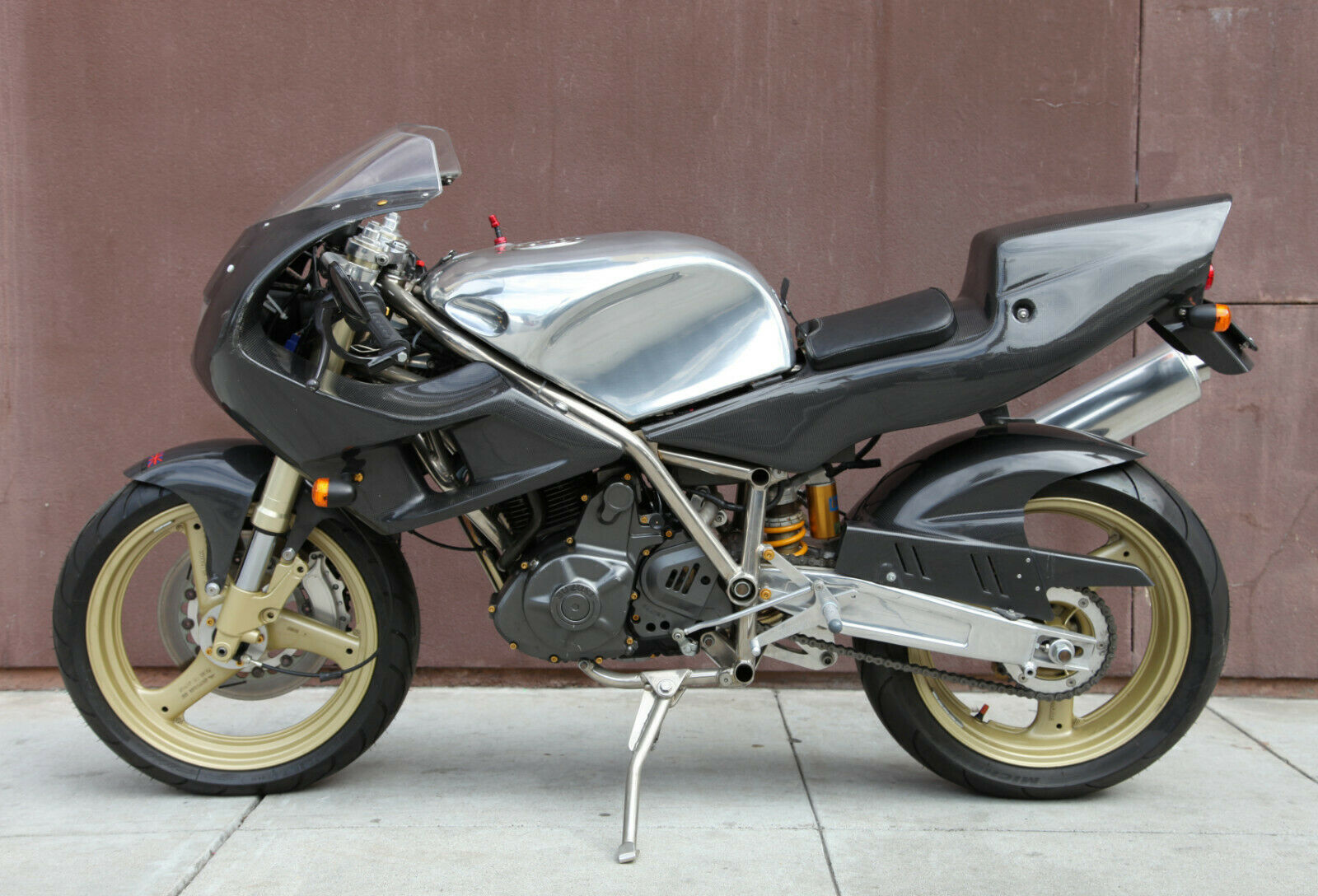 MI