Location: Sutton, West Virginia
Mileage: 14,775
Price: Auction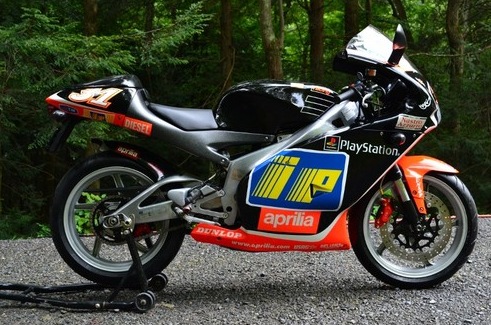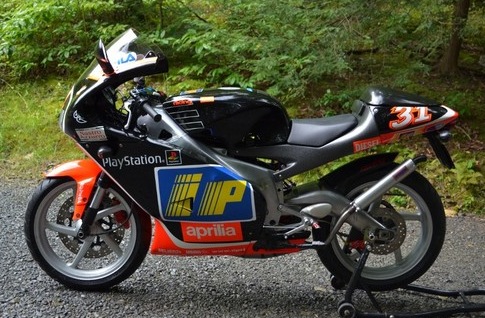 It pretty much drives me nuts that we don't get any cool street legal two strokes in the U.S. The rest of the world gets to cruise on TZR's and NSR's and RGV's and it's just not fair. So, in order to get your hands on any of these types of bikes you have to use resources like RSBFS and hope to get a bike that's titled. Well, they don't come along everyday, but here's a shot at one for you. While 500's and 250's are certainly desirable in the two stroke world, I think a 125 can be an entertaining option.
Here's the seller's description-
I have for sale a Street Legal, Titled 2000 Aprilia RS125 that is in excellent mechanical condition. This bike is a UK market model which was imported from Northern Ireland a few years ago. The engine has a new cylinder, new piston and rings and runs great. It has new Pirelli tires with zero miles on them, a new chain, new front brake caliper and pads and a new Tyga exhaust system. It also has stainless steel braided front and rear brake lines. The body panels are Tetsuya Harada replica parts which I bought to replace the original ones because I liked the paint scheme better. These body panels were previously used on another bike, so they have some scuffs and scrapes and some fading as can be seen in the photos. I covered the original IP decals on the main body panels with some replacement decals because of scratches in the originals. All other decals are originals and the bike looks very nice and unique. This bike has a polished aluminum frame and swingarm, and the build quality is very nice. The engine is a two stroke with oil injection and an electronic power valve. The frame, swingarm, forks, wheels and all of the chassis are straight and true and everything is as it should be. This bike is not museum quality, but is very clean, nice and mechanically solid and needs nothing. It has a clear street legal title which is also a big bonus. This bike has always been used on the street and is not a converted race bike. Overall condition is very nice and anyone looking for a street legal two stroke 125 will not be disappointed. I also own an RS 50 with a big bore kit and numerous upgrades, and it's a great little bike, but I can tell you from personal experience that it is not even in the same league as this bike.  The 125 is a real motorcycle that is capable of nearly 100 mph and has a chassis to match the engine performance.  This bike is also listed for sale locally, so I reserve the right to end the auction early in the event of a sale. Please feel free to contact me with any questions you may have.
And photos-
The seller freely admits that this bike is not a bone stocker. Plastics have been changed and decals have been added to make things a little better looking. Engine has received maintenance and has a new cylinder, piston and rings and the seller says it runs great. The rest of the bike seems to have had solid maintenance too, which is important considering the mileage. And of course, it comes with a title, a big bonus for a two stroke here in the States.
Don't know where the reserve is on this bike, so you'll have to keep an eye on the auction and see where it goes. If you're looking for a fun bike that will handle great and not be like everything else out there, then take a minute and give this auction a look!
-RN