Warning!
This post is in our archives. Links in this post have been updated to point to similar bikes available to bid on eBay.
Sometimes, looking at older sportbikes, it's hard for those raised on GSX-R1000's and R1's to understand what all the fuss is about. I mean, on paper, the Bimota SB2 is pretty unimpressive: 430lbs, 743cc's making 75hp, and a 130mph top speed. But at the time, this bike was at the bleeding-edge of sports motorcycle design, combining the best ideas of the day in terms of aerodynamics, frame, and suspension design.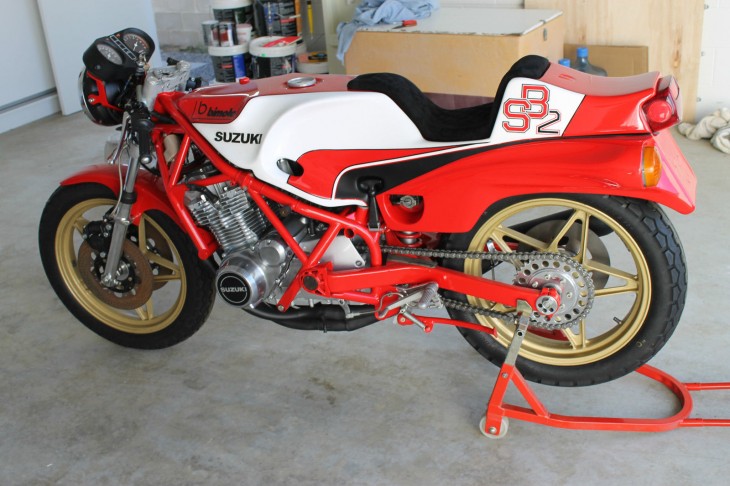 Although they've been in-and-out of bankruptcy for decades, Bimota is still the first name in exotic Italian motorcycles, and recent products reflect a less-focused diversity that includes something for everyone. And by "everyone," of course I mean "rich people."
The name "Bimota" is derived from the names of the three company founders: Valerio Bianchi, Giuseppe Morri, and Massimo Tamburini, who actually started their company to work on heating and air-conditioning systems. In 1973, they built their first motorcycle, designing a light, stiff frame around a Honda 750 four-cylinder to create the HB1 in 1973.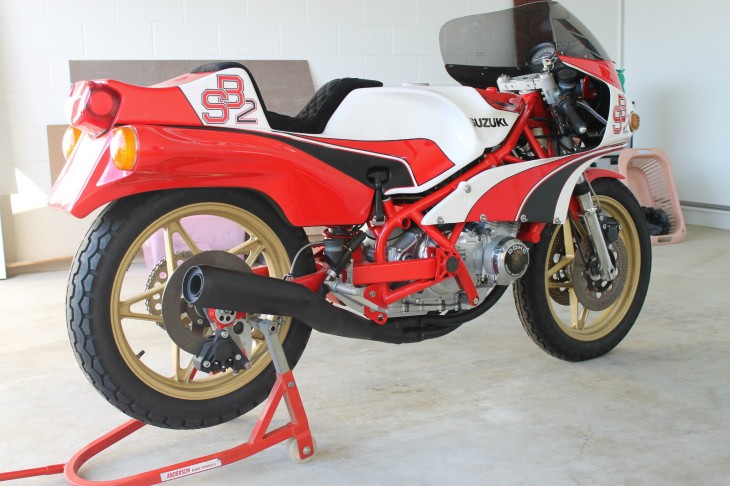 With only one, notorious exception, Bimota used engines from established manufacturers in their bikes, although they generally improved power somewhat with revised exhausts and tuning, and the alpha-numeric names of the bike will give you a clue as to what powerplant is hiding within: "H" for Honda, "D" for Ducati, "Y" for Yamaha, "K" for Kawasaki, "B" for BMW, and "S" for Suzuki. Obviously. So the SB2 was the second Bimota powered by a Suzuki engine.
If you're used to the Transformers-style angularity of current Bimotas, the swoopy curves of SB2 might be a bit of a shock. But Bimota built its reputation for innovation and cutting edge design with machines like this. Powered by Suzuki's reliable GS750 engine and 5-speed transmission, the SB2's beauty wasn't in the powertrain, but in the exotic suspension and frame. Check out that swingarm pivot, designed to keep chain tension constant throughout suspension travel.
The SB2 was almost impossibly advanced for the time and featured a host of race-inspired details: the aluminum and fiberglass one-piece tank and tail-section is held on by simple rubber quick-release straps: disconnect the fuel line, unplug an electrical connector, and it's off, allowing access to the engine and revealing more of the gorgeous trellis frame and monoshock rear suspension.
From the original eBay listing: Bimota SB2 for Sale
This motorcycle has been fully restored including an engine re-build. The re-build was completed by an experienced Suzuki trained mechanic. The engine was found to have a Yoshimura 850cc kit in it with high lift cams and larger valves with double valve springs. A previous owner may have lightly ported the intakes. The pistons, gearbox and clutch indicated an easy life but extensive carbon deposits pointed to a lot of slow use. New rings and bearings where needed were used.

The engine idles smoothly and runs quietly. The exhaust is a bit restrictive but will not cause registration problems. The front suspension may be soft for some heavy riders.

The rear de-carbon shock was rebuilt by SOS Sydney and the chassis, bodywork  and wheels were stripped and re-painted. The seat was done to original specs in NZ. The engine cases were stripped of paint and painstakingly cleaned before re-painting. The dash is NOS but a later one from the original which is available. An oil cooler and braided lines come with the bike but are not fitted.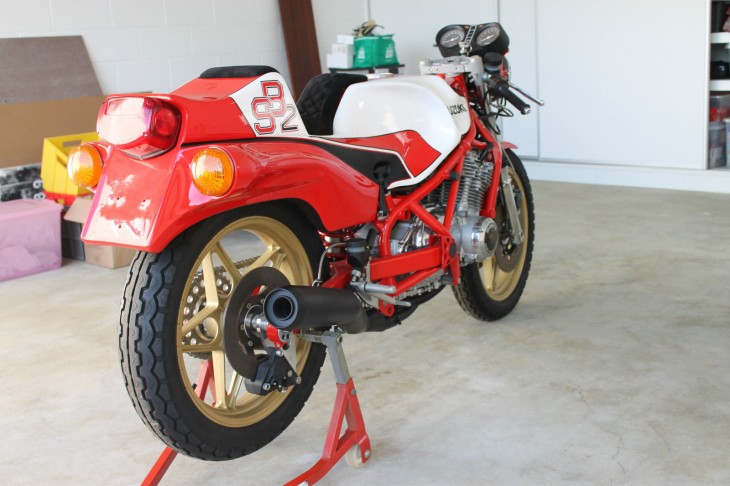 Interestingly, the listing does not mention the bike's year of manufacture, although they were only made between 1977 and 1979. Reports vary as to how many were actually made, but supposedly no more than 140 SB2's were built, making this extremely rare and very exotic. Parts to keep the nearly stock Suzuki GS750 engine and transmission should be very easy to come by, and plenty of hop-up parts exist for anyone looking to make a fast bike even faster.
There are six days left on the auction, with no bidders at the AU$20,000 starting bid. These are some of the most collectible and desirable Bimotas ever built, and I'd expect plenty of folks are waiting in the wings to bid on this one.
-tad