Sorry not Colin Edwards, but a turbocharged Kawasaki from Texas – a sharp restoration of the classic 1985 model with sparkling cosmetics and performance mods.
Kawasaki came late to the gas-crisis turbo developments, but gave us the sportiest and least compromised model.  On boost the 738cc mill makes 112 hp and 73 ft.-lbs. torque, using fuel injection and just 7.8:1 compression.  The engine scoop hides the small turbocharger, which helped push the GPz through the traps at 136 mph.  GT style 18-inch wheels are fitted, along with air-adjustable suspension front and rear.  The frame is cold steel but the fairing is a hot and shapely red.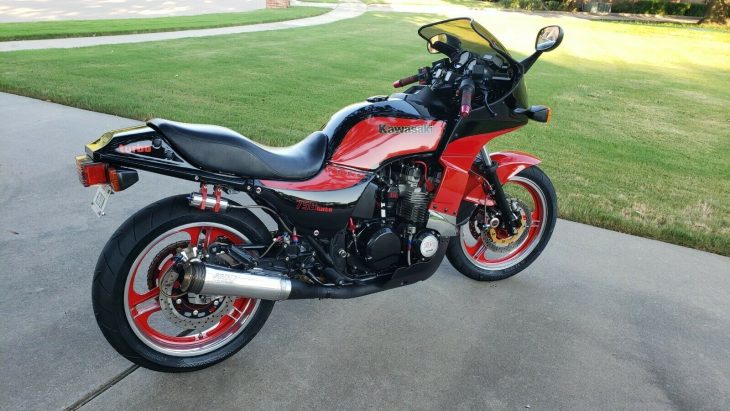 Too much time has elapsed to worry about ownership history on this Turbo, but the odo was apparently reset during the restoration.  Even with all the work done, the appearance is not far from stock.  The turbo in the exhaust system calms the normally noisy Supertrapp muffler.  Comments and a long list of updates from the eBay auction:
It has been tastefully modified, close to a resto-mod but not too much that its originality is lost. I have the original rear fender, grab rail and chain guard. Stock exhausts are being reproduced and you could make this bike factory original if desired. I also have the stock rear wheel, it is perfect with a near new tire.

Start stops and runs perfectly. This bike has won shows, it is show quality. It turns heads and always draws a crowd. This bike is no joke and it is blindingly fast and when the turbo hits you better be hanging on. It only has 3,500 miles on it since the complete rebuild.
Here is a rundown of what has been done –

810 KIT W/WISECO PISTONS

HTS10 TURBO WITH BILLET IMPELLER FROM EVERGREEN TURBO

K&N INTAKE

1.5″ BOOST PIPE

EXTERNAL BOV

RARE SUPERTRAPP EXHAUST – ADJUSTABLE TONE!

ADJUSTABLE WASTE GATE

ADJUSTABLE FUEL PUMP W/ GAUGE

NEW REWORKED INJECTORS

MRE UNDERCUT TRANSMISSION

NEW CLUTCH W/ HD SPRINGS

HYDRAULIC CLUTCH CONVERSION

NEW CLUTCH/BRAKE MASTER CYLS

BRAIDED CLUTCH/BRAKE LINES

FLOATING FRONT DISCS

NEW REAR DISC

PROGRESSIVE FORK SPRINGS

FFTP ANTI DIVE BLOCK OFF PLATES

PROGRESSIVE REAR SHOCK

5″WIDENED RR FACTORY WHEEL – NEW 160 RR TIRE

NEW MATCHING FRONT TIRE

SPEEDHUT GUAGES WITH MATCHING BOOST GAUGE

WORKING FACTORY BOOST GUAGE – LED BACKLIGHT UPGRADE

L.E.D. TURN SIGS W/L.E.D. FLASHER

L.E.D FACTORY WARNING LIGHTS

ZX7 MIRRORS

NEW ZERO GRAVITY WINDSCREEN

POLISHED SWING ARM AND WHEEL LIPS

CHROMED TURBO "WING"

CUSTOM RR FENDER DELETE (HAVE FACTORY FENDER)

2 STAGE PAINTED INNER FAIRING

RECENT FACTORY PAINT JOB w FACTORY DECALS

630 CHAIN CONVERSION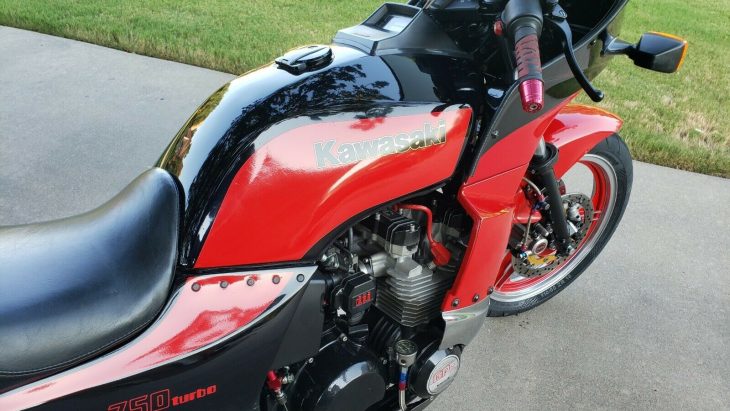 By the time all four Japanese manufacturers had their turbo models ready, OPEC ministers had peeked around the corner and calmed oil prices.  And insurers saw potential losses in all the leading-edge equipment aboard these bikes, dampening sales further with higher rates.  Still for a while the GPz 750 Turbo was the fastest bike in the showroom, and this one has been worked for even more power – while maintaining its great GPz looks.
-donn