For Sale: 1982 Honda CX 500 Turbo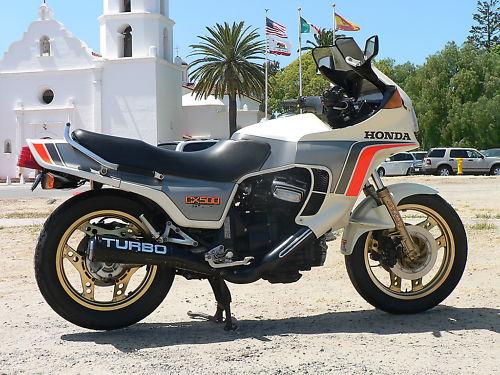 In 1982, Honda brought forth a technological wonder: the CX500 Turbo. Loaded with an IHI turbo and with fuel injection and other functions controlled by a computer, the CX500T promised liter-bike power in a 500cc package.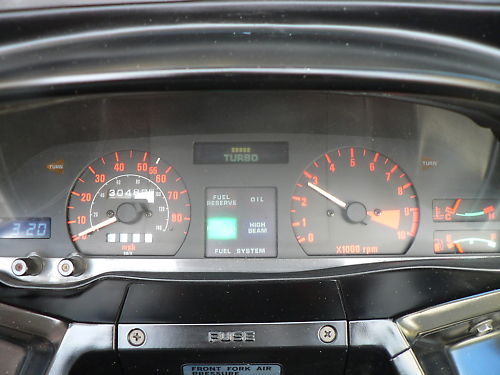 The reality of the bike – the world's first factory mass-produced Turbo bike (although Kawasaki Z1 Turbos came out earlier, those were not factory Turbo bikes) – was a porky, top-heavy sport tourer that was anemic at low RPM and unpredictable to ride. Boost came on suddenly and violently, transforming the bike into a relative beast. Sure it was fast – but it was difficult to ride fast in a consistent manner. They were also more expensive than most liter-bikes of the day, and simply did not sell well.
From the seller:
1982 Honda CX500 Turbo. 30,XXX miles. Runs great, everything works, including Turbo and Turbo guage.

Classic 80's superbike appreciating in value. First factory produced turbo motorcycle.

Original paint. Second owner from new. Bike was unsed between 1985 – 2010.

Clear title and current registration, plated in California.

Bike has new Dunlop tires front and rear. New battery, new fuel pump, new seat cover.

Bike has small shallow dent in top of tank (see photo) paint is intact, a professional should be able to remove.

Gold anodizing on front wheel has worn thin in places.

Bike comes with original leather bound owner's manual and workshop manual. Also a spare set of fuel injectors with nicer metal finish.
The CX500 engine is quite robust; Honda dropped the compression ratio to help it live better during the boost phase, and strengthed the bottom end. There are not many reports of major engine catastrophes, although the stator has been a known trouble area on all Honda Turbo bikes.
These Turbo bikes are also relatively rare – built in a short span of time in the early 1980's, they were gone by 1984. Surviving examples are generally cherished by owners; they are unique, comfortable and reliable motorcycles.
There is only a short amount of time left on this auction, and the bidding has stalled in the $2k range. This bike is a higher-mileage example, and is not the more coveted 650 variant, but is still a bargain at the current level. The reserve has been lifted and this bike is ready to sell. Here is a great collectable bike that is a blast to ride – at least in a straight line! Click on the link to
MI