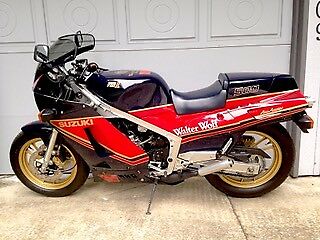 Before we start and this gets out of hand, you *might* remember when you could buy one of these for $12. Or $1500. Or maybe even $10k. Those days are gone. The fact is this sub 10,000 mile RG500 Walter Wolf edition Gamma is on eBay for just a tad shy of $33,000. And while the market will vote with the wallet, it doesn't really matter if this bike sells. You see, the market has already spoken in the form of the motorcycle auctions held in Las Vegas in late January. There, record prices were realized for all sorts of stuff that you might remember selling for a lot cheaper. The market is up, and the stuff we like to collect is rising on that tide. Thus, we are looking at a very expensive 1986 Gamma in rare clothing.
Beneath the purple, red and gold paint and beyond the white faced gauges, a Walter Wolf Gamma is really just a Gamma. That is to say, it is a marvelous twin-crank, square four two stroke that rips like it came straight off the racetrack. This was the unobtanium treat that US buyers were categorically denied. Enterprising enthusiasts soon learned to import the RG as a used bike – often from just over our northern border – and hooligan behavior ensued. Along with blue smoke and the sound that only a two stroke on the pipe can make.
From the seller:
Rare Suzuki RG500 Walter Wolf Limited Edition!

If not familiar with the Walter Wolf, the bikes were never sold in the US. Approximately 100 were sold in Canada. This example here was imported from Alberta BC. This bike sits in my collection and is in excellent condition, with only 15665 km (9734 miles). The bike is free of common stress cracks around the various panel mounting points. Tires have good tread although I would recommend replacing if plans are to ride the bike.

The instrument housing foam shows some deformation, however a new replacement will be included along with a service manual. This bike is an excellent clean example of a Walter Wolf to ride or put in a collection! If not familiar with the value of Walter Wolf's, included in the pictures is a recent sale. This bike showed 33400km.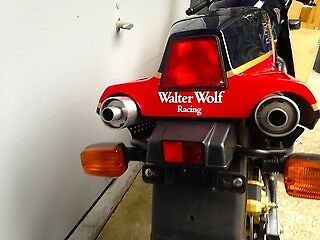 Walter Wolf was a Canadian business man and something of a motor sport legend. Originally from Austria but self made in Canada as an oil man, Wolf poured his money into racing – investing in Frank William's Formula 1 team and running his own Wolf Racing F1 operation. He had the money and the drive, and sponsored both automobile as well as motorcycle racing. Today, the Wolf brand is celebrated by a couple of different branded products – such as this wonderful Walter Wolf RG500, a tribute of Wolf colors and logos. The Walter Wolf Edition RG500 (there was also a 400 and 250 model) was released to the home market (in power restricted format) as well as Canada (estimated 100 units) and Western Europe. There are slight differences between each of the market-specific models largely due to local regulations (i.e. headlights, turn signals, etc). Japanese market bikes utilize a specific WW gauge package, while Canadian bikes make due with stock RG units. Logo placement is also slightly different between the markets.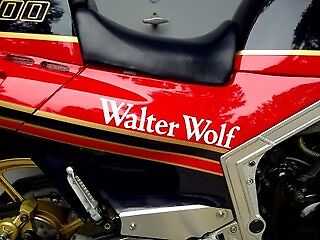 Real and authentic WW models are few and far between. We have seen WW replicas on these pages before, so buyers do your homework, research and analysis up front. With only a graphics package separating a rare Wolf from a regular RG, it is not that difficult to build a replica. Today's WW RG500 looks pretty clean, has enough miles to be a rider without so many as to be clapped out. Check it out here, although the pictures are (unfortunately) low res. I'm sure there will be many comments about how absurd the price is, but the seller counters with a photo directly from the Mecum auctions. Haters will hate, but the Las Vegas auction is the bellwether for collector pricing – and as of today, prices are running high. Hard to tell if there is enough here to ignite the kind of bidding war that drive top auction prices, but for now there is a very rare and cool Walter Wolf edition RG500 Gamma waiting for you on eBay. And you didn't even have to go to Vegas. Good Luck!!
MI