Update 5.14.2019: SOLD in just 4 days! Congratulations to buyer and seller! -dc
Gary in Utah has several bikes Featured on RSBFS right now. Check them out too:
Good luck to buyers and seller! -dc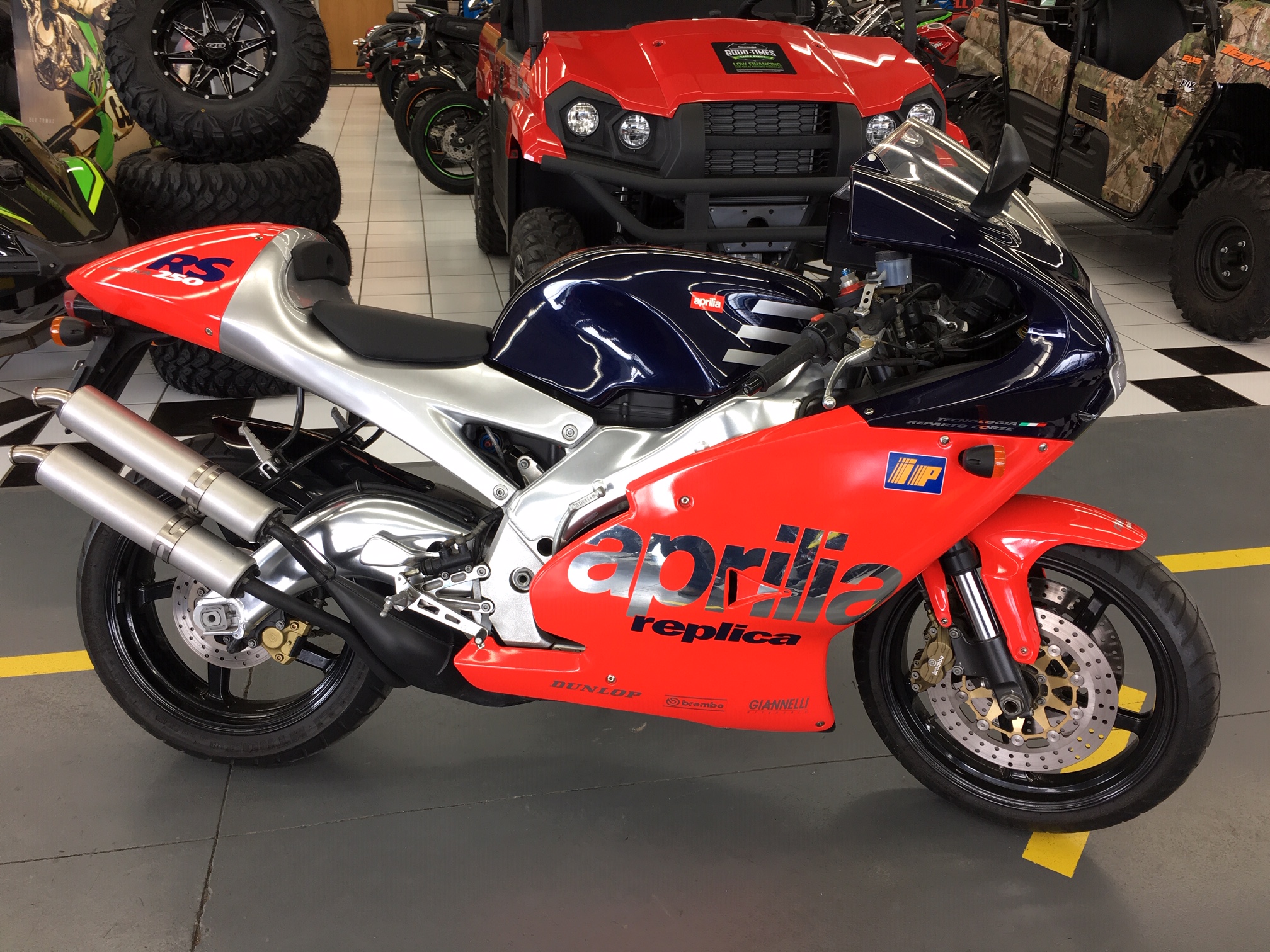 One of our favorite collectors is back, and the plush offices of RSBFS are abuzz with gossip concerning what new gems will surface next from Gary's vast rare bike archives. Today's bike is a great example of what I'm talking about: A super clean Aprilia RS250, unmolested and with a street title. And while we have seen a lot of hot-rodded, modified or converted Cup bikes, this Mk2 version of the venerable v-twin two stroke is stock and original. Let's check it out.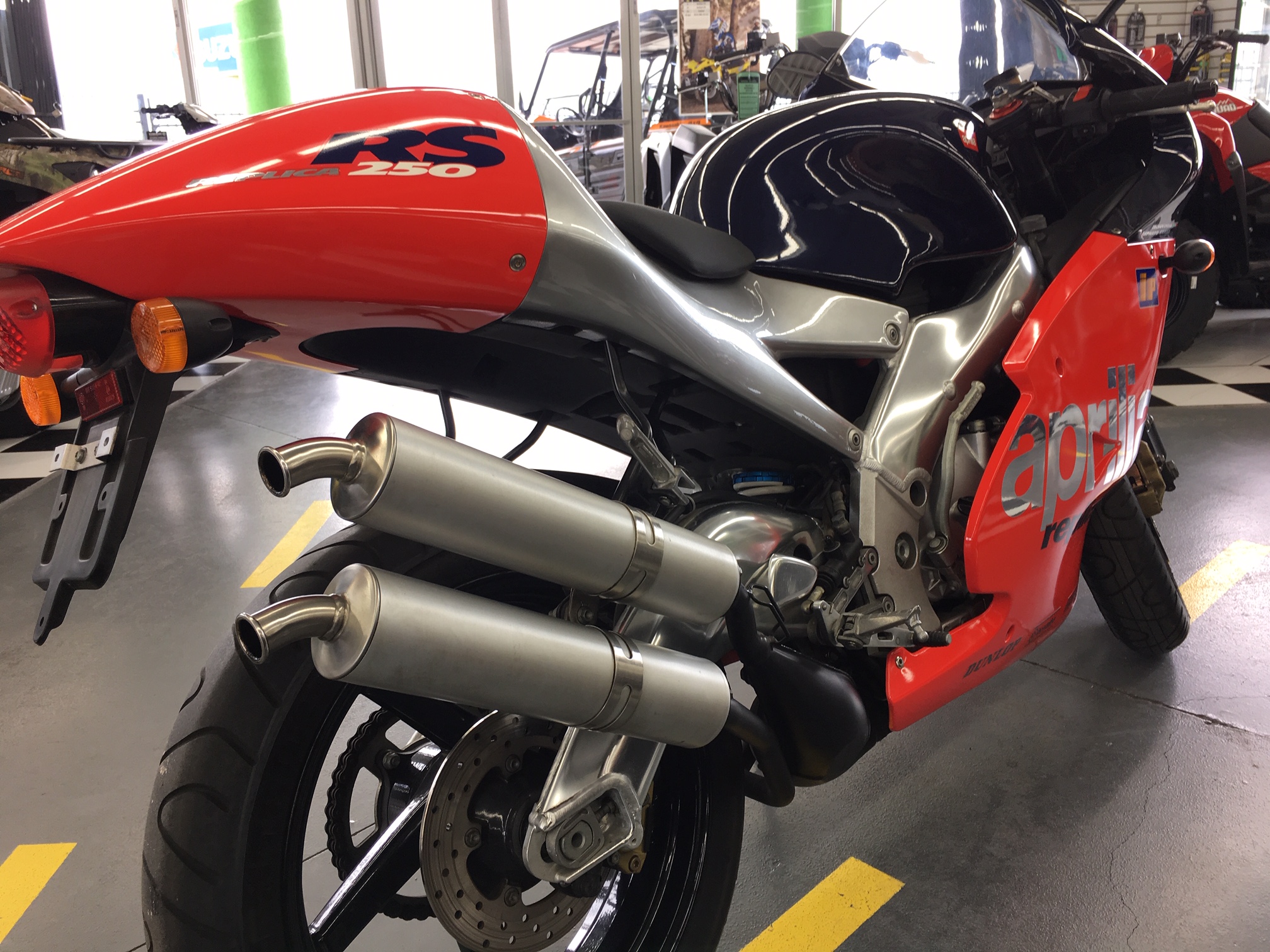 The RS250 – as is well known, is based on Suzuki's successful RGV250 architecture (also known as the VJ22). And while Suzuki supplied the parts, the preparation and tuning is all Aprilia: from the intake and airbox through to the expansion chambers and silencers and the ECU in between. The chassis is an in-house unit design, a twin spar aluminum frame with gorgeous welds and substantial bracing. The swingarm follows the haute couture trend of an asymetrical, curved section on the right hand side in order to allow the pipes to tuck more neatly and provide additional ground clearance. Call it a gull arm, call it a banana arm – the goal is the same. In the case of the Aprilia, the arm is polished and more gorgeous welds are prevalent. Forks are courtesy of Showa, with the rear shock unit provided by Sachs. Both are adjustable.
From the seller:
What can I say about this RS250? It has 3,883 miles ((6,248 kilometers). It is in mint mint mint condition without a scratch, ding or dent. No flaws! Never been crashed, or tipped over. All original and all fairings and components are 100% genuine Aprilia OEM factory. This bike is as new as they come. One owner bike. I'd like to see $12,500 for this beauty. . Will come with all new fluids. Runs like the day it was new. 17 digit vin number.
The RS250 is pattered after the 250cc road racers that made Aprilia famous. One look at that draft-busting streamlined tail gives you the impression that this apple doesn't fall far from the same tree that sired Valentino Rossi or Loris Capirossi's rise to fame. But this example is a street bike, can be licensed in all states that allow this ridiculous level of fun (hint: not California unfortunately), and provides you with both the means of transportation as well as transporting you to a higher plane of riding where you can let your inner Max Biaggi loose. Keep the canyons tight and the revs up, and your riding buddies will all but disappear.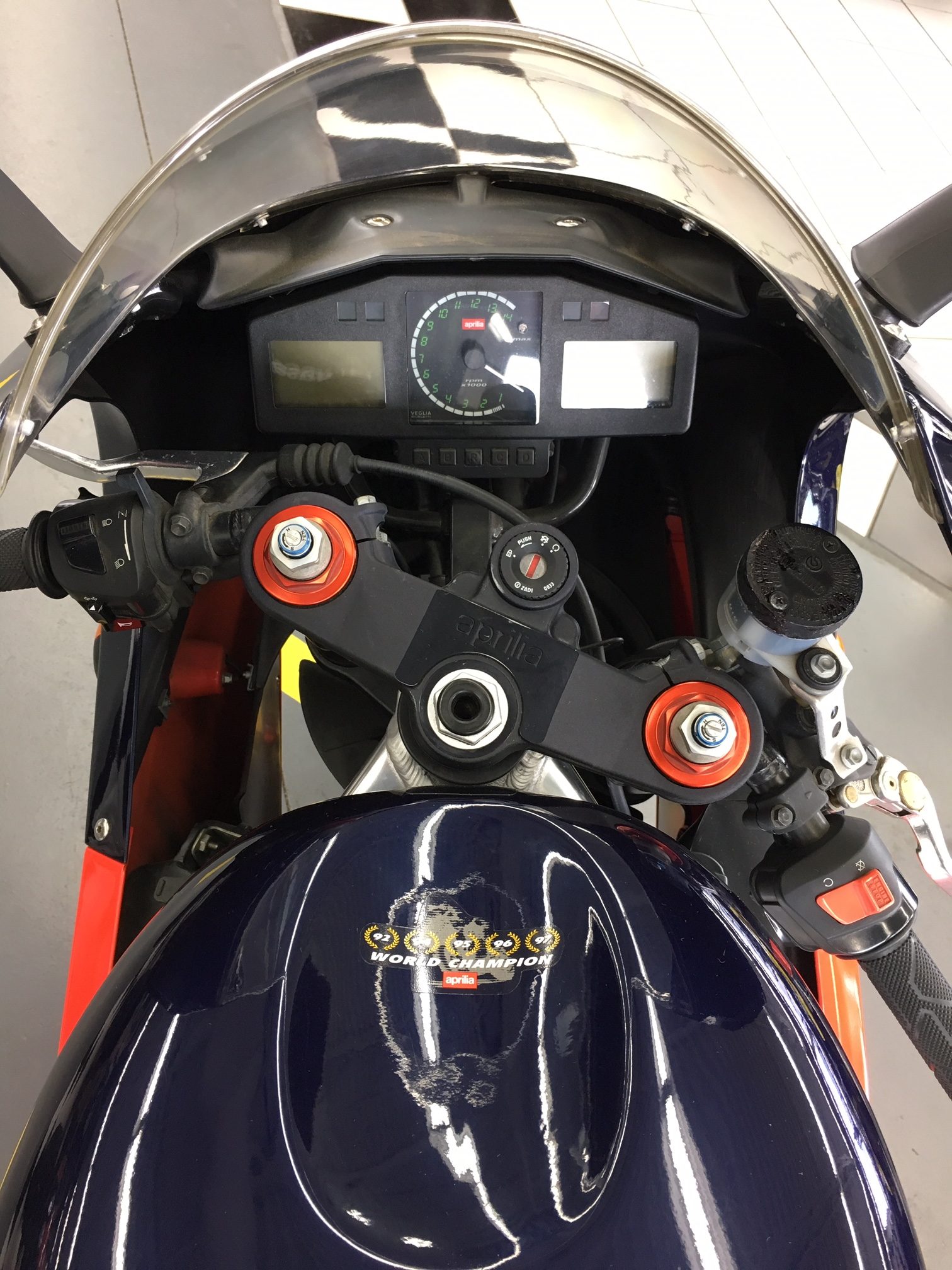 This bike is being offered at $12,500. Check out all of the high res pictures, as they tell a terrific story. Gary has sold numerous bikes through RSBFS over the years, and the feedback has been overwhelmingly positive. So you have a fantastic model that is rare in the US, sitting in all original condition (with fewer than 4,000 miles!), and a known seller. If you are in the market, this one should tick all of the boxes on your wish list. So drop Gary a line, and then brag to all of your friends about your new bike – as soon as they catch up to you, that is. Good Luck!!
MI