For Sale: 1987 Yamaha SRX 250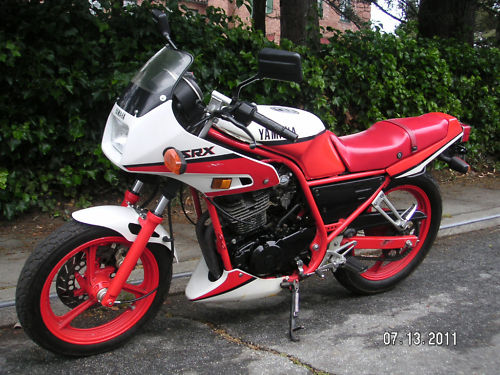 With all of the grey market two strokes on these pages, you would think that there is no love for the lowly otto-cycle engine. Well, I am here to tell you that is simply not true! Sure, we here here at RSBFS love to mix oil with gas as much as the next guy, but there are times when that is simply not very convenient. If you are looking for a rare, 250cc sportbike that you can fill up with the same swill that you save for your lawnmower, this little SRX just might be the ticket.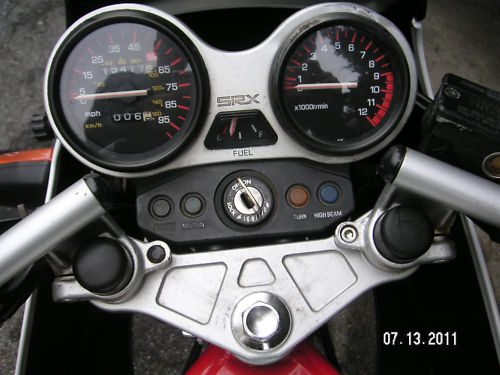 Powered by an air cooled single cylinder with 4 valves, the SRX was Yamaha's answer to the 250 Ninja. A lightweight and willing performer, the SRX was a one hit wonder – it was gone from the US lineup the following year. That makes it rare and unique…which has upsides and downsides. The upsides: the fan base for these bikes is fairly rabid, and they continue to look unique and like a much larger bike than the 250cc engine belies. Downsides: Hard to find, hard to obtain parts. An additional downside is that it is very difficult to find one in decent condition; as these were inexpensive newbie and commuter bikes, they were rarely well taken care of (garaged, serviced, etc.). The rare keep getting rarer.
From the seller:
1987 Yamaha SRX250
~ 4000miles actual. The speedometer has been replaced w/ one that shows 15,400.

I've owned and ridden this bike sparingly the past 6 years. It is a nice, smooth riding sport bike that offers great value in performance and economy. It suits the vertically challenged and those who like to show up bigger bikes, well at least on some downhill curves.

The engine revs to or above redline to 10Krpm in 1st, 2nd & 3rd without a hiccup or miss. It shifts in to all 6 gears smoothly and with ease. I am selling as I still have two other SRX250s and also want to enjoy other toys. It is for sale locally.

It's not perfect, but very nice & I've only seen a few bikes in as good a condition, some in Japan. I'd say an 8.95 out-of-10 ?

The bike has:
New fuel petcock
Front & rear tires & tubes 4 1/2 years new… plenty of tread
Flash to pass switch & battery saver
Seat w/ no tears or rips & the passenger strap is still there
Fuel filter
Fresh oil, premium gas always
Brakes w/ new fluid & bled

All the turn signals, horn, headlight, kill switch, kick stand switch, instrument lights and gauges are in good working order. Two original mirrors, no cracks. Very nice front fairing condition w/ just a scratch, hard to find engine cowling is complete… there is a 5″ hairline crack on the underside w/ some glue showing. The gas tank has ~ 5 small rust spots by the gas cap & one minor dent at the tip of the seat that's hard to see. Inside the gas tank is clean and there's no gas tank or petcock leak

The ignition lock was jimmied in the past. A new Yamaha key was made that works the locks on the ignition, forks, seat & gas tank. A drop or two of fork oil has started to seep out of the seal so this will eventually need to be watched and corrected… not serious enough yet. The bike likes about 1/4 of the fast/cold choke left out after it's warmed up. It's the only sensitive aspect of the bike to tinker with. Idles correct at ~1500rpm

There is very little dirt, grease or grime on the frame or engine parts. Rust is nothing to speak of but some light surface rust is seen if you look closely towards the underside of the chrome or steel parts.

The only negative thing about the SRX250 bikes is that I wish it had dual front disc brakes for better stopping power. Yamaha's advertisement in the 80s stated that this bike passes cars, trains and other things.

This 25 year old bike is in very good condition, runs out great, and has not been beat up on.
Keep your expectations in line with reality – with a reported 32 horsepower this 250cc scoot is not going to drag you down the quarter in the 10 second bracket. A 250cc bike does, however, have a lot less mass than your average liter rocket, making it a blast to ride in the tight stuff. If you've got a road like that near you, this might just be what you need to rail like your favorite apex-strafer without the worry of a ticket or worse. Best of all, these little bikes – despite being rare and unique – are cheaper to aquire and maintain than their bigger brothers.
This SRX is available now, with a starting bid of $990 plus reserve. That might prove to be a steep starting point, although the value of an SRX is certainly above 1 G these days. Take a look at the pictures and, as always, be sure and contact the seller for more information if you are interested. To see all of the details, click the link and jump over to the auction. Good luck!
MI