Located in Coopersburg, Pennsylvania is a quite nice 1998 Aprilia RS250 with 23,336 miles (!).  It would less surprising if it was actually 23k kilometers, but, this is apparently a well used RS250; the seller (A dealer) claims to have recently done a full motor and transmission rebuild.  Scratches on left side from going down (not mentioned at speed or if just dropped) but not shown in pictures and a crack under the headlight are the only claimed defects.  This bike is registered with an opening bid of $6,500 and no reserve.  I'd be interested to see this start at a lower opening bid to see how the miles reflect on the selling price.  See the eBay ad here
EDIT: This bike sold with one bid for $6,500 on 07/01/2009.
If you're interested in a track only Aprilia, there is a 1996 Aprilia RS125 in Gaithersburg, Maryland.  This RS is in track condition, with different colored plastics and scars.  The bike will need to be gone through as the motor isn't running correctly.  The motor does have some modifications and comes with a partial spares package.  The buy it now is $4,500 with a $2,000 opening bid and a reserve.  Also, check out the sellers Ferrari Mondial convertible in the background.  See the eBay ad here
EDIT: This bike received ten bids to the amount of $3,400 but didn't meet reserve on 07/01/2009.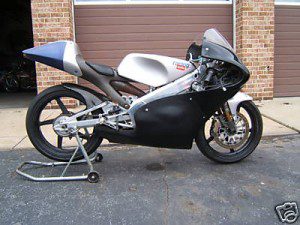 AG