Earlier this week RSBFS poster Tad D gave us a nice bit of unobtanium with a Ducati 851 Superbike prototype for sale in the states. Now here is something perhaps even more rare, a Ducati 888 previously used in British SuperBike.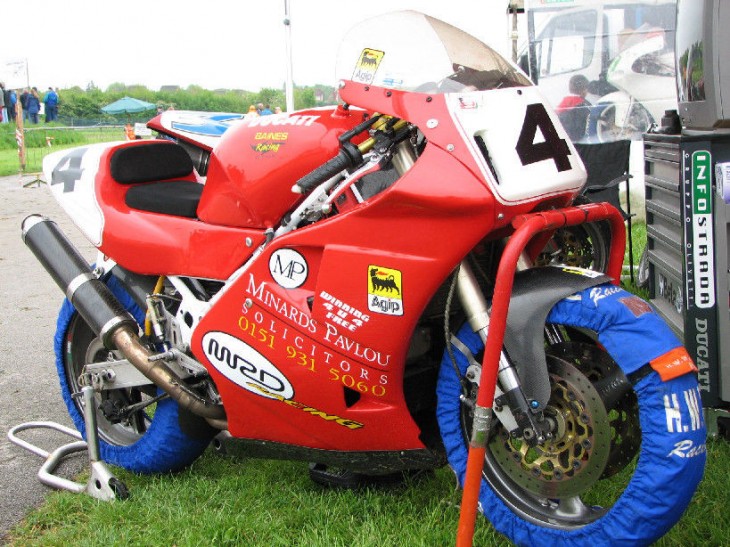 There have been numerous previous posts here on RSBFS regarding the 851/88 series (851 and 888 postings on RSBFS).   Rather than rehash the info regarding the development history of these bikes within this post, lets just suffice to say that the Ducati 888 was the bike that brought Ducati back from the brink, reclaimed their racing heritage and was the foundation of a lot of Ducati's future success.  Even though it came before the legendary 916, the 851/888 remains iconic to Superbike fans and collectors worldwide.
This particular 888 is listed as a former British Super Bike/BSB racer.   The seller indicates that this bike has been rider by the famous Alan Cathcart as well as professional riders including Mike Edwards (Macau GP winner and British Supersport champion) and Tom Knight ( Manx Senior GP winner and BSB Superbike Racer).    Carbon fiber and race equipment seems to be in abundance on this lovely bike, including a very rare and expensive pair of 60mm Weber throttle bodies.
Here is an excerpt of the ebay listing info-
Last raced in the British Superbike championship in 1996. Tom Knight scored top 10 results in BSB during 1996 on this bike.
I bought the bike off Tom in 2004. I then gave the bike to one of the UK's top Ducati race specialists, " Baines Racing", who are based at the Silverstone race circuit. Baines Racing completely rebuilt the bike from the ground up.
Competed in a handful for Forgotten Era Superbike races. It was a winner and was always in the trophies.
After racing career, the bike returned back to Baines Racing for an engine rebuild and specification upgrade and now has a full on G Spec motor, including trick rods pistons,etc. The engine is ready to go racing on again although it has been dry stored in my living room for a few years and would need new timing belts fitting as a sensible precaution.
The wheels with the bike are a mix of Marchesini and Brembo. There are wets on wheels to go with the bike.
I also have spare fairing panels and a spare seat. I also have a spare petrol tank.
I will include a pair of 60mm Weber throttle bodies with the bike. These would make for a significant upgrade. They cost a whopping £12,500.00 back in 1996. They are incredibly rare, but i feel that they should go with the bike as they could be incredibly valuable to the new owner.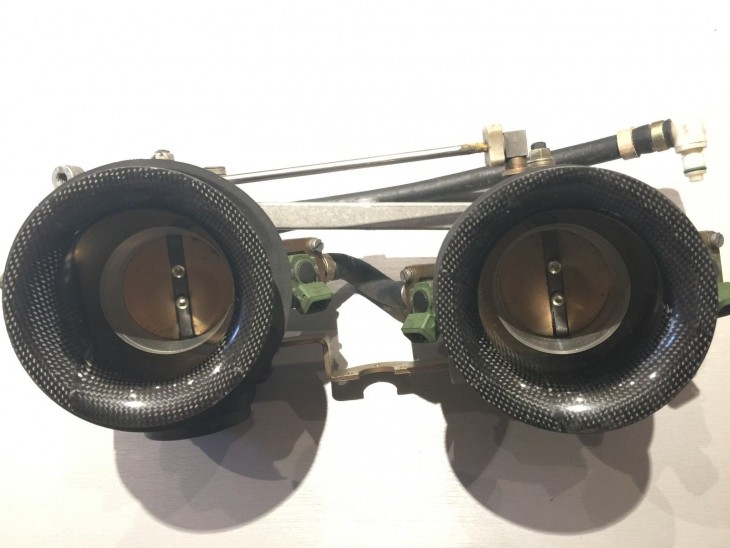 Due to the rarity of an 888 coming up for sale + documented ownership/rider history and service history/equipment/spares included with this bike, the sellers asking price of 25,000 GBP/39,000 USD seems a bit high but not totally unreasonable.  It would certainly look great parked next to the 851 prototype we listed just recently.
-Marty/Dallaslavowner