Before the R model was just part of the model range Ducati produced enough bikes to get going racing under homologation rules.  So 500 of these were built. The 2001 996R was the first Ducati to use the new Testastretta engine and was only sold over the internet.  The chassis was the same as the 996 SPS with changes to the front end brakes and a revised fairing that lost the side vents to lower drag.  With the engine being much more powerful that the previous 996 the bike was a great foundation for Ducati in World Superbike.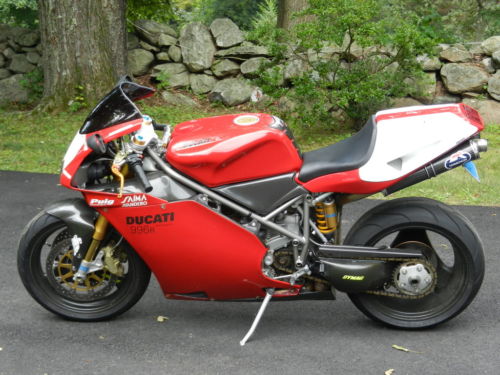 In 2001 Ducati introduced the limited production (only 500 were built), 996 R, the suffix standing for 'Racing', which featured Öhlins suspension (rear and front), carbon fiber bodywork, a revised and more streamlined fairing, but most importantly the newly redesigned engine, the Testastretta (narrow-head) which actually displaced 998cc. The engine got its name from the narrower angle between the intake and exhaust valves, down to only 25 degrees, which was designed by Ing. Marchetti, coming from Ferrari F1. It featured more aggressive camshafts, titanium conrods and a shorter stroke and wider bore, which allowed it to rev more safely at high RPMs. It produced 98.5 kW (135 bhp) at 10,200 RPM with a maximum torque of 105 Nm at 8000 RPM. Most of the chassis was the same as the 996 SPS, but using a new Brembo braking system, with thinner discs and 4-pad, 4-pot calipers with 34mm pistons.

Carbon wheels, and long race swing arm added.
You can start your bidding over here at the eBay auction.
I for one would love to have this bike.  The owner has done a couple of changes such as carbon wheels and a longer swing arm from the Corse group at the factory.
AS