Location: Hollywood, FL
Miles: Track bike
Price: Starting at $7,500 with Reserve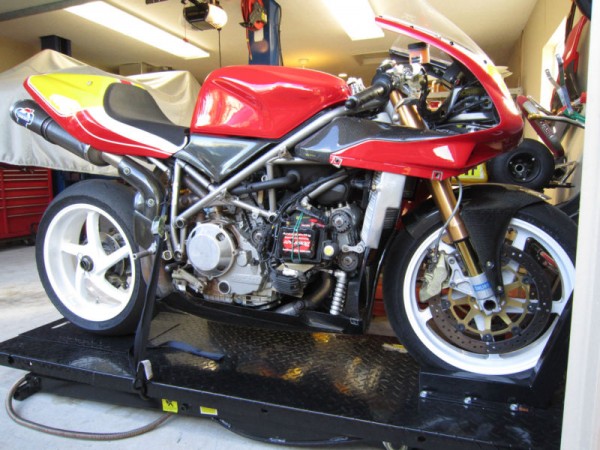 Oh how I do enjoy purpose-built motorsport machines, from factory racecars to factory race bikes. Their purpose is simple; Speed. No frills, no comfort, no softening. And the 748RS is designed for one use and that is to go fast on the racetrack. Next to a D16RR, the 748RS holds an angry edge in badass-ness.
From the factory, these bikes were intended for privateer racers and featured a engine built by Corse World Motorsport with high end internals and a body dripping with carbon fiber. The particular bike for sale also features a factory supplied big bore kit to add on to the 124hp these came with originally… Those brakes are huge!
From the seller:
This is a real 2001 Ducati 748RS full race bike. I have the original certificate of origin that shows the vin # of this motorcycle

This motorcycle has always been very meticulously maintained and has not been abused in any way.

Bike is track ready with newer tires. all it needs is you

Original as it came from factory except for the big bore engine kit.

With a factory rated 124 HP engine plus the factory supplied big bore kit installed by Bruce Myers. (Original owner and Factory rep for Ducati) this bike is a blast to ride, plenty of low end torque to pull you out of the turns, and lots of horse power for the long straights.

Carbon fiber body work has been recently painted

New slipper clutch pack.

Bike in excellent shape, and all service is up to date. please send e mail if you need any additional information.

An excellent chance to Race and own a piece of Ducati history.

Ducati produced a very limited run of 748RS machines, which were intended as full racing machines and as such came with no road-going equipment. The engine internals and components were vastly different from any road-based Ducati, using a variety of light-weight, high-strength materials making them extremely expensive to purchase. The RS came with a 54mm exhaust system and a slightly smaller size and gauge of Chromoly tubing was used on the frame to reduce weight even further. State of Floridadoes not issue a title for off road motorcycles, comes with a Bill of Sale only, and all the original import documentation.
If motorcycle can not be picked up in person, we will assist with the shipping for a reasonable fee.
Summer is just starting to gear up and that means that track days are in order. Unless you live in a state that doesn't see 9-months of rain a year, in which case you can ride this anytime. These weren't officially imported to the States, so seeing them around is quite rare. And considering this is only the third RS featured here on RSBFS, the next chance to own one could be a ways off. Starting bid is $7,500 with a reserve and I suspect the owning price to be around $12k. So take a look at the auction here and pick yourself up a race-ready bike to shave down some knee sliders!
-JS