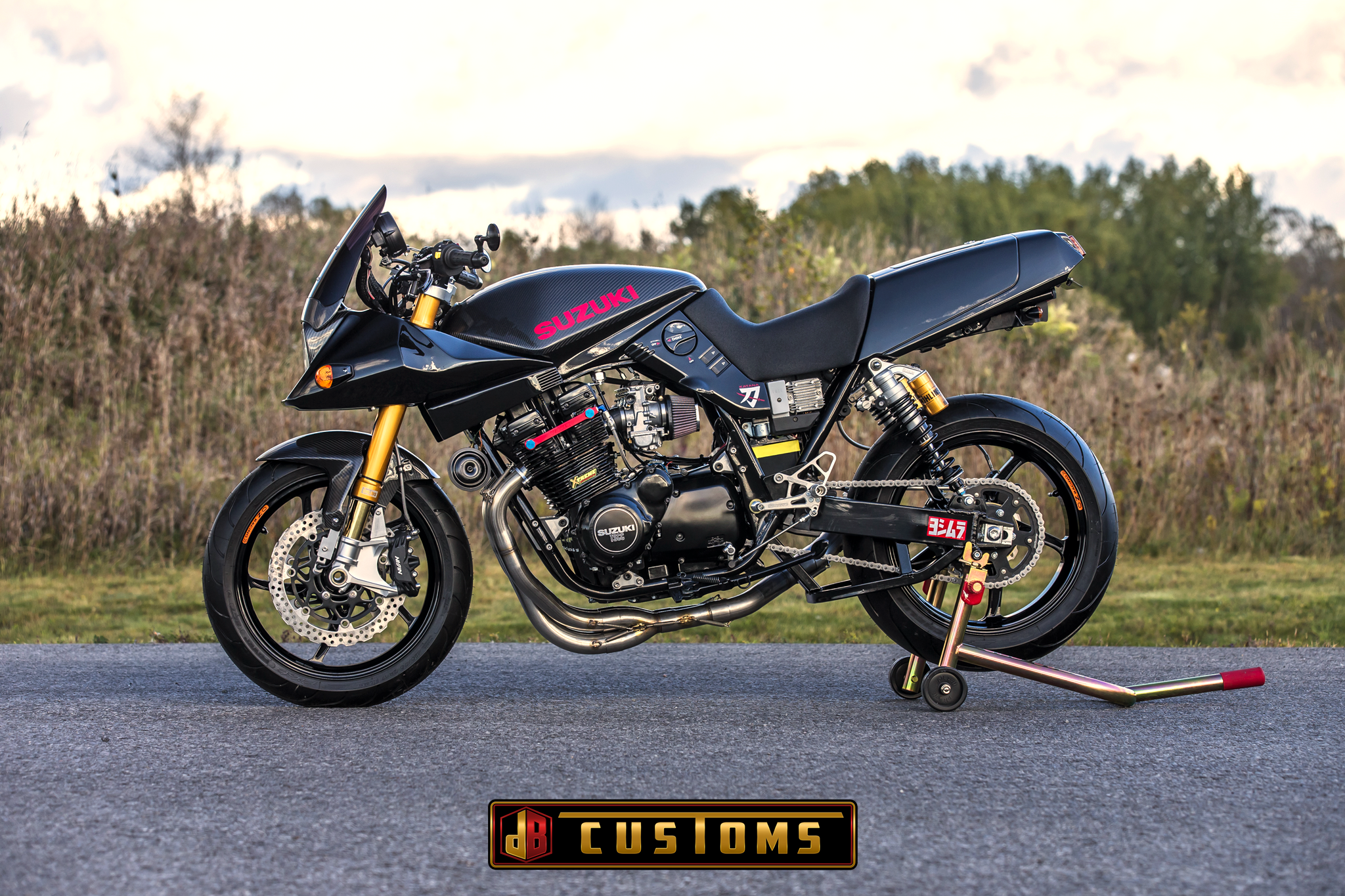 RSBFS has long been the leader in bringing you the best classifieds found online every day. Typically we focus on rare, original machinery and stay away from bitsa bikes, rat bikes and customs. Generally we ignore anything that devalues a collector steed. But once in a while we come across a bike done so well that we feel we would be doing our readers a disservice NOT to post it. Such is the case with this incredible Katana resto-mod. Far from a whored out 'Busa or the like, this is a tasteful build that reflects the true spirit of the 1980s – a period correct homage, if you will – while also bringing the bike up to a more current spec.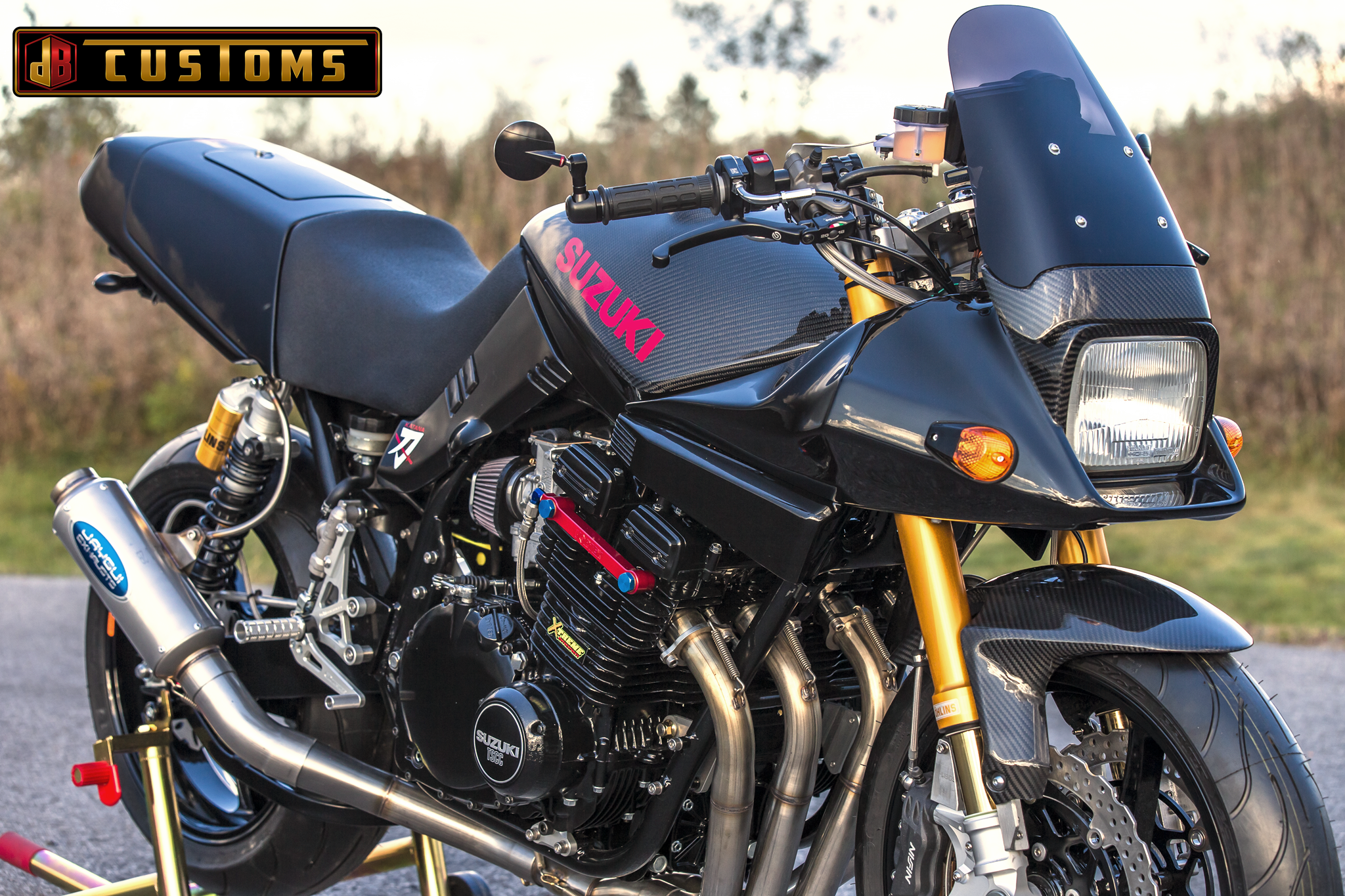 As stunning as the stock Katana was when first introduced at the cusp of the 1980s, the shape remains effective today. This was (and is) an aggressive looking motorcycle. In fact, it's hard to believe that the Japanese farmed out the design work to a German company; regardless of how it happened, the Katana remains one of the most polarizing motorcycles of the modern era. And this build simply reinforces the amazing shape and purpose of the bike, introducing modern technology such as carbon fiber and combining updated components to the existing platform; the original clearly shines through the updates. There is so much going on with this bike, that I will leave it to the seller to help explain the details:
From the seller:
Darren Begg of dB Customs has quickly established himself as a leader in world-class restomod builds. His builds often retain the original silhouette and paint scheme of the vintage sport bike while upgrading the powerplant, suspension, brakes, and switch gear. The results are high-powered icons of yesteryear, brought fully into the modern age — the true spirit of the restomod.
More from the seller:
Ray Mancini of Xtreme Motorsports, in Tennessee, built the motor. A 1260cc 173hp (@counter shaft) (110 ft-lbs trq.) was created for this Carbon Katana. Ray used a MTC Block,Webcam cams (.370/256), long hard weld rockers, his Stage 1 ported head with 1mm oversized stainless valves, top end oiler, HD case studs, under cut transmission and a balanced crank. 10.5-1 compression pistons fed by 38mm RS Mikuni carbs and relieved by a JayGUI Racing Exhaust finish it off. A Powder coated frame, Carbon Fiber Fuel tank cover and Carbon body work sourced from Japan keep it black.
More from the seller:
The build includes Brembo brakes, Öhlins Racing AB suspension, Dynatek Electronics ignition, OZ Racing wheels. Michelin Pilot Power 2CT tires. Underbridged and modified Bandit 1200 Swingarm. Billet Triple Trees from Pulse Performance. Woodcraft Technologies rearsets, Speedcell battery, Koso gauge cluster, Yoshimura Japan Co.,Ltd. throttle and cables, GSXR 1000 controls. Rizoma Spy Bar Ends. Paint work by Sketchs Ink (all paint, no decals!). It is a one of a kind powerhouse bringing together the past and present! Titled in Arizona. Delivery available.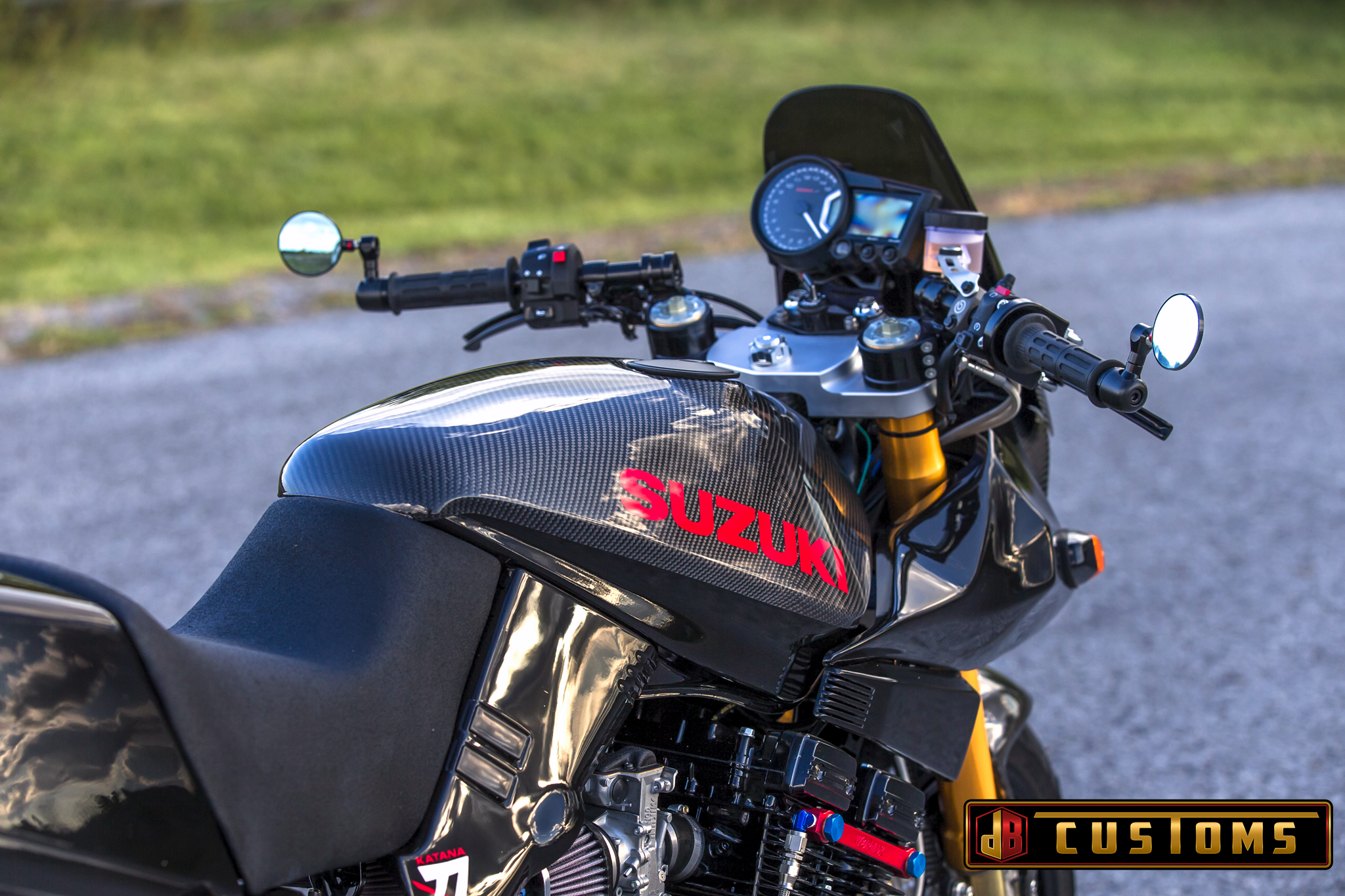 1980s Katanas remain a pretty hot item in the collector world. In 1981 this was the fastest street motorcycle available, bar none. But nothing introduced nearly 40 years ago can be considered in the same performance vein as anything remotely modern thanks to the inexorable march of technology. This is a bike that someone like Pops Yoshimura would have envisioned back in the day, had any of these parts been available. But this bike is more than just a sum of the parts. This phenomenal build takes the spirit and intent of the original Katana and multiplies it many times over.
There are many collectors in our ranks that own factory hot rods from a bygone age. And while in some areas these bikes can still deliver the goods, the inevitable truth is that performance benchmarks have not remained static over the years. Even something like an uber-rare oval piston NR750 will feel tame compared to today's crop of hyper 600s. Imagine being able to ride the dream machine from your youth, but with the power (173 HP!), suspension (Ohlins), brakes (Brembo) and handling that you've come to expect in today's world. That would be a true dream machine, and that is exactly what this Carbon Katana delivers. This is a one-off built by someone who did not pinch pennies; the results are obvious and the outcome is glorious. You could not replicate this for the asking price, making this both a dream AND a bargain. Check it out here, because this one will go as fast as it looks. What a build!!
MI