Warning!
This post is in our archives. Links in this post have been updated to point to similar bikes available to bid on eBay.

Eur-asian: Aprilia RS250/ Yamaha RZ500 Hybrid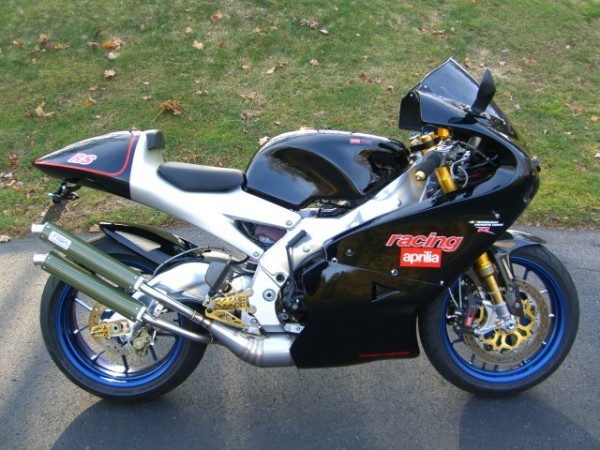 What you are looking at here is a monster in the making. This is the nearly consumated, unholy plural marriage of Italian looks and handling, Japanese precision and perfection, and good old Yankee ingenuity. Mix them together well, add a healthy budget and let it simmer with some serious sweat equity. Once it's baked you are looking at 100+ ponies crammed into a 250cc sized rocketship – and littered with the best of the best bits available on any continent. This is a dream in the making…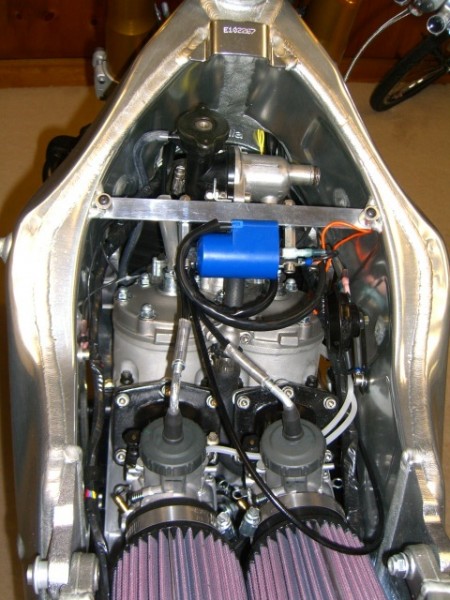 A great many of our RSBFS and CSBFS core readers pinged us on this one, so it's great to see that you are all awake out there! I don't know if I've ever seen a more sano looking conversion – even if we tend not to post customized bikes here on RSBFS (April 1st posts notwithstanding). However given the subject of this customization as well as the workmanship involved, we are willing to make an exception. This is one cool looking hot rod!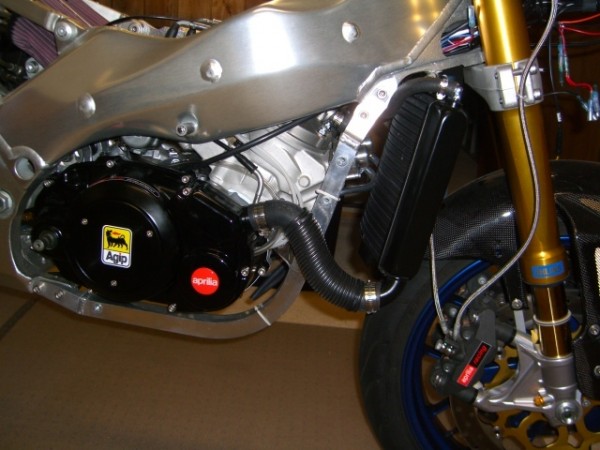 From the seller:
110HP, 290LB….I built this bike over 2 years…nothing but the best went into the bike. This rs250 conversion might be the best around. I have over $30k in parts alone, not including engineering or time to do the work. 95% of all parts are brand new! Best of the best went into this bike. The build has zero miles on it. It has been started, heat cycled and driven up and down the driveway a few times to verify all works well…. re-torqued bolts etc. The tune is very rich safe…. will need a final tune at its final location. I will list the parts below:

Frame:>>>>
Aprilia rs250 main frame from aprilia NEW no VIN, no title, no stamping
Aprilia rs250 swing arm from aprilia NEW
All new fasteners, bolts, bearings etc…Nothing used.

Engine:>>>>
RZ based engine, 485cc
straight cut gears, billet clutch basket, slingshot lockup clutch, oil injection, over drive oil pump gear, rz transmission, billet stroker crank, TZ bearings, forged pistons, new engine cases, the whole engine is new except the trans.

New 39mm keihin PWK carbs, v force reeds, trinity cheatah power valve cylinder, removable dome heads..setup for 93 octane, RZ kick starter, RM stator with DC conversion with zero gravity lithium battery, ignitech programmable ignition. Engine is super smooth and super wide power band. I build custom two stroke bikes for my self, this one is just nasty… Tyaga stainless pipes and kevlar silencers.

Body:>>>>
New shark skins bodywork, custom fit, gloss black show paint job. All stickers are over the paint and can be removed and customized per your taste.

Custom one off LED projector hedlights…low and high beam…awsome! RSV4 rear hugger. gsxr1000 front fender matching rear hugger with gold inserts.

Controls:>>>>
AIM strata digital dash, shows oil level, water temp, shift lights, twin EGT, turn signals, etc….Amazing, fully programmable.

Gilles rear sets, fully adjustable, brembro levers/masters

Suspension:>>>>
Gixer 1000 Ohlins road and track new forks(setup for 200lb rider), triple tree, custom bearings, rsv front rotors with custom spacers, Gixer front calipers, custom cush drive and sprocket! This allows the use of a 190 rear tire as installed. I wanted a modern look…the only aprilia 250 in the work with a 190 tire…looks amazing. Chain alignment is perfect and centered due to the custom cush. You will get all the drawings…for the custom parts stock rear rs250 shock. RSV rear master, caliper, custom rear caliper hanger.

Wheels are forged OZ and super light!

Other: >>>>
twin k&N air cleaners, thermostat custom housing, there is so much custom stuff done on this bike its hard to remember it all. LED rear turn signals, plate light, stop light, custom rear plate holder… This Bike was fully engineered to be serviced and ridden…it's simple to take apart and work on.

Needed:>>>> Needs to be final tuned and any small issues resolved. Rear master seems a bit to strong for the light weight bike….. I would change it. The tires were used… I used them for mock up to see if the massive rear tire would clear…I left them on as they will pass inspection just fine…Once I did some more miles I was going to swap them out.

This is not a bike for someone who is not mechanically inclined….. I don't feel any two stroke is like that…they require a person who can do the work themselves.

Please Email me with any other questions. You are welcome to come view the bike.

Pickup local, or arange shipping from your end. I am around during the day so I can help from my end but you will be responsable for shipping costs and coordination. I can empty fluids and prep bike for shipping but I cannot crate etc….

My reserve is less than the parts alone, keep that in mind when bidding! Happy bidding! The bike will come with the full build book. All electrical wiring schematics I made, parts lists, build pictures, drawings etc…
I left the sellers full commentary in the post because there is a lot to say about this bike. Check out the auction and study the pictures – the craftmanship appears to be top notch; not the usual frankenstein appearance we often see with conversions. The upside is that there are a lot of parts and pieces on this bike that more than make up for the existing auction price. The downside is that you will need to complete it and sort it out. Given the way the project looks at this stage, that may not be too daunting a task.
The Aprilia RS has long been regarded as a fantastic handling bike – but 250cc is just not enough these days! Who among us has not dreamed of liter-bike power in a 250 GP bike size? Time to wake up and smell the castor oil because one such beast is for sale today! To see all the fun and fury, click the link and jump over to the auction. Trust me, it's worth a look!
MI