11.20.2017 Update: Relisted due to a buyer that dropped out. Links updated. -MI
RSBFS welcomes a new collection to our pages. Check out this fantastic Yosh Superbike ridden by Toni Elias, and then stay tuned for some amazing more hardware to come. Thanks for supporting the site, Pete!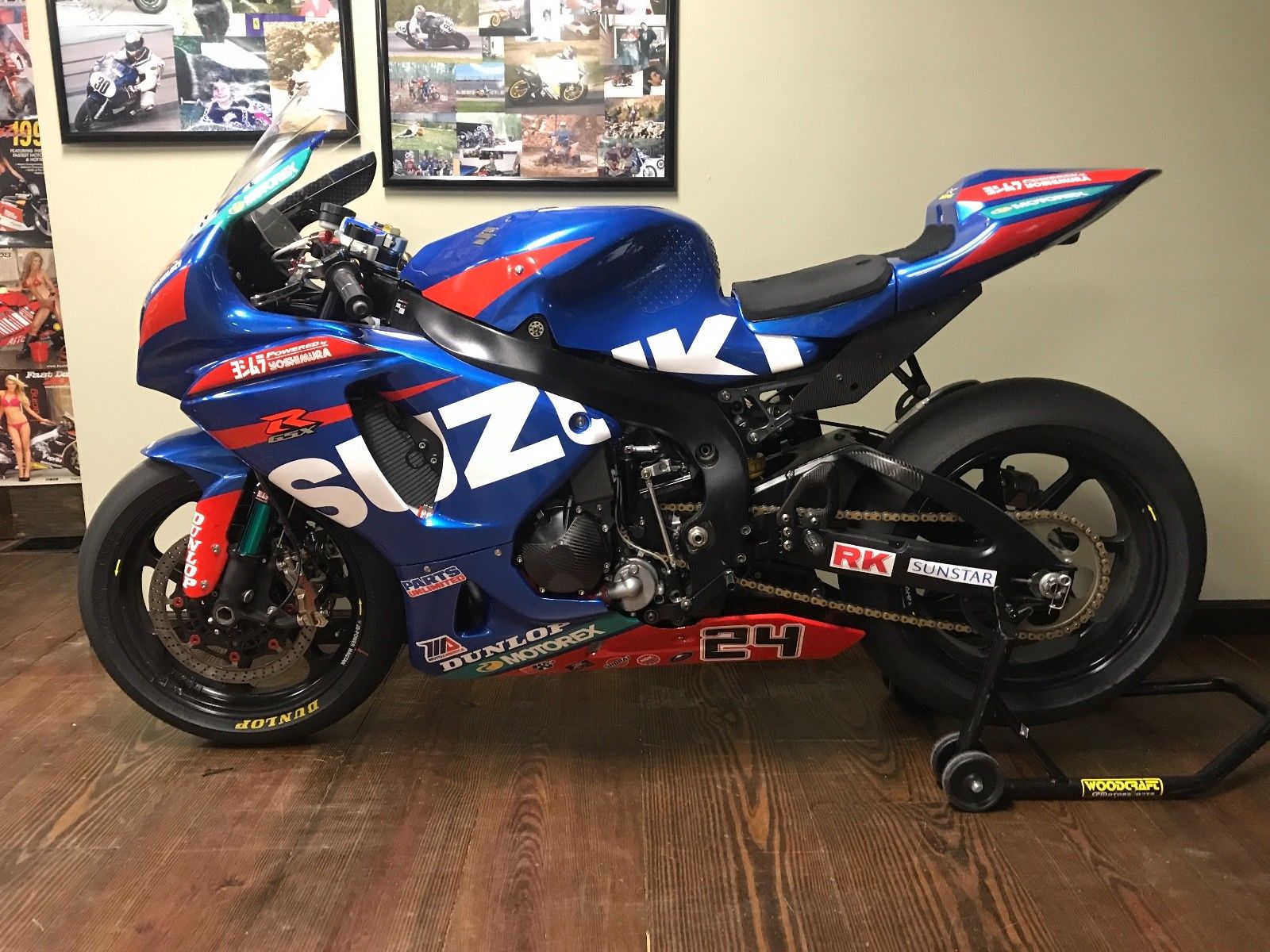 Race bikes are an interesting prospect. Part uncompromising wild stallion, part rule book slave – but mostly rock star when piloted by one of the best – the life of a cutting edge racer is miserably short. Teams upgrade to new bikes with each passing year, and successfully competitive machines earn a second life as a collectable piece of memorabilia when the cheers of the crowd and the spray of champagne have faded. Such is the situation with this wonderful icon from the young MotoAmerica Superbike series. Developed by the legendary Yoshimura Racing Team and piloted by Moto2 World Champion turned Moto America racer Toni Elias in his stunning MotoAmerica debut (2016), what you are looking at is a work of art, a potential track day weapon, and a trophy unlike any other.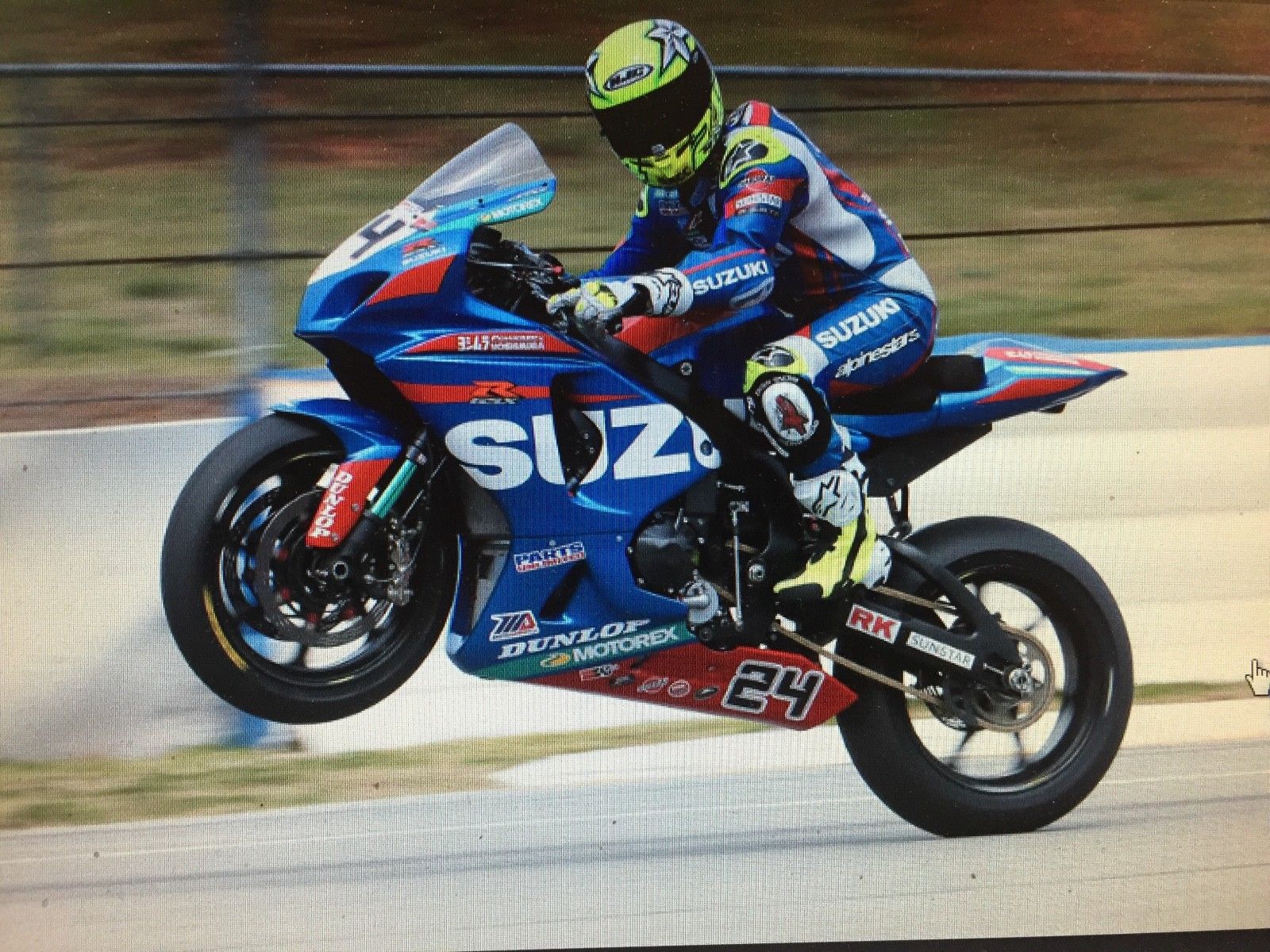 Helmed by superstar Wayne Rainey, MotoAmerica (sanctioned by the AMA and FIM) set out to put Americans back onto the top step of international motorcycle racing. While it is still early days, the showing of Jake Gange in WSBK competition is a good sign. Another good sign? MotoAmerica has become a destination for renowned European racers as well. Thus, Toni Elias landed a ride in the Yoshimura camp alongside the ever-popular Roger Lee Hayden. Moreover, Toni Elias is the newly crowned 2017 MotoAmerica Superbike champ. And this bike was his first step to that championship. Here is the seller to tell you more:
From the seller:
Here is your opportunity to own a real factory superbike. This is Toni Elias's 2016 Factory Yoshimura Suzuki GSXR1000 superbike. This is the real deal. full factory superbike suspension with telemetry, the fresh motor pumps out 221 rwhp on VP MR12. It weighs right on the AMA limit at 370 lbs with a full tank of fuel. One off parts include the hand formed Yoshimura fuel tank, billet sub frame, massive radiator, full Ti Yoshimura pipe and numerous other Yoshimura only parts, The brakes are MotoGP spec Brembo radial calipers clamping down 330mm superbike rotors. 17 inch light weight Martek magnesium wheels. A Motec ignition system with a Yoshimura Kit wiring harness creates the fire. Yea it is pure crazy eye candy. This bike was the winner of 5 Moto America races last year with Toni "The Tiger" Elias twisting the throttle. Elias won the AMA Superbike title this year on the new GSXR1000. I guarantee you will not ever ride a better setup machine. The brakes are just one finger pull from 180mph stoppers. The motor accelerates so smoothly, its all drive no spin! I saw this bike at the NY Motorcycle Show in December of last year and had to have it! I bought it directly from Yoshimura at the end of last season. I used it at a couple of track days this summer and it is so amazing. I have a huge collection of superbikes that I'm now liquidating to pursue car racing full time. With age comes a cage! If you desire the ultimate track tool look no more. Here is your E-ticket ride.
RSBFS has known this collector for a number of years, and there has always been some interesting machinery in his stable. Unlike some who acquire bikes for museums and static displays, this individual is also someone who likes to ride. Thus, this Toni Elias Superbike has already seen a couple of track days. Hopefully it can go to a home that encourages an active lifestyle. For while this may be an outstanding man cave conversation piece, the real special sauce can only be experienced out on the track. Expensive for a track-day bike? No question. But if you want the best you can assure yourself that YOU will be the limitation here, not your hastily converted streetbike.
More from the seller:
If you have any questions or you need additional photos call me on 1-203-515-5146 or email me at bocco1@optonline.net There is so much more to this bike that I haven't even begun to list. The cost to build this bike is in the $100's of thousands to build and develop into a true winner. You can own it for a fraction of build cost.

I will include shipping to anywhere in the United States to the winning bidder. You foreign Dudes gotta pay all shipping and importing fee. God bless America!!!!
The history of MotoAmerica is not extensive enough to have much market data on values, but you can bet your bottom dollar this build was a no-expenses-spared exercise in developing a dominant Superbike. While rules limit what can be done in the class, these are very competitive when compared to WSBK machinery. Think of the best suspension available – with a setup developed by one of the best riders available today. One the engine side, nobody could accuse the Yoshimura Suzukis from being weak out of the corners or down the straights; you may need to recalibrate your brain as straights become shorter as you twist the throttle. Thankfully the brakes and remainder of the chassis is up to snuff. Brake and corner by thought as much as will.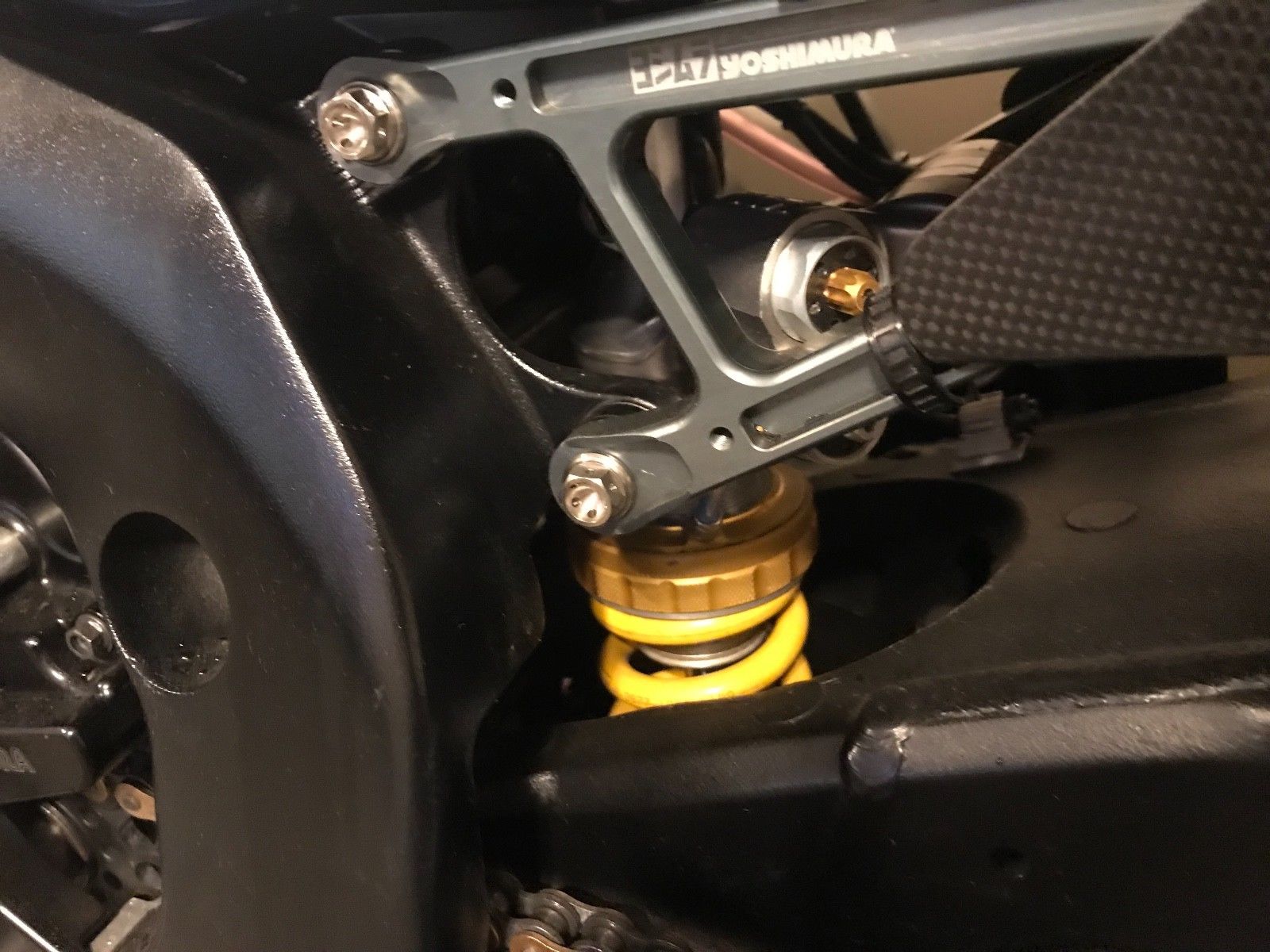 Here is the deal with ex racebikes: Today something this new is still a novelty and a status symbol. Given time – and the continued rise to fame of Toni Elias – this becomes a very real collector item with astounding values (a Moto2 machine ridden by Jorge Lorenzo recently fetched $133,544 USD in a Bonhams auction). Until that happens you have yourself a piece of furniture that tops out above 180 mph and makes you the envy of everyone at your next track day. Just think of all of the custom Yosh parts on this thing – the entire rear subframe is bespoke for this racer, as is the tail piece. Plus there is a second hand-formed aluminum tank (apparently with a dent courtesy of Josh Herrin) valued at some $7,500(!). What's not to like? Check out this fantastic 2016 Yoshimura-Suzuki GSX-R1000 MotoAmerica Superbike before it's gone!