If last week felt like Ducati week, this week is already starting to feel like GSX-R week. Following Sunday's 86 model is this 87 GSX-R 1100 that is also in very original condition and shows less than 10k miles. Similar to the other example, this one has an aftermarket pipe and pod filters, so make sure it runs right as the comments on the other post suggest. While this one shows a bit more storage wear it also carries a higher price of entry with a $10,900 buy-it-now. Compared to the 86 which has met reserve and is currently at $4,650 with over 7 days to go. It will be interesting to watch these both (if the auctions run to completion) to gauge the market.
dc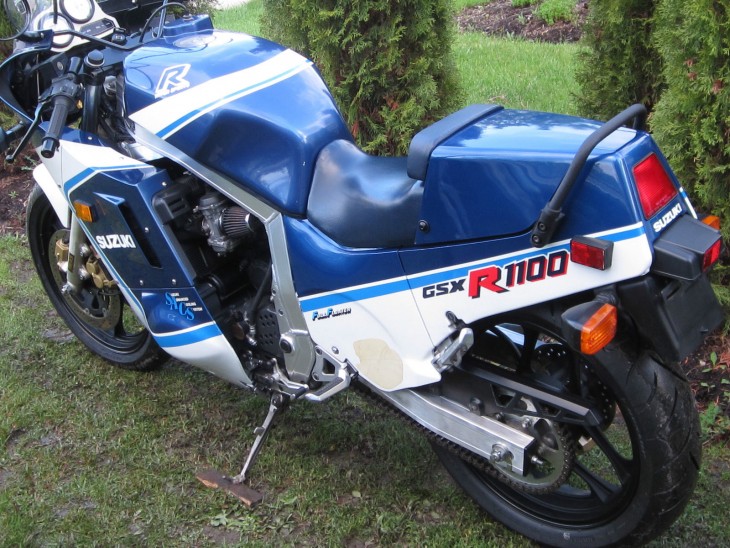 from the seller's description (converted to lowercase, sorry personal pet peeve!):
1987 SUZUKI GSXR 1100 WITH LOW ORIGINAL MILES (9961), NEW DUNLOP ROADSMART TIRES, NEW US MADE GEL BATTERY, NEW REAR BRAKE PADS, GOOD FRONT BRAKE PADS, FRESH ENGINE OIL, THE BLINKERS AND ALL LIGHTS WORK, THE GAS TANK IS CLEAN INSIDE, THE MOTOR RUNS STRONG, THE TRANSMISSION SHIFTS INTO ALL THE GEARS, IT IS A GOOD RUNNING CLASSIC BIKE. I GOT THIS MOTORCYCLE FROM ORIGINAL OWNER FOUR YEARS AGO, I STILL HAVE THE ORIGINAL TITLE READY TO BE TRANSFER TO NEW BUYER. DO TO STORAGE OVER THE YEARS BIKE HAS SOME SMALL SCRATCHES, SMALL PAINT CHIPS AND TWO SMALL DINGS IN FRONT OF THE GAS TANK, THERE ARE FEW MARKS ON THE CLUTCH SIDE COVER OF THE MOTOR FROM OLD ACID BATTERY VENT TUBE.

PLEASE LOOK AT THE PICTURES AND ASK ANY QUESTIONS BEFORE BIDDING. IT'S BEING SOLD AS IS CONDITION. IF YOU HAVE LESS THAN THREE POSITIVE AND/OR NEGATIVE FEEDBACK PLEASE CONTACT ME BEFORE PLACING A BID ON MY LISTING. I RESERVE THE RIGHT TO CANCEL YOUR BIDS, AND BLOCK YOU FROM BIDDING FURTHER IF CONTACT IS NOT MADE.