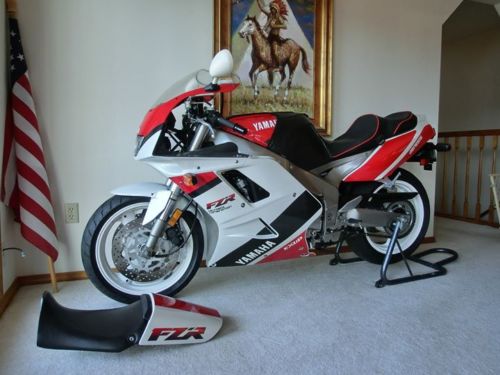 The Yamaha FZR1000 EXUP was named "Bike of the Decade" [the 1980s] by Cycleworld magazine, meaning it faced down some very tough competition, including the Ducati 851, Suzuki RG500, and the original GSX-R750. What made it so special? Well servo-actuated exhaust valves are pretty ubiquitous these days, but the big FZR was the first four-stroke to feature one on its five-valve Genesis motor. Yamaha's EXUP or "Exhaust Ultimate Power" valve varied exhaust flow to maximize high rpm power and low rpm torque, two characteristics that were often considered mutually-exclusive.
The 145hp and 79 ft-lbs of torque from the 1002cc engine aren't big news today, but still make for a very fast bike, even considering the slightly porky 460lb dry weight: we're still talking about a bike with a legitimate 170mph top speed and a supremely flexible powerband. The basic engine and five-speed package was good enough that Bimota saw fit to slot it into their lightweight YB11, and bike that still has the performance to surprise folks weaned on much newer bikes. The rest of the package was equally well-developed, and this iteration featured Yamaha's Deltabox II frame, upside-down forks, and new styling that replaced the twin-lamp endurance-style fairing with a sleeker, single trapezoidal unit that found its way into a couple of Bimotas as well…
From the original eBay listing: 1992 Yamaha FZR1000 EXUP for Sale
Attention Collectors! Bike of the Decade… 1992 FZR 1000 EXUP Delta Box Genesis Great Condition / Survivor > Always stored indoors on carpet! extra Rare Corbin seat with back rest, plus original mint solo seat with fairing. Must see pictures. 8738 miles. Just serviced Clear Title / resides in living room / tank drained, carbs cleaned / clean unused oil, and new fluids, serious inquires, Seller reserves the right to end auction early for private or collector sale. Sold as is, wonderful bike.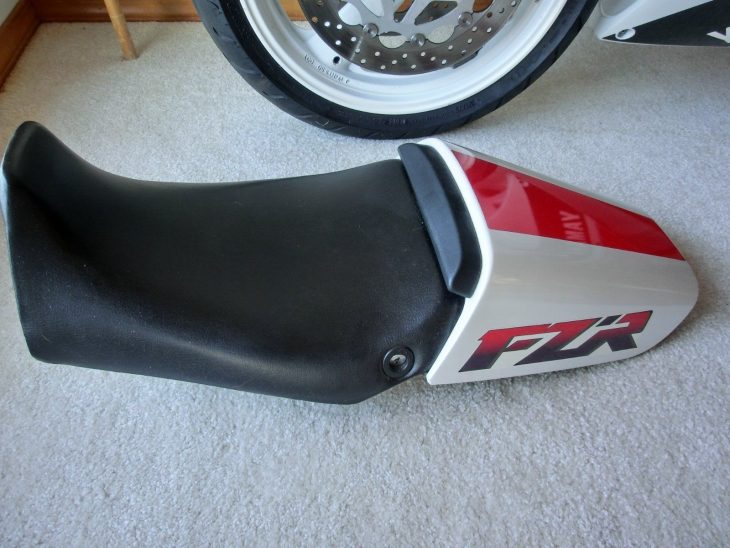 The FZR1000 in red and white is a great looking example of a 90s superbike. It's not especially valuable as yet, but has the potential to appreciate as people snap up the few remaining pristine, low-mileage examples. The $7,500 the seller is asking is steep, but this looks like it's in very nice condition, with low miles so, if you're into Yamahas, this might be a great opportunity to add a nearly pristine example of this very functional sportbike to your collection.
-tad