Update 2.15.2019: Curtis has relisted his SportClassic on eBay and is no reserve. Good luck to buyers and seller! -dc
Ducati was comfortably ahead of the game when they introduced the SportClassic series, which had great vintage appeal but modern mechanicals.  This owner has updated his first-year monoposto with suspension and fairings from the Paul Smart limited edition, and continued the look with the front fairing in burnt yellow as well.
Using the air-cooled dual-spark 992 across the range, the SportClassics had a healthy 92 hp available, fuel injected for better rideability and more modern emissions.  Around the fully visible powerplant, the black trellis frame makes its way from triple tree to asymmetrical swingarm, which was used for 2006 only.  Inside the vintage-looking spoked alloys are up-to-date 320mm Brembo brakes.  The plastic four gallon ( plus one in reserve ) fuel tank is rust proof and the owner had this one lined for ethanol resistance.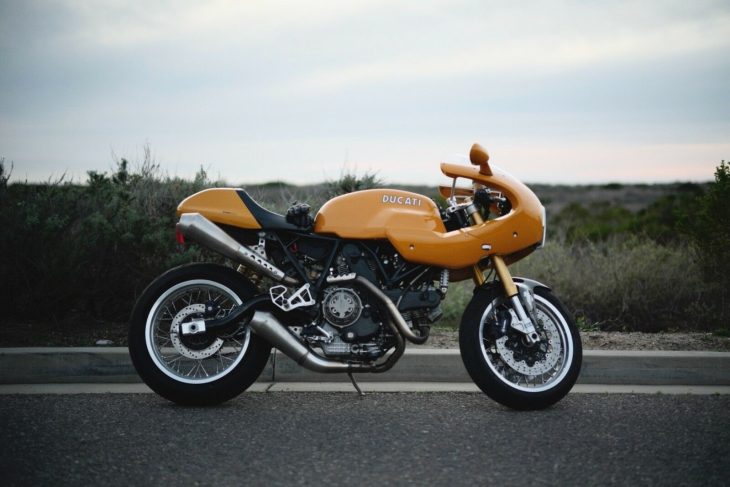 The Paul Smart was only offered in commemorative silver, and though the later 1000S was available in the much faster yellow, the biposto lacked the Öhlins suspension and banana monoshock rear.  The overdone factory exhaust has given way to a purposeful Zard stainless, and the list of nice touches continues around the bike.  Maintenance is spot-on, with just over 11,000 miles, it's halfway to its second valve adjustment, as the owner states in the eBay listing:
Zard Stainless Exhaust

Lithium lightweight Battery

Watson LED Front Turn Signals

Motobox LED Rear Turn Signals

Near New Michelin Pilot Sport Tires w/ 1,200 miles

New OEM Ducati Tank Replacement that has been professionally Caswell lined

PS1000LE Paul Smart Ohlins Forks

PS1000LE Paul Smart Rear Shock

LED headlight

Autoclave Carbon front tire fairing

NCR Titanium dry clutch cover

Strata fab fairing conversion hardware

7,500 Mile Valve service completed

Regular Oil Changes with Motul Racing Oil

Regular Chain lube and cleaning

Ceramic coated paint

Rear shock was recently serviced w/ new seals and oil
The SportClassics continue to appreciate, especially the limited editions and single year models.  This 2006 is hard to distinguish from a factory effort, except for the premium details added.  Though the SC's didn't break new technical ground, they have a look any Ducatisti will enjoy, with the excellent DS1000 reliability.  Curtis requests questions and offers via eBay – here – or contact by email: howdycurtis@gmail.com
-donn