Ducati developed a new dual-spark desmodue engine for the 1000SS and it is revered among Ducatista.  Its first platform was the Terblanche-styled SS which was fighting a losing showroom battle.  In hindsight it's a great SuperSport and classic Ducati.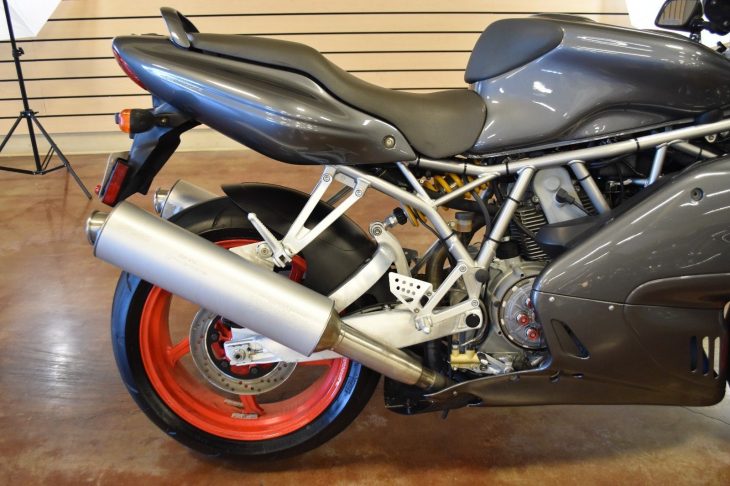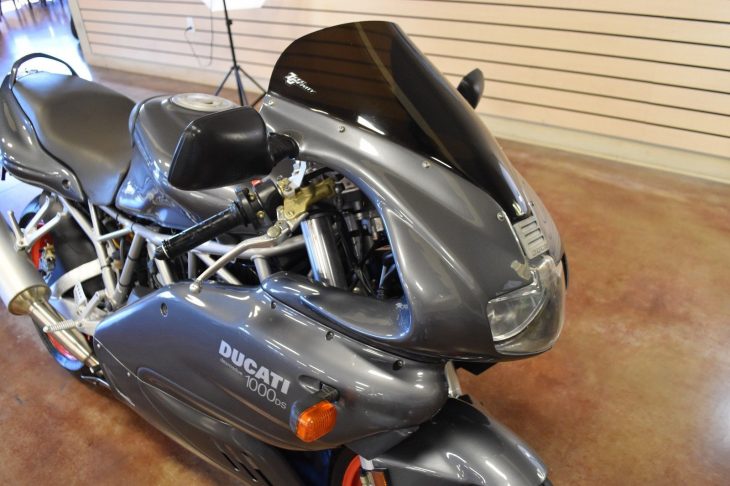 Engineers made many changes to the new DS engine, the lower valve angles, shortened exhaust ports and up-to-date fuel injection making for a more reliable, even tempered mill.  The 85 hp from the air-cooled 992cc's leave the water-cooling system behind, relying on air and oil cooling to contain temperatures.   Elsewhere, it's classic SuperSport, a fairly aggressive riding position, complex fairing, trellis frame, and room for a passenger.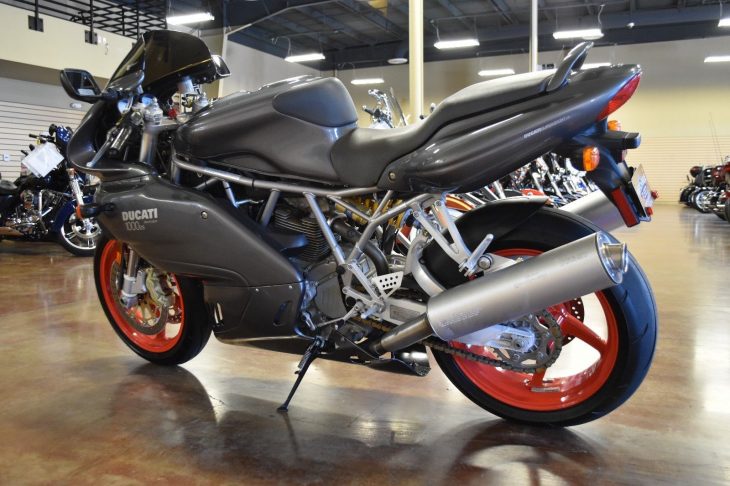 This SS is offered by an eBay dealer with quads, bikes, and campers on their roster, and the Senna gray with Ferrari red wheels look excellent for their 17K miles.  For some reason the clutch cover is not present, something should be there to protect the rider and keep the rain out.  The mirror booties need adjustment, likely they were folded, but appear to be the stock item.  From the eBay listing:
Fuel Injected

17,031 Miles

Marchesini Red Wheels

Factory Tool Kit

Zero Gravity Smoke Windshield

Brembo Brakes

Red Key

CLEAN AND CLEAR TITLE !

Tested and Inspected, Ready to Ride Now !

Normal wear and tear, open dry clutch assembly with common Ducati Clutch Plate noise

New Harley Davidson Dealer Trade In !

Very Clean Original Bike !
The SuperSport would only survive another year, starved for customers in a showroom with SuperBikes, Monsters, ST3's and 4's, the MultiStrada.  The love-it-or-hate-it body design probably didn't help matters, though the drivetrain would live on in Monsters, Multis, and the new Hypers and SportClassics.  Earlier SuperSport fans will love the new engine, and the handling will bring back memories.  Bar risers are still available to move the grips up and back a little, and the Make Offer button is there to move the bid down and forward a little…
-donn