For Sale: 1994 Harley Davidson VR1000
Unless I am mistaken, RSBFS readers are pretty much a collection of homologation junkies: RC30, RC45, OW01/02, and the like. Well here is a homologation bike that we see even less frequently than the Japanese variety; a US-born bike that never make it to the top of the big league steps. This is high hopes and history all rolled up into one black and orange thundering monster. This is the H-D VR1000.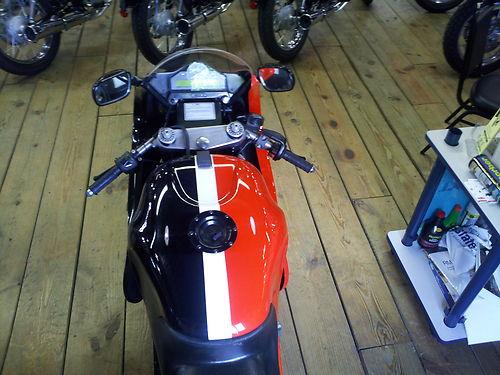 The original VR1000 concept started in 1988 between H-D and Roush racing, but it was not until late 1993 that the first racer turned a wheel in anger in competition. Despite the long gestation period, the VR1000 race bike was fraught with failure and generally underperformed. Despite being ridden by some of the best racers of the day – Miguel Duhamel, Doug Chandler, Chris Karr, Pascal Picotte, Tom Wilson and Scott Russell – the VR1000 never officially won a race. There were certainly bright spots in the program with Duhamel leading at Mid-Ohio, Carr on pole at Pomona, and Tom Wilson actually winning at Mid-Ohio ('96) before the red-flag finish reverted back to the last lap running order.
From the seller:
HD#25 VR1000

The VR1000 was the product of a Harley-Davidson skunkworks, which produced Harley's first from-the-ground-up road-racer, using no existing Harley-Davidson parts and sourcing what it did use from outside parts suppliers, some that had no experience in racing. The project began at Roush Racing, but once a running engine was developed, it came back behind the walls at Harley.

Title will be an offroad title as this is a racebike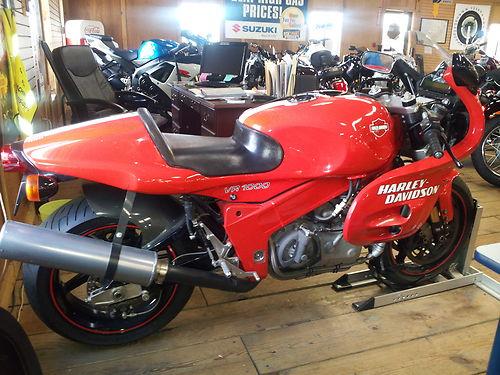 This bike is clearly one of the original 50 homologated streetbikes. Back in 1994 these carried an MSRP of $49,995. One sold in a Minnesota auction for $94k back in 2007, and another was on the block at a Las Vegas auction in 2011 when bidding stalled at $64k. Pound for pound these are every bit as rare and collectable as Japanese homologation material, although race victory bragging rights are generally not included.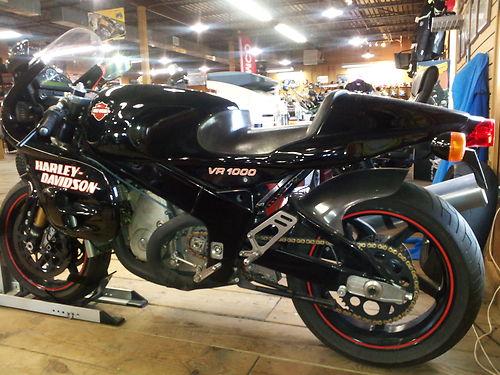 This bike is avialable now with the current price up to $26,100 in very light bidding. The reserve is still in place (which I would expect it to be at double the current bid), so there is a long road to go for this one. For your chance to check out the pictures and the details, click on the link and jump over to the auction. Special thanks to RSBFS reader Martin who spotted this piece of Americana looking to go to a new home!
MI