Another Ex-Chandler Race Bike:  #10's  2006 Kawasaki ZX10R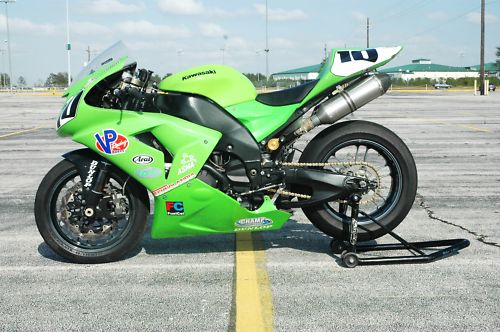 Too bad it wasn't his old Cagiva GP bike huh?  Well you can't have everything and this bike does have some awfully tasty pieces.  As the title suggests, this isn't even the first Ex-Chandler ZX we've seen here at RSFS.  This one  was posted back at the end of 2009.
I don't believe those forks came stock on the ZX.  I know the ZX chassis was always suspect for racing but I bet quite a few guys would like that setup to show off at the local hangout.  I found an old press release from 2006 that claims the engine work was done by famed Kawi tuner Rob Muzzy's shop.  It is kind of interesting though, that there is no mention of this in the auction info below…hmmm.  I would think that would be a strong selling point.
The seller states this is one of two bikes built for Chandler's 2006 season.  I guess my first question would be if this was the "A" or "B" bike and if there were any differences.
The info:
This is one of two bikes Doug built for the 2006 season. The bike does have a title so with a little work could be made street legal. The chassis starts with a 50mm MARZOCCHI forks with special made upper and lower triple trees. Wheels are forged MAGNESIUM by EXCEL.Has PVM front brakes with wave rotors. Comes with a brand new set of slicks and tire warmers. Rear shock is an OHLINS. Has a GPR steering dampner. Has Hot Bodies body work and comes with a complete set of extra Hot Bodies body work. Also has a FC FuelCel. According to Doug the motor is making around 195 – 200 horsepower. Comes with titanium exhaust and lots of titanium fasteners. The bike starts up and idles like a street bike, sounds amazing! Comes with a set of sprockets, new air filters and new clutch plates. Also has a front and rear stand. This is an awesome bike built by a three time AMA champion. Buyer is responsible for pick up or shipping. Feel free to contact me with any questions. Thanks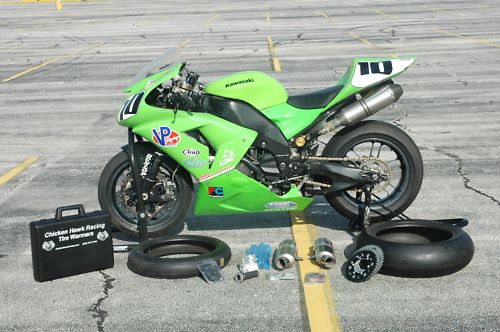 Everyone likes extras and speaking of extras, it sounds like the motor isn't hurting in the pony department.  If you'd like to own a small piece of racing history you can .
By the way, do you think owning a Cagiva GP bike is just a dream?  Check out this photo from a gathering at Imola.  This is apparently someones private collection.  If you like this sort of stuff be sure to check out two stroke section on the Performance Bikes Forum.  It has a cool thread on the Cagiva GP bikes.  I don't want to hear about anyone bragging about their collection of bikes until you have at least two of these.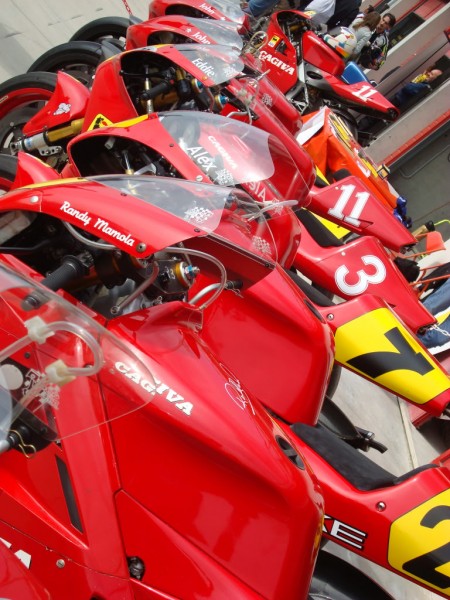 IK