Oro Or America?  Your Choice.  2004 MV Agusta Brutale Oro and 2006 Brutale America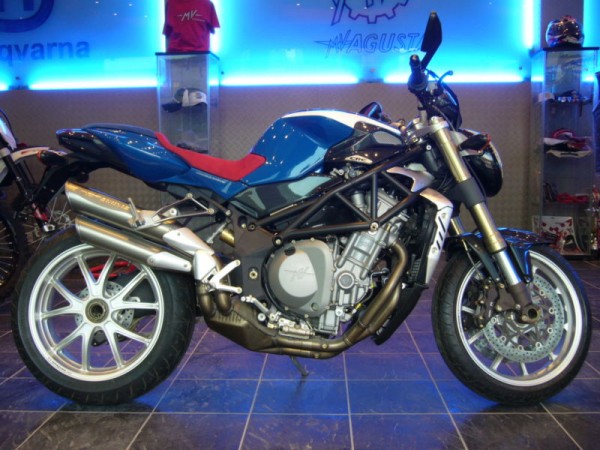 Good news for those of you that like it naked and exotic (who doesn't huh?).  A couple of nice limited edition Brutale's are looking for new owners.
——————————————————–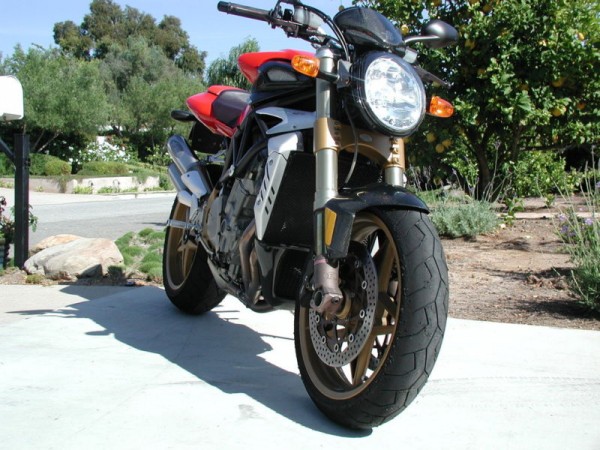 Of course I have to start with the Oro.   Everyone knows when you see "MV Agusta" and "Oro" together it is a good thing.  Just like the limited edition F4 Oro's the Brutale Oro's got the good stuff; nicer suspension, sprinkles of magnesium parts, detail upgrades and of course more engine.  Here is the official list of goodies.
The details about the bike for sale:
The Serie Oro was an MV Agusta factory limited edition special. It was offered for one year only in 2004. Total production was limited to 300 machines for world wide distribution. The USA received only 22 units total according to the Cagiva importer. This Brutale Serie Oro is number 189. The authenticating gold plaque for this serial number can be seen on the upper triple clamp.

The standard 750 Brutale was in many respects a better handling, more refined machine than the larger displacement versions. The Serie Oro carried this refinement even further. This was accomplished through the use of exotic light weight materials in key components. Notably, the swingarm, swingarm support plates, triple clamp, and wheels are all Magnesium. The Serie Oro also came with a Ti Nitrided 50mm Marzocchi racing front fork.

Beyond the already high spec components that came from the factory on this rare machine, MV Agusta offered Brtuale owners a few more exotic parts. This Serie Oro includes the full titanium exhaust ($4,000 by itself) and Eprom chip. Also included is the Ohlins Brutale F4 rear shock ($1,500). This shock is unique to the Brutale. It was made specifically for the Brutale Serie Oro 750 and is no longer available from MV Agusta or Ohlins. 

This Serie Oro has 6000 miles on it now. It looks like new. It runs like new. The stock exhaust is on the bike now. I can put the Titanium exhaust on at no charge at the buyers request. In either case the Ti exhaust goes with the bike. This Serie Oro has the following upgrades:

Power Commander, Matris steering damper, Sato rearsets, Ferraci frame plugs, CRG mirrors, Omega eng. metal quick release fuel line fittings, fuel injectors were blueprinted by Doug Lofgren at Ducati of MN (this improved throttle response and really improved fuel consumption), billet exhaust hangars, front and rear wheel stands, C/F Corse fender. 15 tooth front sprocket.

Tires are decent but I will put a new set on prior to sale of the bike at no additional cost. Original tires are Michelin Pilot Powers. They work excellently on this bike. This bike sold new for $29,000 before any upgrades. The listed upgrades cost an additional $8,500. Someone is going to get an increadible deal on a very rare and beautiful machine. All maintenence has bee done before recommended intervals. This bike needs nothing.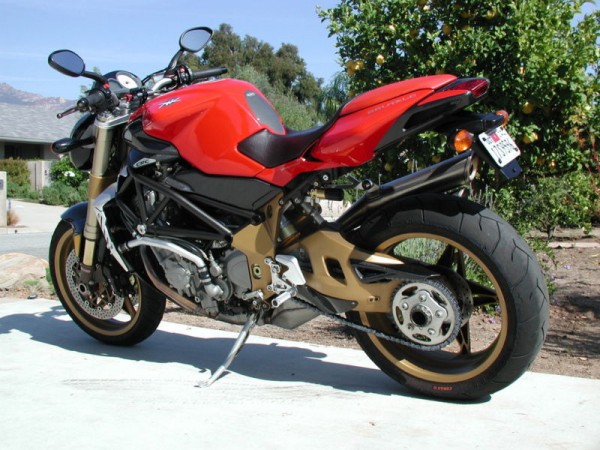 MSRP was originally almost $29,000!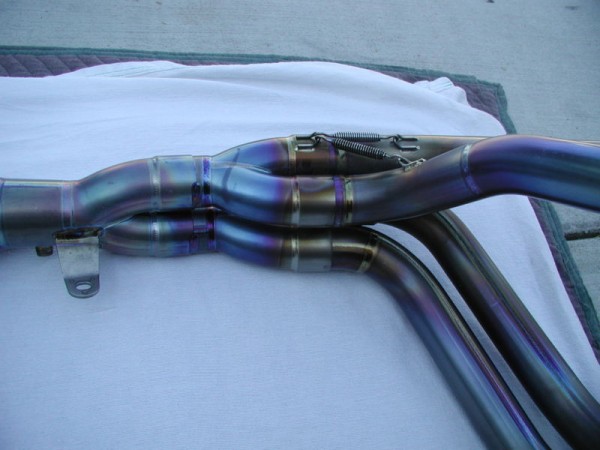 Oh my!  Let me gather my thoughts.  That is simply art and on a naked bike you get to show it off.
If it is a limited edition it must have a badge.  I haven't followed Brutale resale prices closely so I'm probably off on guessing a price but I would think it would be somewhere in the low 20's, possibly high teens.  This one is rare, clean, has low miles and some nice upgrades so I'd assume the reserve would be on the higher side.  .
————————————————————-
How about an "America" in of all places: Kuwait.  Go figure.   That isn't exactly next door but there were only 300 of these kits produced so if it is a must have it's time to call your local shipper.   The seller does state he is willing  to ship world wide.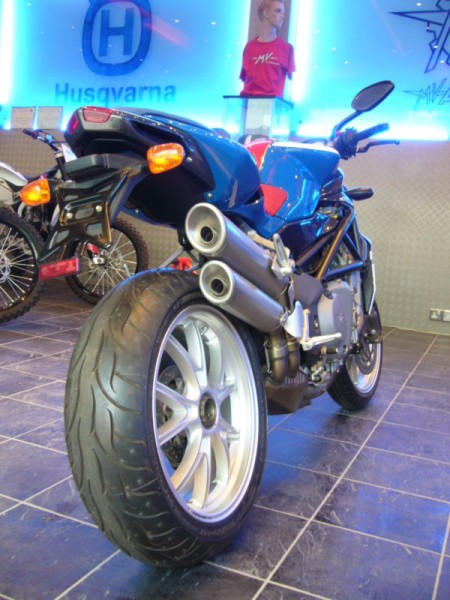 Unlike the Oro the America was not a separate model but rather a kit you could order to add to your beloved Brutale.  There were two kits to choose from, the basic and full option.  This bike appears to have the full option kit.  Click here for all the details on it from MV.
Goodies from the kit include:
Carbon Fiber front mudguard

Carbon Fiber dashboard cover

Carbon Fiber oil cooler guard

Carbon Fiber ignition switch cover

Carbon Fiber right side air-box panel

Carbon Fiber left side air-box panel

Red/White/Blue painted plastic fuel tank

Carbon Fiber right side fuel tank panel

Carbon Fiber left side fuel tank panel

Carbon Fiber right rear cylinder cover

Carbon Fiber left rear cylinder cover

Blue right and left painted plastic tail section panels

Red "Alcantara" front seat

Blue "Alcantara" rear seat

Carbon Fiber taillight surround

Carbon Fiber upper chain guard

Carbon Fiber lower chain guard

Silver Marchesini ten-spoke forged aluminum front wheel rim

Silver Marchesini ten-spoke forged aluminum rear wheel rim

Engraved plaque with the number of the bike and matching "Limited Edition" certificate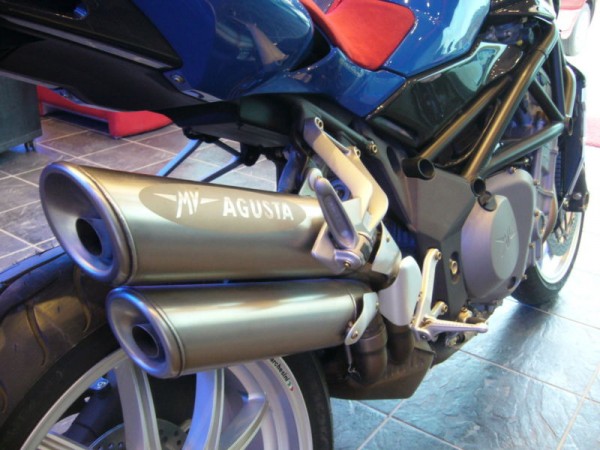 I think the America one ups the Oro in the looks department (excluding those Ti pipes for course).  My eyes have grown weary of all the red MV's, it is nice to see something a bit  different like the America.  What I failed to find was an original price for the kit.  Nothing from MV Agusta is cheap but I'm curious what these ran originally.  Any RSBFS readers in the know?  If you are game for some long distance shipping .
The rest of the eye candy:
Ian