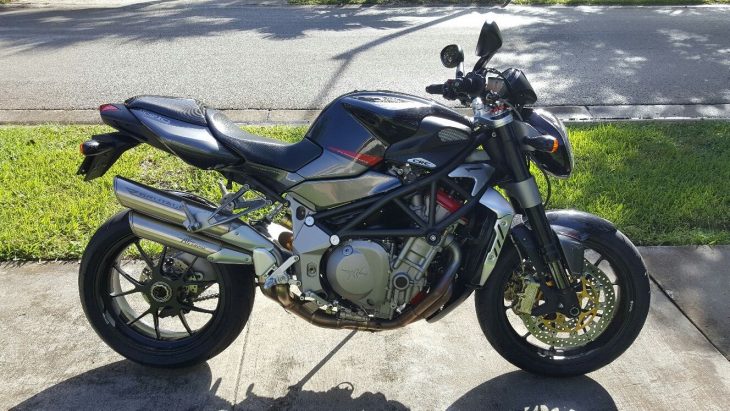 MV Agusta's Brutale represents the sane and reasonable option compared to their take-no-prisoners F4. Limited development budget meant the bike shared plenty of the fully faired machine's DNA and it used a similar, if not identical frame, single-sided swingarm and wheels, along with a slightly detuned version of the radial-valved inline four. But the Brutale used a less ass-roasting shotgun exhaust set up, and dropped the gorgeous, Tamburini-designed fairings and clipons for a sleek headlamp and a tapered handlebar. Considering the brutal ergonomics of the F4, this is a good thing if you want to ride your exotic Italian, instead of just display it.
The original 750 was considered by many to be a bit underpowered, although I suspect many of those people are size queens: the early Brutale was still plenty fast, considering the upright riding position and lack of wind protection… The later bikes like the 1078RR and 1090RR really might have been a bit too much, leaving the 910R like this one as the "just right" middle ground. Handling is excellent, with quality suspension at both ends, and the 136 claimed horses of the 910R will keep you very entertained.
The Buy It Now price is listed at $6,700 for this example, which is on the high side for a Brutale but, considering the low miles and claimed condition, seems reasonable. If you're looking for a good deal on a truly exotic nameplate, the Brutale represents a very good deal at the moment, at 2/3 the price of a comparable F4 but with ergonomics that will let you actually ride the thing without murdering your back or crushing your fingers against the fairing when you try to maneuver it at low speeds.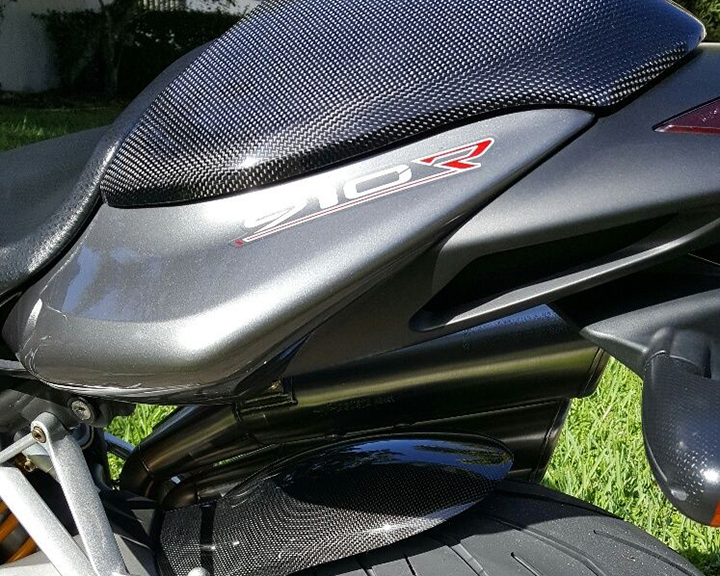 From the original eBay listing: 2007 MV Agusta Brutale 910R for Sale
In like new condition under 4,600 original miles. The bike does not have one scratch, chip, dent or scratch, adult owned garaged and covered all its life, comes with a bit of carbon fiber, (solo rear seat cover and rear tire hugger) has frame sliders, battery tender lead, new tires Avon 3D super sport front and rear….also included is the single sided rear stand, stainless steal rear wheel nut and front axle nut removal socket, two keys, factory manual and tool kit, clear title on hand… you will not find a nicer or cleaner Brutale, won't be disappointed.
Like a great many Italian machines, these are beautifully designed but sometimes indifferently assembled. Get a good one, and you'll be looking at a champagne motorcycle on a beer budget. Get a bad one and it will eat you alive, trying to keep it running, and with MV being in-and-out of solvency over the past decade or two, parts availability can be spotty. If something's not in stock at your local dealer, assuming you have a local dealer, the wait for parts to ship from Varese could be long. Especially if you happen to need something during August, when the factory is likely to be closed…
-tad