For Sale: 1993 BMW R100RS
When it comes to selling a bike, presentation is everything. And this, my friends, is what makes this bike RSBFS worthy. Sure, the BMW R100RS models are reasonably rare – especially the final year made, like this one. And sure, this bike leans a little further over to the "tour" side of "sport touring" than most RSBFS posts. But look at the pictures and tell me when you have seen a cleaner motorcycle of this vintage. Original owner, less than 4k miles, and plenty of pictures to peruse – THIS is the way to advertise your bike.
I will readily admit that the 1000cc boxer motor is not the most powerful in the world. They are stone reliable, however, and are well-known to outlast most riders. This one looks clean enough to eat off of – only you might make it dirty!
From the seller:
Rare 1992 BMW R100 RS. 3,949 miles. Bike is all original, except for replaced battery and front tire. Original owner with all documents, manuals, toolkit and battery charger. Everything that came with the bike in 1992 is included. This bike has always been stored indoors in climate-controlled environments. All markings and assembly decals are still on the motorcycle. There are no dents, accidents or scratches on the paint. The few stone chips (maybe three?) were touched up using BMW touchup paint from the dealer. This bike is rare and is the last year for this model style with wind tunnel designed fairing from the mid seventies. The pinstripes are hand painted and in perfect condition. It runs excellently as one would expect from a bike with less than 4,000 miles. Last registered in California in 2004. Originally purchased in Maryland and shipped to California in 1999. It was once ridden in a sudden summer rain shower for about 30 minutes, otherwise never in any foul weather. The saddlebags are rather soft plastic and have a few marks on them. The bike was never dropped or in any accident (unless you consider the unfortunate owl that flew into the bike right in front of my left boot/cylinder head one evening – there are a few small marks where the talons made contact with the bike at the bottom of the fairing – these have been touched up). Bike is guaranteed to be just as I describe here and will not disappoint. It is excellent in every way for an original bike with less than 4,000 miles. E-mail with any questions. I collect and restore vehicles and this bike I have treasured for almost 20 years.
These oilhead BMWs will eat up miles all day long, and get you to your destination relaxed and comfortable. The RS fairing is designed to envelope the rider in a still pocket of air, and the riding position is neutral, with a slight forward cant. Fill up the detachable hardbags (long known as the best in the business), and journey off to points unknown – without ever seeing another rider on the same bike. Not a bad way to go.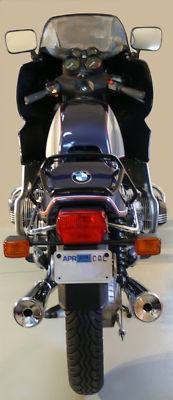 To get in on the bidding for this beauty, or to just drool over some of the high-res pictures included by the seller,
MI