Giving K-bike riders an S of their own, BMW introduced the K1200S in 2004 and never looked back.  The K1200S was BMW's first transverse inline-4, a development project on the road to the S1000RR, but a great supersport and rival to the Hayabusa and ZX-12.  In late 2005, a stock K1200S famously set records at Bonneville for solo and two-up sportbikes.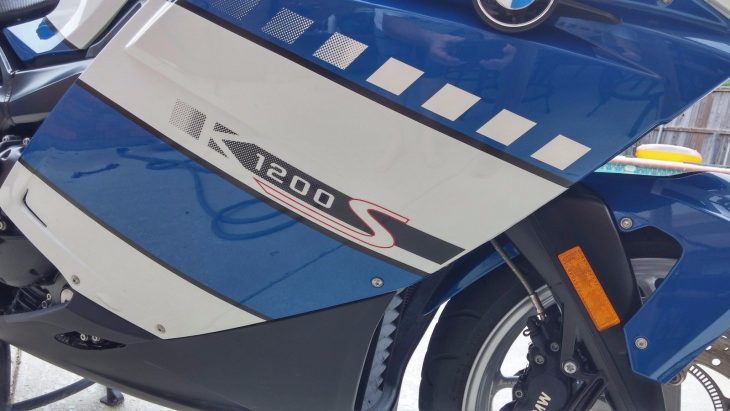 BMW tweaked the 1157cc engine, tilted forward 55 degrees and running 13:0 compression, it's good for 167 hp.  The angle led to a longer bike, but Duolever front end and Paralever rear keep handling sharp for a heavyweight.  The beginning of the electronic era, the K1200S had ABS, electronically adjustable suspension ( ESA ) and a pushbutton windscreen, all optional along with the rider information display.  The 4-2-1 exhaust appears under the full fairing and enters a right-side muffler, this time updated to Two-Brothers flat-weave carbon fiber.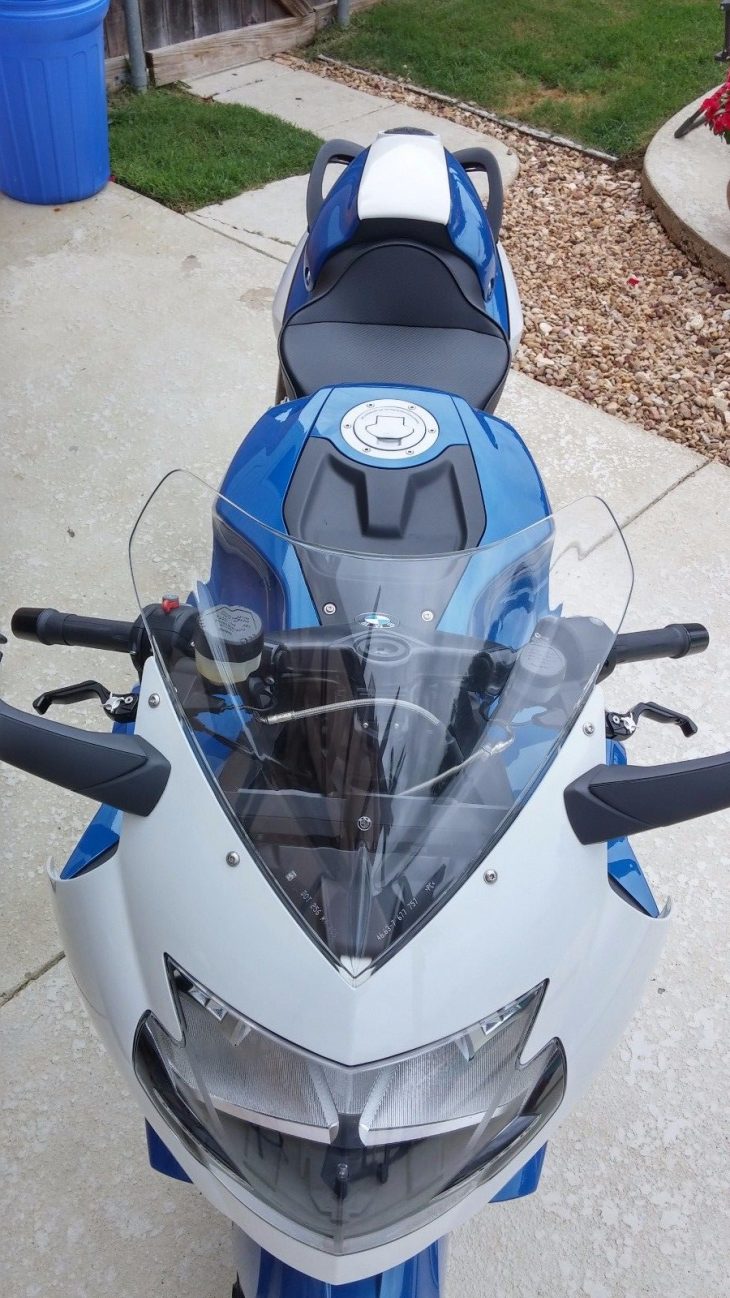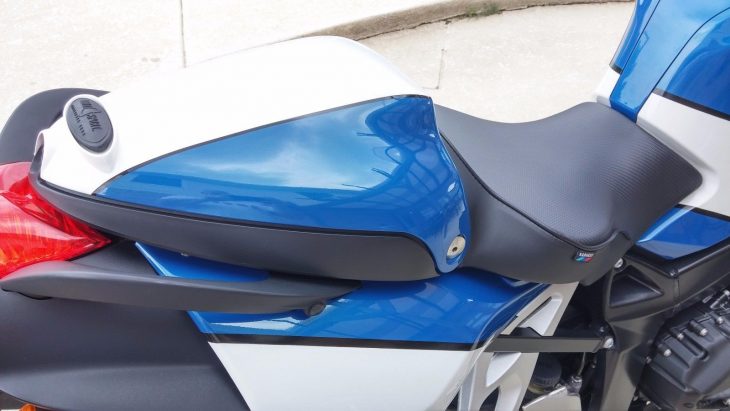 Unblemished and with limited ungrades, this R1200S appears undamaged and has a neat Sargent seat with cargo pod.  Not sure whether ABS and ESA were ordered for this K1200S, but low miles and new rubber indicate a lot of maintenance-free riding until the chain-driven valve train needs adjustment.   From the eBay auction:
Under 8,600 total miles, but still being minimally ridden
Fixed Price $9,000 or best offer

Upgrades/Mods:
Has Two Brothers Carbon Exhaust: ($700 upgrade) sounds amazing!
Search part number: 005-1280407v

Sargent Seat and Rear Storage POD ($1500 upgrade) 
sargentcycle dot com/Seats-Accessories/World-Sport-Modular-Seat-System-BMW-K1200S-K1300S plus still have original seat too.

New Dunlop Tires ($350), less than 500 miles on them. 

INCLUDED with Asking price:  $650 Bell Star Airtrix Laguna 100% Carbon Race Helmet with $150 Photocromatic shield and zippered carry bag size: L - large.
As one would expect, the K1200S is rather too heavy for any road course honors, but a winning and very sporty tourer.  Electronic fuel injection, ABS, and suspension all make for a 21st century ride, and superbike power and torque unreel the mile markers quickly.  The most powerful BMW in the 2006 line-up, a production model BMW K1200S set a world land speed record in the 1000-1350cc stock, partially streamlined, naturally aspirated motorcycle class at Utah's famed Bonneville Salt Flats.  On the strip it was capable of 0-60 in 2.8 seconds and a 10-second quarter, and piloted by Andy Sills of San Francisco, the bike reached an average speed of 173.57 mph, and top speed of 176.89 mph after two runs on the vast white Salt Flats.  He and a pillion also clocked a record speed of 169 mph, riding the K1200S two-up with fearless Erin Hunter...
donn