With so many "paint and tape" special editions, it sometimes seems like there were very few standard MV Agusta F4s actually built… But the 1078 RR312 is more than just some flat-black paint with a famous name slapped on it. The RR312 throws any pretense at race-eligibility out the window with a big-bore motor and near 200mph performance. In a rare instance of honest alpha-numeric labeling, it packs a full 1078cc unit good for a claimed 190hp and a top speed of 312kph or over 190mph.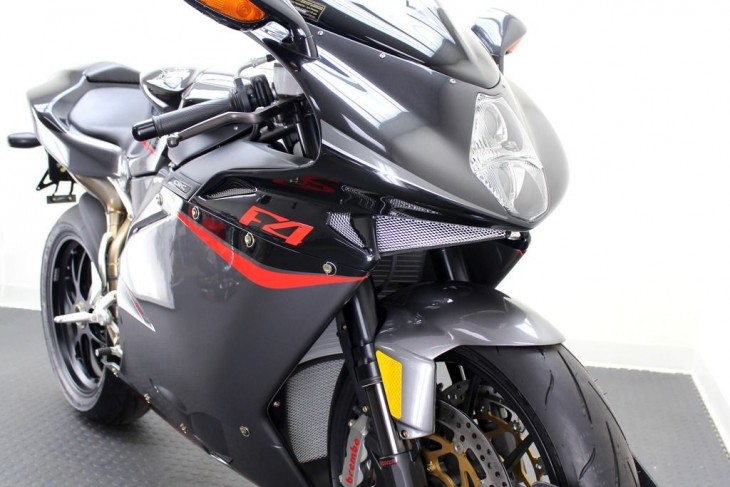 Introduced in 1998 as a 750, the exotic, radial-valved F4 found itself being compared to Japanese literbikes that blew it out of the water in terms of outright performance. The updated F4 1000 that followed addressed that perceived lack of power spectacularly. The F4 may offer minimal on-paper performance advantages over other literbikes, but the character is entirely different. Where bikes like the GSX-R1000 are famous for their near sport-touring versatility and flexible power, the F4 1078 is another animal, a highly-strung monster with handling that rewards commitment.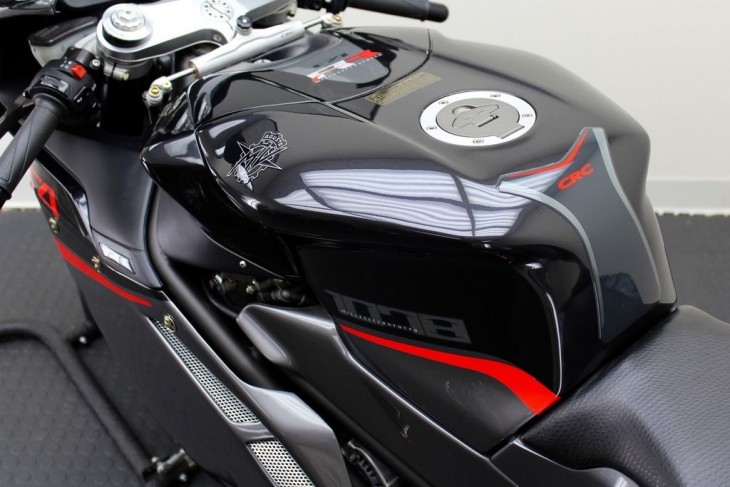 And so many F4s have been admired more than they've been ridden, but this RR312 one-ups other F4s in that regard as well: just 36 miles have rolled under the wheels from new.
From the original eBay listing: 2009 MV AGUSTA F4 RR312 for Sale
36 MILES FROM NEW

This 2009 MV AGUSTA F4 312RR 1078 was the most advanced MV to come out of the factory up to that point.  It has since held on to the title of one of the fastest and best handling motorcycles in the world.

The condition of this machine is virtually brand new.  There isn't much more you can say besides this bike is in showroom condition.  Everything on it is basically as it was when it left the dealer in 2009. Please note this bike comes in with a clear title.  It has been in 2 private collections since new, is started on a regular basis, and ridden very short distances occasionally.

Don't ask if there are any scratches on the bike.  There aren't.  If you see something that looks like a scratch, it's the light reflecting off the fairings.  The bike was purchased new and obviously ridden very sparingly since acquisition.  All of the major engine, transmission, and braking components have been recently checked for safety, and anything needing attention was serviced.  NOTHING needs to be done to the bike to ride it!

The tires on the front and rear are new. They are the original tires delivered with the bike.The paint is on the gas tank and fairings is original and again, in flawless condition, with no chips or scratches or scuffs evident anywhere on the machine. The battery was just replaced, and everything on the bike is working as it should.  The brakes were also checked to make sure they functioned perfectly as well.

I also have the ORIGINAL AND CORRECT rear stand for the bike as well as the original owner's manual and spare parts catalog. Again, there is absolutely NOTHING that needs to be done to this machine to ride it occasionally and enjoy it as a showpiece.
It's hard to imagine how someone could own a bike with this much performance and only ride it as far as my daily round-trip to the office… Of course, there are definitely concerns if you plan to add to those 36 miles: cars and bikes that sit definitely deteriorate in expensive ways. Seals and gaskets dry out and fail, rubber cracks and falls apart, meaning some of these low-mileage dream bikes can turn out to be more expensive than they look if you plan to do more than display them. Luckily, this one is still new enough that's not likely to be much of a problem.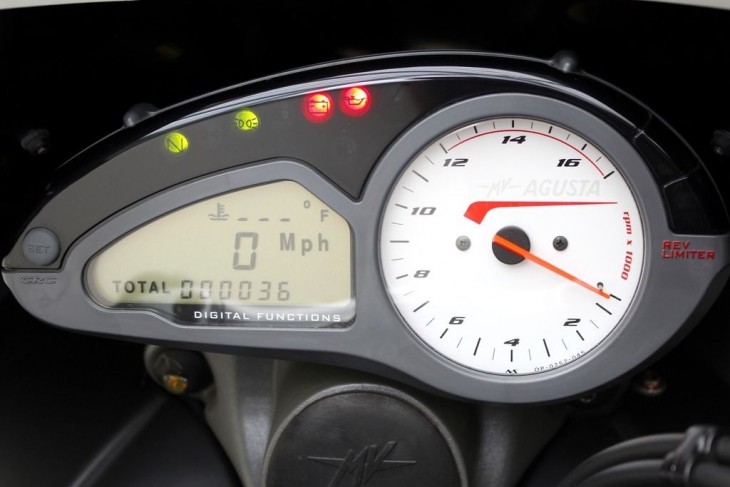 Bidding is very active and up to almost $9,000 with several days left on the auction and the Reserve Not Met. If it stays anywhere near that price, you're looking at pretty tremendous bang for your buck to go with those stunning, exotic looks. Obviously maintenance is a whole different story for an MV Agusta but I can't imagine anyone using one as a daily rider, especially one with such low miles…
-tad