Warning!
This post is in our archives. Links in this post have been updated to point to similar bikes available to bid on eBay.
Every post will be sent right to your inbox every morning when new posts are made. We will never sell our list or spam you. Plus you can click links to bid or buy right from the email and skip the site entirely. Subscribe to Rare SportBikes For Sale today!
As is always the case with exotic machinery, a simple truth-in-advertising name sounds so much better in Italian… Oooooh. A Maserati Quattroporte… That sounds so sexy. Wait, it just means "four doors"? You're saying that the name of that four-door Maserati is "Maserati four-door"? The same thing is true for Ducati's GP6-based Desmosedici D16RR road bike: the name literally means "desmodromic sixteen" and refers to the number of valves in the V4 engine's Desmo heads… maybe not as sexy as naming your motorcycle after a famous race victory, but it has a pragmatic quality that suits a detuned race bike, with the bonus that most folks just think it sounds cool.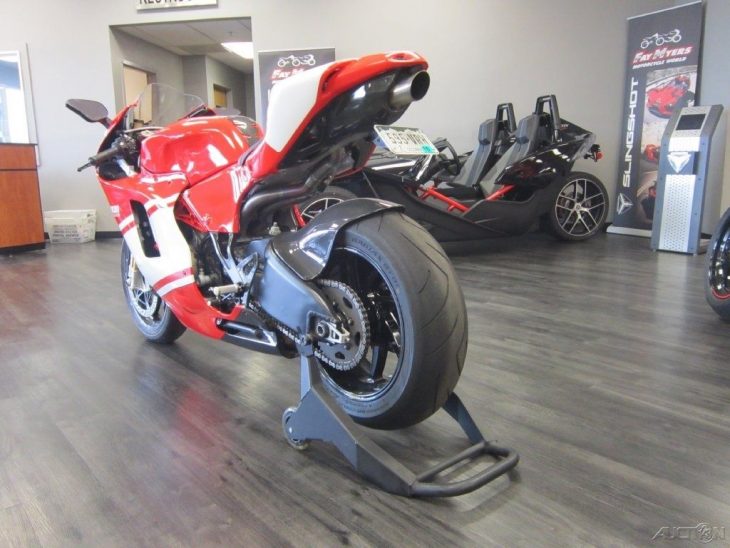 Race-replicas clog up eBay every day, but most are just graphics jobs on the fairing of an ordinary roadbike, or homologation specials designed to allow certain bikes or just specific parts to be used in various race classes. But the D16RR is something else entirely, a one-of-a-kind machine that shares almost no parts with any production Ducati, a detuned MotoGP prototype, fitted with lights. Technically, that's a bit of an exaggeration, as it's not like the road bike's engine parts are actually interchangeable with the race bike's…  And there are plenty of other changes as well. For example, it's not a dry-sump engine like the race bikes, but it does have gear-driven cams and a "Twin-Pulse" firing order that gave the bike something closer to the Ducati's signature v-twin growl…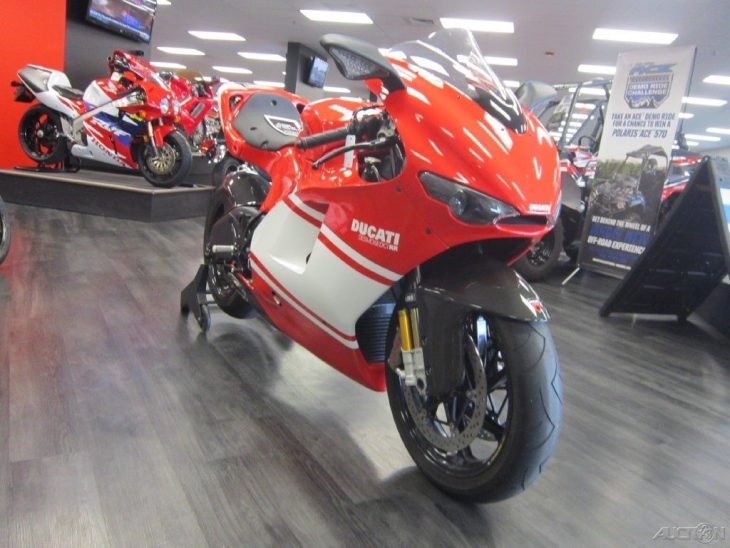 But honestly, the fact that it's not really a detuned racebike almost makes it more impressive considering the mere 1,500 built, since the design brief for this engine was basically "make a brand new engine that is as much like the race engine as is practical, but shares no parts with it."  It is an utterly impractical motorcycle, a barely-tamed 989cc V4 monster that cranks out nearly 200hp at the crank, with absolutely top-shelf suspension at the front and rear. A Desmosedici cost over $70,000 new and, although they're currently trading for much less, you'd better be prepared for very expensive maintenance costs down the line. Does your local shop even stock tires to fit that 16″ rear wheel?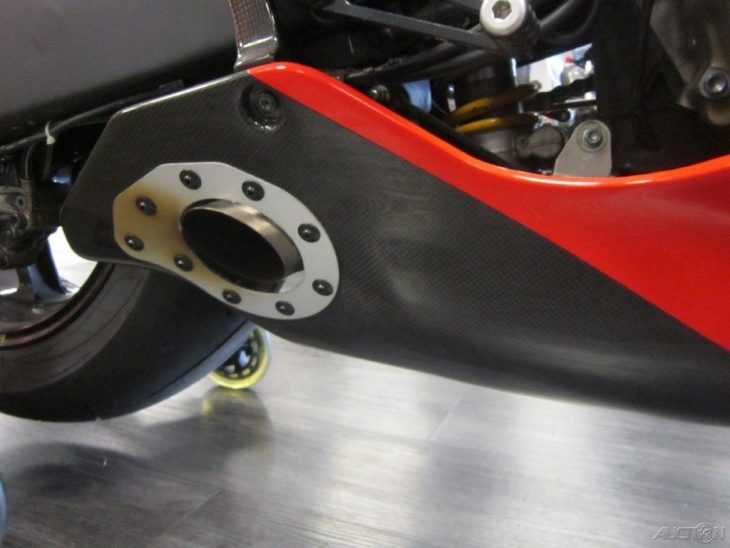 This example has been used a bit, although miles are still extremely low, and it is fitted with one of the accessory Ducati Performance exhausts that were available for the bike and gave it a more authentic style than the stock part, increased noise, and a nice hole in the bellypan.
From the original eBay listing: 2008 Ducati Desmosedici for Sale
This is a pre-owned 2008 Ducati Desmosedici. This bike has 4300 miles and has the GP Exhaust installed. Overall condition of the bike is good, it has been ridden so it has some rock chips in the lower fairing, small scratch in the swingarm and a few minor small cosmetic imperfections. Nothing wrong mechanically and nothing bad cosmetically, normal 4300 mile condition, it has never been down. Tires still have some life but the bike will come with a brand new set. This bike comes with: bike stand, cover, 2 keys, owners manual, new set of OEM tires. It does not have the complete owners manual, just the main one. It does not have the plaque, stock or race exhaust. Only the parts that are listed.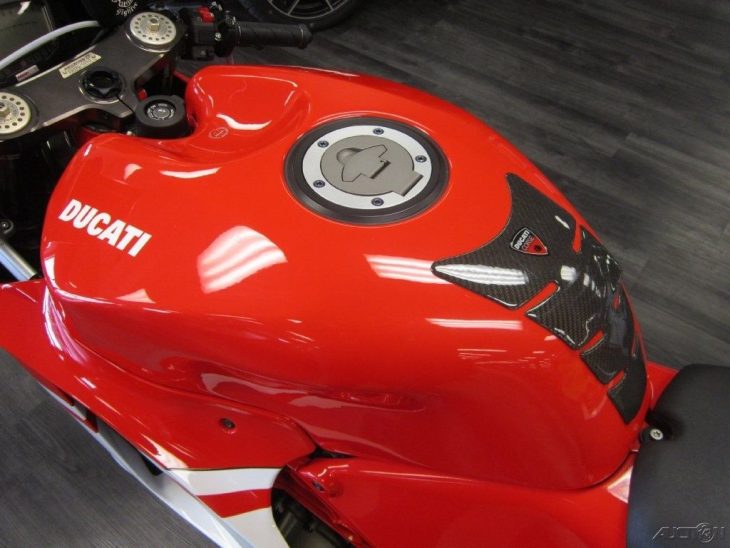 Bidding is very active and up north of $35,000.00, a bargain price for a Desmo. The missing bits might put off collectors but, if the price stays low, someone's getting a good deal. Personally, I'd be happy with the very cool GP exhaust, since the original configuration always seemed weird to me: why does it need to exit out the top of the tail section? Okay, I get it: you want to keep the brake light and signals looking conventional. But wouldn't it make more sense for a straight shot out the tail, and build some sort of LED bit around it or suspended beneath it, like on the Benelli TnT? Especially since that would look even more racebike-y?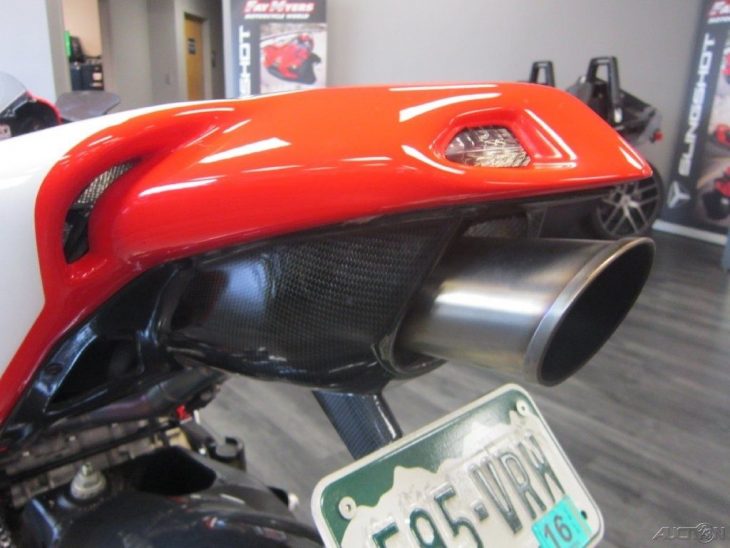 In any event, until the Honda RCV213 came along, this was the closest bike fans could get to a road-legal GP bike and that always seems to get the attention of collectors. They sound hellacious, look like nothing else on the road even ten years on, and offer up repair and maintenance bills that will definitely remind you that you own a thoroughbred exotic…
-tad