For Sale: 1991 Bimota Tesi 1D
Update 10.17.2011: Just a few hours remaining to snag this one. Current bid is $15,200 and looks like reserve has been met. Good luck!
Today's RSBFS Featured Listing is a very rare, and very special bike. Any Tesi will quickly draw the stares of motorcycle enthusiasts, but how about a Tesi 1D prepped by the Bimota factory as a backup bike for AHMRA Battle of the Twins (BOTT) events with rider Dale Quarterly and *hand signed* by none other than Pierluigi Marconi himself?
From the seller:
This is a 1991 Bimota Tesi 1Dsr. It is the most advanced and celebrated bike of the time, being part of a limited series of thirty bikes produced by Bimota of Italy for sale in the US. The information I recieved from the previous owner was that this particular bike was modified for racing by the factory in an attempt to bolster their design theories. It is one of two bikes that was hand assembled and signed by Pierluigi Marconi in 1991 for Bimota's short and unsuccessful attempt at racing in the US. It was to be campaigned by Dale Quarterly in the Battle of the Twins series put on by AHMRA, which was a hot and competitive event during the time. Shortly after, Quarterly quit the effort in disgust when the bike and team could not be made competitive. The bike you see here was the back up bike for those events though it was never raced in anger.

The engine started out as a V-Twin, four valve head, water-cooled, belt driven cams, Ducati 851 that was bored to 906cc's. It has Twin Raymond Roche injectors along with other internal modifications. The stock suspension has been replaced with Ohlins units front and rear. The radiator fan has been removed and along with other items, but other then the stock bodywork, this is how the bike was to be raced. When new in 1991, in it's stock form, the out the door price was $42,000.00! There are about 4500 miles on the bike. The first speedometer expired with 3600 miles showing and the new replacement has about 815 miles on it at this time. A sister bike to this one is today in the Barber Museum in Birmingham, Alabama, though it has been extensively modified.
Created as a thesis for his Mechanical Engineering degree, Designer Pierluigi Marconi's hub-steering Bimota TESI 1D first hit an unsuspecting world in 1990. The bike was an instant sensation with a swingarm arrangement both front and rear, and an evolution of the DB1's all-enveloping bodywork. Bimota was headed into the future, and with the Tesi 1D they were looking to get there ahead of everybody else!
Stare at this tidy shot of the front suspension for a while. After a bit, you might ask why other manufacturers did not embrace this particular concept. After all, the swingarm front suspension does a nifty job of isolation braking forces and minimizing chassis pitch changes, allowing the suspension to handle bumps in the road. Load paths are fed directly into the chassis and not via spindly tubes like a conventional fork. Stiction is greatly reduced as well. Weighty components are all kept down low, helping lower the overall center of gravity. What's not to like?
As Bimota found out, there are some minor drawbacks to the hub-center approach. First off, there is a severe limit to how far the front wheel can turn, and most bikes similar to this Tesi have terrible turning radii. The removal of the front wheel can be a very involved process, and adjustment of the tie rods and various control arms is critical – making this design more difficult for the average user/wrencher. Ah, but Bimota has always made concessions in favor of the Gods of Speed and Design, as many Bimota owners already know. Quirks and minor maintenance issues come with the territory.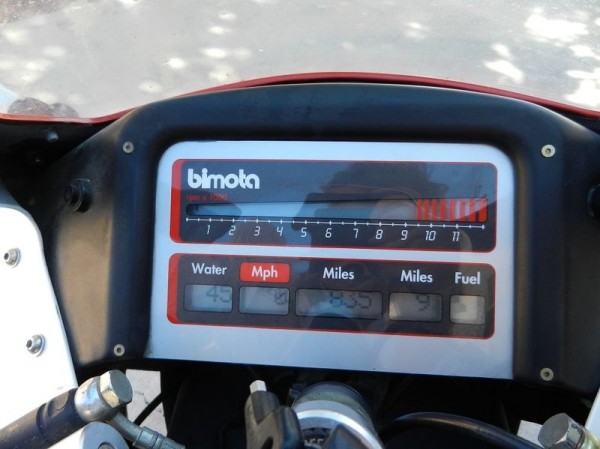 From the seller:
1991 Bimota Tesi 1 D.

Owned since 2005…. Had 750 Miles when I got it. Only 875 miles now showing, not sure if original.

Mileage update: Bike has a just under 4500 miles on it. 3600 orig Speedo that died plus 835, now.

Looks great, Runs strong. Original Paint. New battery , yesterday. Tach seems to be only going up to 2000 RPM . Charging and other electrics seem to be ok. Tach dead on my 92 model, so may be a common ailment. Tags expired in 2007 and has Cali PNO, so no penalties. Bike always stored indoors , and run every couple of months to keep healthy.

Have very large bike collection being thinned down to make more space. See pictures. Numerous pictures to show the good and the bad of it. Overall, a pretty well preserved bike.
The seller, noted So Cal collector Chris Dolan, has offered many pictures and details regarding this particular bike. Some minor scratched are noted and highlighted in the pictures. In addition to the photos and text, there are also a few videos of the bike in question. These are worth watching if only to hear the beautiful sound of that healthy Ducati Desmoquattro!
This auction started out with a $5,000 opening and an $18k BIN. Since that time bidding has begun in earnest and the BIN has been dropped. This bike was purchased at auction in 2005 for $22k according to the text in the ad, so it will be interesting to see where it all ends up. With so few 1D machines in existence – plus the documented factory race team history – this is one Bimota that you don't want to miss. Isn't this why you read RSBFS every day? Be sure and check it out here, and good luck!
MI