For Sale: 2009 Aprilia RS 125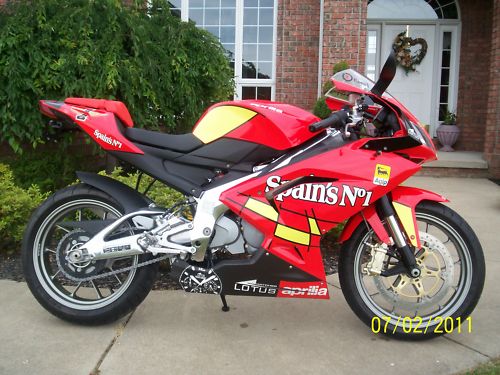 We can thank one of our Facebook posters for the introduction of the phrase "Chicken Chaser" into our vernacular, but I blame jokesters Doug and Ian for perpetuating the moniker on RSBFS. Sure, smaller bikes have fewer ponies than the big dogs, but for those of us that are of moderate stature these lithe little race-bred machines are more than plenty for big grins and some high corner speeds. After checking out the performance of this little RS125, I have to wonder what the rest of you guys are trying to compensate for…..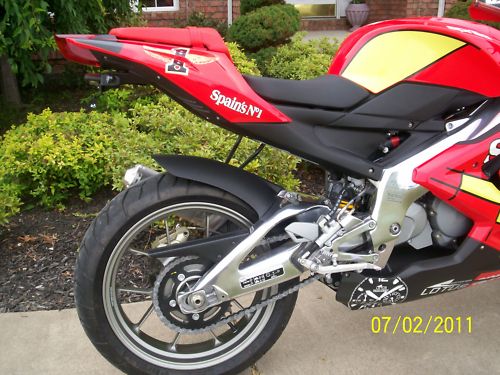 Of all the smaller bikes listed on RSBFS as of late, this RS125 is perhaps the most likely to surprise the rider. With the Rotax-provided liquid cooled single cylinder displacing only 125cc, power is in the high 20 HP range. Weight is low, with the bike tipping the scales right around 300 pounds full of fuel and ready to ride (race).
All of that mass is centralized tightly around an aluminum chassis and supported by better than entry-level suspension components (40mm adjustable fork up front, preload adustable rear spring), and brakes more than up to the task of the track (single disc front and rear).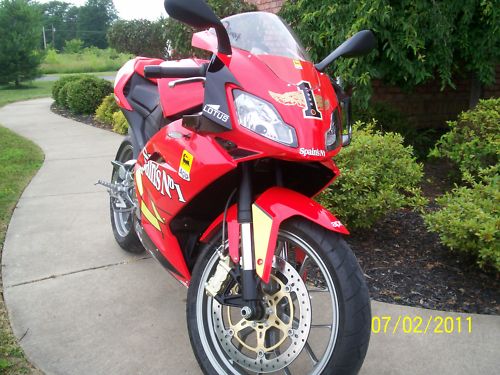 From the seller:
This is a 2009 Aprilia RS 125 in new condition. There were only 140 of these bikes imported into the United States and they were for track use only. I never had any intention of racing – only riding to shows – so I went through the process of working with the dealer to have a road kit put on to make the bike street legal. It was set up professionally at the dealer from which I bought the bike new. This bike has a street legal title instead of an off-road title. It has a top speed of around 108 mph. At age 45 and being a sport bike enthusiast all of my life, I guarantee you will be impressed with this amazing bike. I had over $6000 in it out the door. The bike now has around 342 miles.
People who like to go fast on motorcycles really like the capabilities of the RS125. Check out Ari Henning (Motorcyclist magazine contributing editor) showing off with the Aprilia in his review of the bike here. A key quote:
"Considering the bike's stellar handling and cornering capabilities, a well-ridden RS125 will give a 600cc sportbike a run for its money on tighter courses-especially with sticky, track-spec tires."
If that recommendation was not enough, here is a great online video review of the RS125 courtesy of MotorcycleUSA:

With sharp handling and sharp looks (the livery is meant to evoke the colors Jorge Lorenzo made famous with 250cc championships in 2006 and 2007), this little Aprilia is ready to rock and roll. But wait! There's more to the story. The majority of Aprilia RS125 were sold as "off road only" motorcycles, intended for track days. This particular bike is street legal and titled!
The opening ask for this bike is $5,200. The MSRP according to Aprilia is $5499. With fewer than 400 miles this is certainly a "lightly used" bike – but is it worth parity with a brand new machine? That really depends upon what you plan to use it for: if you are looking for a more unique track-day machine, this is a pricey way to go. If you want that GP experience for the street, however, this could be a fair deal to get a titled RS125. Best of all, there is no reserve!
For more information, more pictures, and your chance to bid on this little rocket, click the link and jump over to the auction. Good luck!
MI