Sometimes you have to look past the head-scratchiness of an offering, because it is just that special.  This strange auction of a contemporary classic R1 in 50th Anniversary Roberts colors, along with its storage unit buddy ( a 2012 Panigale TriColore ) is one of those times.
The liter-bike wars were raging in the mid-2000's, and the bikes were getting downright serious, closing in of 200 hp, but without today's electronics keeping an eye on things.  Yamaha's flagship had a Genesis 5-valve head and booked 174 hp.  The swingarm had been lengthened 16mm to stabilize the handling under acceleration, and the R1 reviewed as not very flickable but rock-steady when set in a corner.  The beautiful castings of the Deltabox frame were accompanied by top-line Ohlins suspension, tuned by the racing department.  320mm front discs are grabbed by radially mounted 4-piston calipers, with 220 mm rear.  Forged Marchesini wheels were also part of the 50th Anniversary special, and reduced unsprung weight significantly.  The knife-sharp bodywork was available in corporate blue or black, but the Roberts team colors were part of the 50th edition.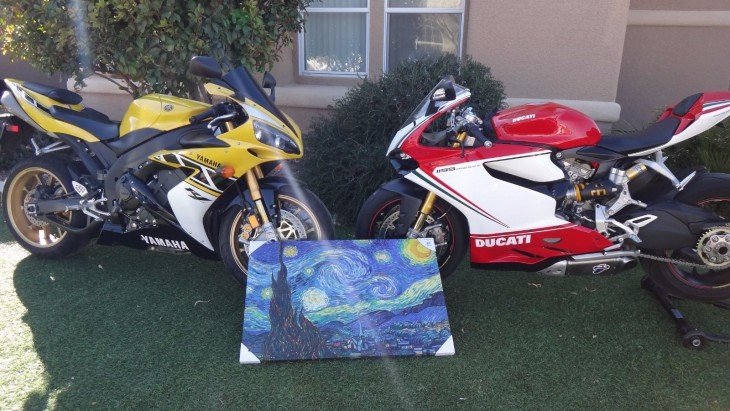 Parked in a Vegas storage unit before it was ever registered, this is a no-mile superbike.  Not much in the way of photographs, but the owner says this in the eBay auction:
I am selling both motorcycles as a package deal, and I am willing to sell them separately since they quite expensive for both.

The photos speak for themselves, pristine condition, not a single scratch on either bike and the 2012 Ducati 1199S Tricolore edition only has 2700 miles on it.  Yamaha has never been registered and engine has been sealed to prevent any damage these last 10 years it has been waiting for a good collector to realize the value of such a magnificent motorcycle.  

But if you are a true collector and interested in the Yamaha R1 50th Anniversary Edition with 0 miles and kept in pristine condition reach me to discuss options.  Email is possible too.

Yamaha is a Limited Edition model, only 500 of them are made and it has a VERY special number stamped on it.  I will not e-mail you photos of the number because too many people simply want to collect photos every time I have put this up for sale previously.
There's almost always a travel deal going to Vegas, so a live inspection should be possible and is always better than any pictures.  Especially at the ask, it'd be hard to imagine putting this zero-mile 50th Anniversary special back on the road, but it would be a ground-shaking ride.  And the number ?  Kenny Roberts rode a lot of number 2 machines, and was partial to 1 also, maybe the new owner will comment and say what's stamped on this R1 ( and maybe why Starry Night )…
-donn