Across from the 916 in the showroom, the -90's Supersports had a price advantage and could just about do it all.  This Florida rider took a break but appears ready to resume the road.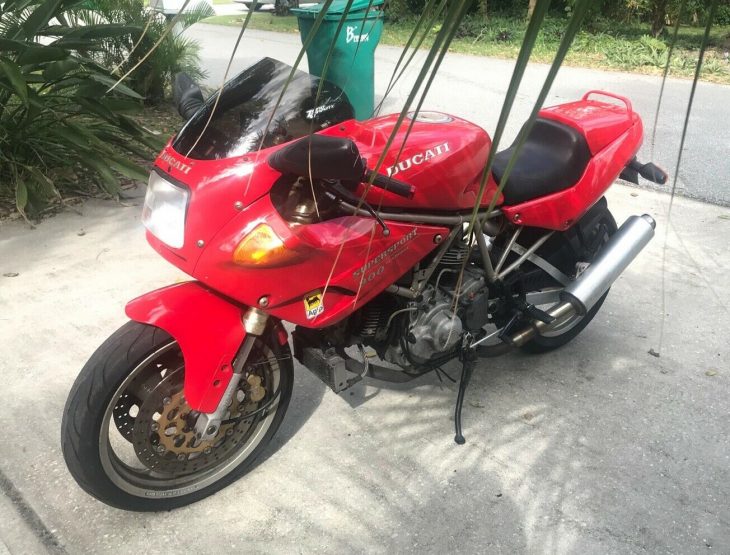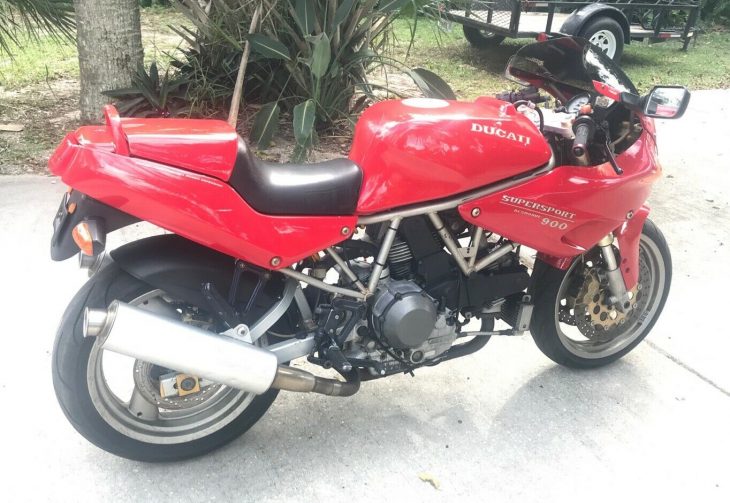 When the "new" generation of Supersports was unveiled in 1991, Ducati had the formula down, with the air-cooled desmodue delivering a smart 84 hp.  The front-mounted oil cooler can deal with most engine conditions, helped by the un-faired powerplant.  The Cafe Racer moniker could have meant cost reduction, with pre-load suspension adjustments only, steel swingarm, and smaller rear wheel size.  Still, the upper-only fairing had rugged good looks and kept the dry weight to 414 lbs.  A painted cover on the pillion gave you all the options.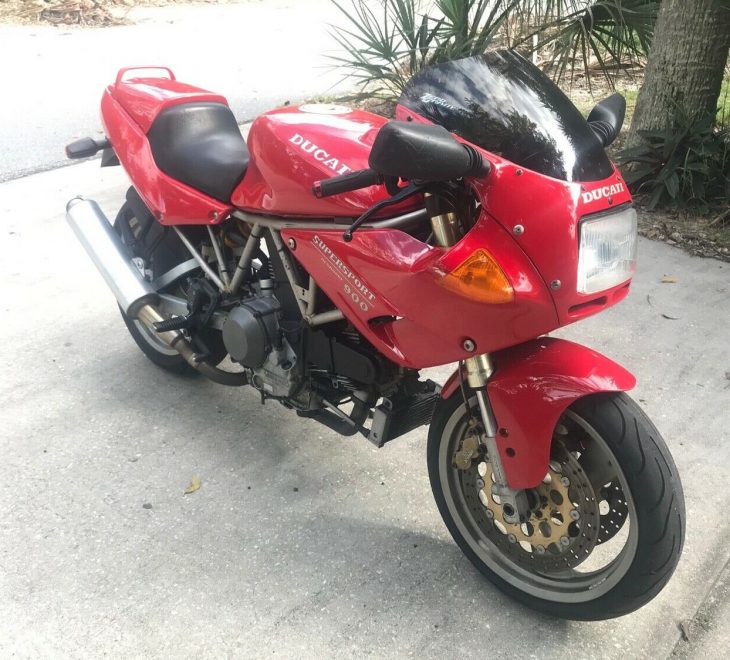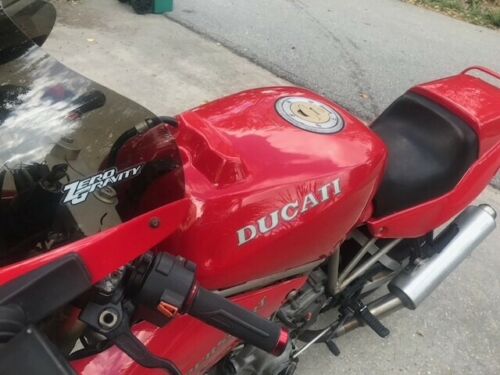 The owner of this SS has returned his CR to the living after some down time, and it looks to have had inside storage at least.  Original right down to the aluminum mufflers, you'd expect more than its 9,860 miles.  The pictures aren't great but don't indicate any ugh-knowns.  New tires and brake fluid are all that call attention.  From the eBay auction:
CR with 9,860 miles. It's unmolested and all stock/original with the exception of the Zero Gravity windscreen. I had let it sit for a while and I just went through the carbs, changed the oil and filter, air filter, and plugs and installed a new battery. I bought new timing belts and when I took the covers off to change them, the belts looked like new. I adjusted the tension and reinstalled the covers. The spare belts will be included.

The bike runs, rides, and stops beautifully. All the lights and dash lights work, even the low fuel light. This is a 20 year old machine and has the patina of a bike that's been well cared for but ridden. There are a few small scratches and chips in the paint as would be expected but it still presents very well. I believe the tires are original and will need to be replaced.
Cycle World and others reviewed this era's Supersports as great used bikes – very versatile, quick and exotic enough, and often a bargain – even a nice one at Bonhams couldn't even muster $4K recently.  This one requires in-person inspection, but the opening bid is a reasonable starting point.  Keep an eye on it, and have a great safe holiday !
-donn