Update 7.2.2019: We'd like to take this opportunity to thank Amatumoto Grand Prix Motorbikes for being a sponsor of RSBFS! This NSF250RW is available now for purchase as is or as a custom build. Contact Amatumoto today! -dc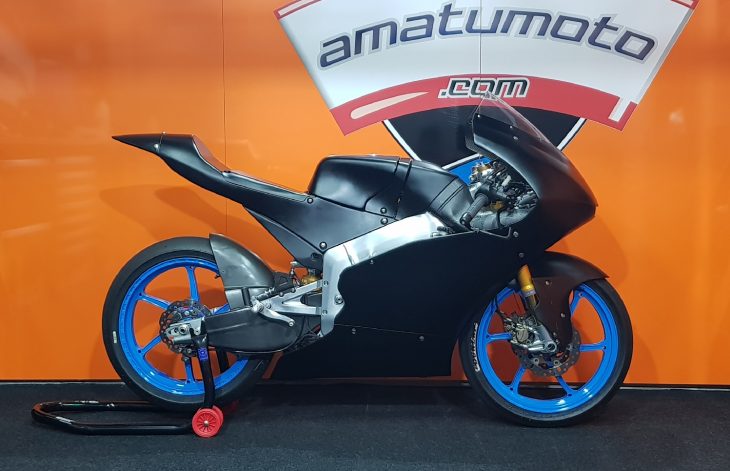 Why buy a race replica when you can pick up an actual race bike? Today's Sponsored Listing from our friends over at Amatumoto GP Motorbikes is a Honda NSF250RW, and it's no stripped-down streetbike in race plastics, it's an evolution of the machine that won last year's Moto3 Constructors Championship in a very competitive field. If you've never watched Moto3, the racing is very close, with bikes nose-to-tail at 145mph.
For years, the "lowest" of the three tiers of Grand Prix racing used to be the domain of tiny little two-stroke 125cc machines that weighed less than an average adult American male. This of course gave the class differentiation a nice symmetry, with 125cc, 250cc, and 500cc machines. But in 2012, the smallest class shifted to a formula using 250cc four-strokes to match MotoGP's move away from two-strokes. Bikes are limited to singles with a bore of no more than 81mm, four valves, a rev ceiling of 13,500rpm, and a minimum weight for the combined bike and rider of 326lbs.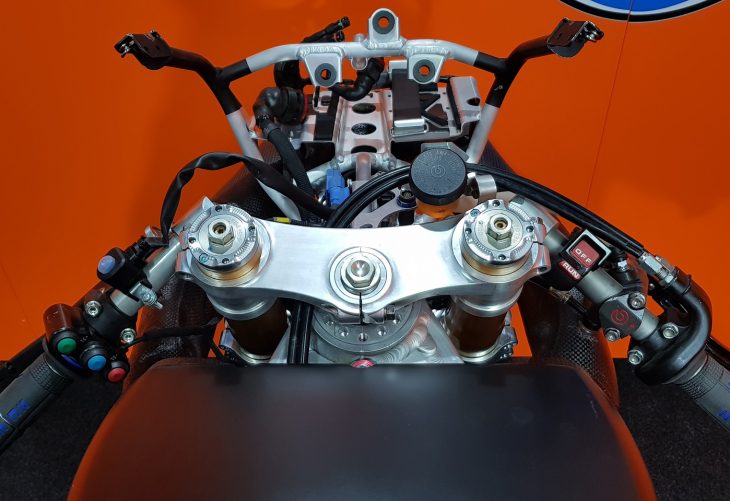 Unlike Moto2, where the entire field uses a single engine [formerly Honda, now Triumph] to keep costs down and ensure close racing, Moto3 allows a variety of engine builders to participate. While physically much larger than a two-stroke of similar displacement, the Honda single still needed to be as light and compact, while taking advantage of every opportunity to save weight, increase power, and centralize mass. To that end, the 249cc engine has its cylinder head reversed, with the ram-air intake to the front and the exhaust exiting to the rear. Other manufacturers have experimented with this configuration with varied success, but here, the main goal appears to be mass-centralization.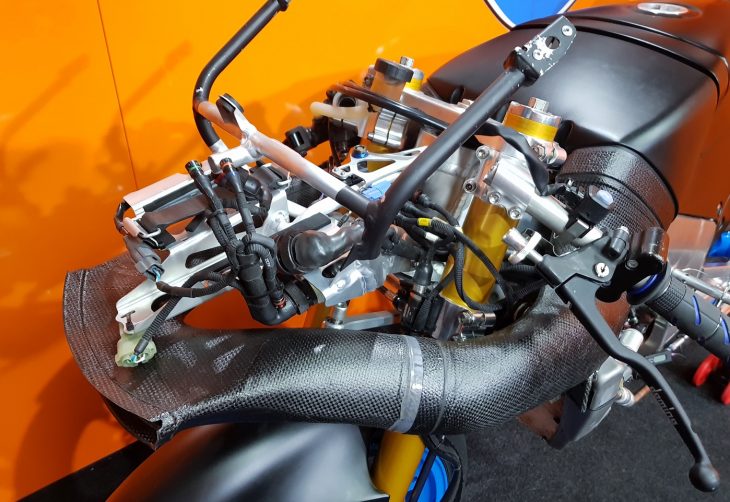 The engine is canted backwards in the frame 15°, allowing the engine to be placed further forward in the chassis and maximize airbox volume, with a bore and stroke of 78 x 52.2mm, below the class maximum bore size. The engine is backed, naturally, but a six-speed cassette gearbox for quick ratio changes to maximize the small engine's potential, and the package weighs in at a claimed 185lbs dry.
From the Seller: Moto3 Honda NSF250RW for Sale!
Do you want a Moto3 Honda NSF250RW? Our company can get the most exclusive bikes of the market. Only for VIP customers, museums or exclusive collectors! Contact with our team and inform yourself. Only 2 units available – RESERVE NOW

In our VIP club you will find the most exclusive race and road bikes, also you can offer your bike for manage the sale. We work with customers to worldwide and we want offer the best service and products.

At Amatumoto Grand Prix Motorbikes Store, we take pride to have in our stock great exclusive bikes used on the races. That said, we understand that the collector of bikes hobby is enjoyed by some of the most passionate and diverse enthusiasts on the planet. Simply put: there are just too many awesome styles to fit in to one showroom. No need to worry though, as we're happy to search for the bike of your dreams. Just give us a bit of pertinent information and we'll keep an eye out. Amatumoto can build a READY to RACE bike… with engine, exhaust, wiring on demand with the specs that choose our customers.

Contact us via our website: http://www.gpmotorbikes.com/
If you're a track day junkie or a racer, this is your opportunity to buy a very serious piece of hardware. Just add sponsor decals!
-tad