Update: Greg notes that this bike is sold! Congratulations to buyer and seller! -dc
The 1990 Honda CBR250RR name doesn't carry the same room-quieting name recognition that some of its two-stroke and 400cc siblings do, but that is not for lack of trying.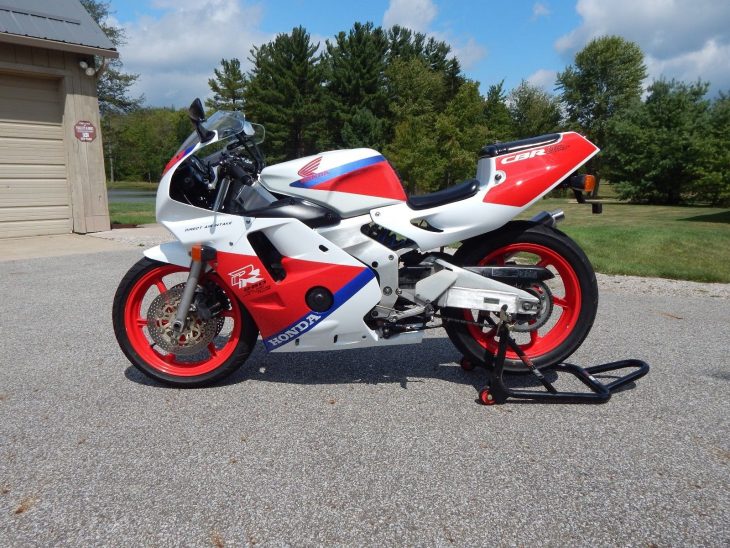 The little CBR is pure early Golden Age Honda: it packs an innovative, uncompromising design with top-shelf kit and fit and finish into a lithe, unintimidating package aimed at knee draggers and commuters alike. The bike garnered a particularly loyal fanbase in Australia, with plenty of gushing reviews and forums to sing its praises.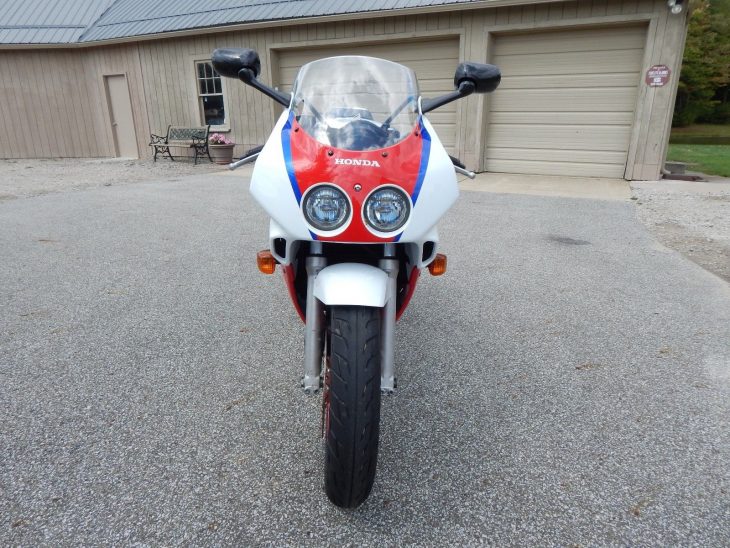 This particular CBR250RR comes to us from site sponsor Deftone Cycles, and is a squeaky-clean specimen that is ready and willing to show the next owner what the best part of 20,000 rpm feels like. It carries a clean Ohio street title and a set of OEM-look aftermarket fairings.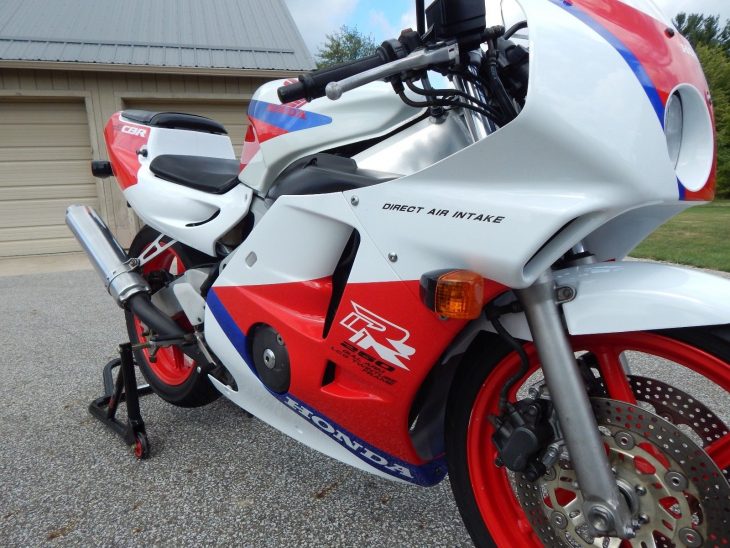 Deftone is selling the very clean original fairings with the bike, but switched them out for the aftermarket plastics for the sake of preservation and presentation. It appears that one of the original side panels could use a repair, but otherwise the set is more or less blemish-free.
From the eBay listing:
1990 Honda CBR250RR MC22 CBR 250RR. 20,228 Miles (32,555 Kilometers) Bike needs nothing. All fluids are fresh. Shifts and revs to redline perfectly. Starts effortlessly every time. Here at deftone cycles we pride ourselves with supplying original OEM equipped fairings, because of age it is getting harder and harder to find OEM fairings that meet the needs of our customers, so we are offering this CBR250RR with new aftermarket. The original OEM's are included in the sale. The fuel tank is of original paint and rust free. Bike has Vin Matching State of Ohio Title. MC22-1008*** "Buyer is responsible for their own State Requirements." Imported into the States through all legal channels. Sold as is. Buyer responsible for shipping. Thanks for looking. Please email any questions.
Power for the CBR250RR comes from an inline four with Honda's famous gear-driven cams, which not only reduce maintenance, but give the engine an evil whine unique to Honda sportbikes of the era. The mill is good for 45 horsepower, or about seven more than the modern CBR250RR Honda released in other markets last year, which relies on a 38 crank-horsepower thumper for motivation.
We'll take the '90 every day of the week. Ride to the office, hit the cafe or head to the canyons, and the little CBR will not blink. The starting bid for this bike is $5,200 with nearly a week to go in the auction.