Even among specialty manufacturers like Bimota there are favorites, where performance and style have somehow met in a synchronicity better than other models.  The SB8K is one such example, the first bike produced after the company was resuscitated in the early 2000's.  The fresh design, techniques, and materials were spot-on and even resulted in a couple of WSBK race wins.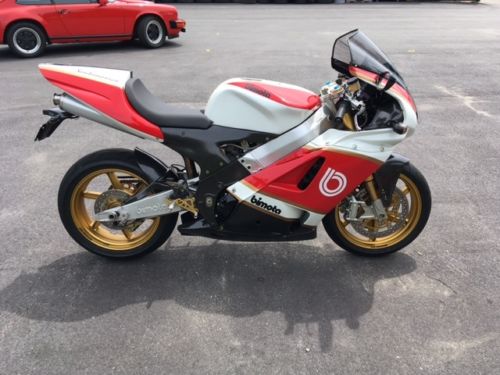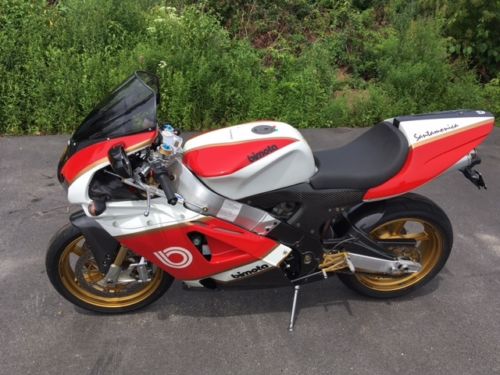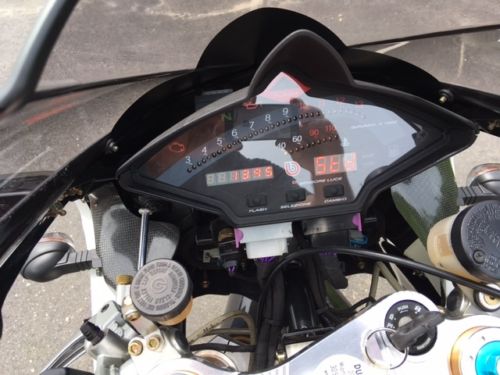 Using the 996cc Suzuki TL-1000 mill, Bimota engineered their own and intakes and a moving fuel injector system which optimized the fuel delivery position relative to the throttle butterfly.  The resulting 143 hp had the big twin's wide torque band and was packaged in a lighter hybrid frame with aluminum beams and carbon fiber connectors.  The body and fuel tank were also carbon, finished to a level usually only seen on Bimota's billet aluminum components.  Oversize Öhlins forks are fully adjustable, as is the rear monoshock.  Radially mounted Brembo brakes, OZ wheels, and Termignoni exhaust complete the picture.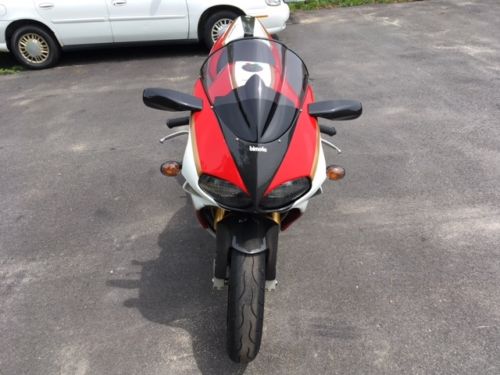 As you might expect from a bike with under 1,000 miles, things are stock and very clean.  Shouldn't be any maintenance issues with the hybrid chain and gear cam drive.  Likely the new owner could change the fluids and rubber and ride away.  From the eBay auction:
This bike has spent most of its life in living rooms, 866 miles. 

(kilometers shown in picture) Beautiful near perfect bike, built with a profusion of light alloys and carbon fibre.  Many parts meticulously machined from aluminum alloy.  The motor was taken from the Suzuki TL1000R and has been highly tuned by engineers to deliver more output and torque at all engine speeds.  The SB8K is the only production bike in the world to use Bimota's very own Radial Injection.  Some paint chipping by titanium panel chips on side fairings,(easily touched up) and some small scratches on lower fairing under bike, I assume from loading (not visible unless fairing is removed).  Runs perfect, pulls like a freight train.  Carbon fibre everything including parts of the frame, Has OZ Wheels, Ohlin struts and shocks, Brembo Monobloc calipers, 385 lbs. 134 horsepower!
The SB8K reviewed as a big machine, but sharp, with light weight and handling, and hard suspension.  Bimota's tune camouflages the Suzuki engine, and power delivery is linear.  The rarity and low miles will probably keep this Santamonica on display, but it could be pressed into service at any time.  Named for the Superbike World Championship track in Rimini, Italy ( and not the West Hollywood suburb ) the Santamonica was a great re-start for Bimota, and a great oughties exotic…
-donn