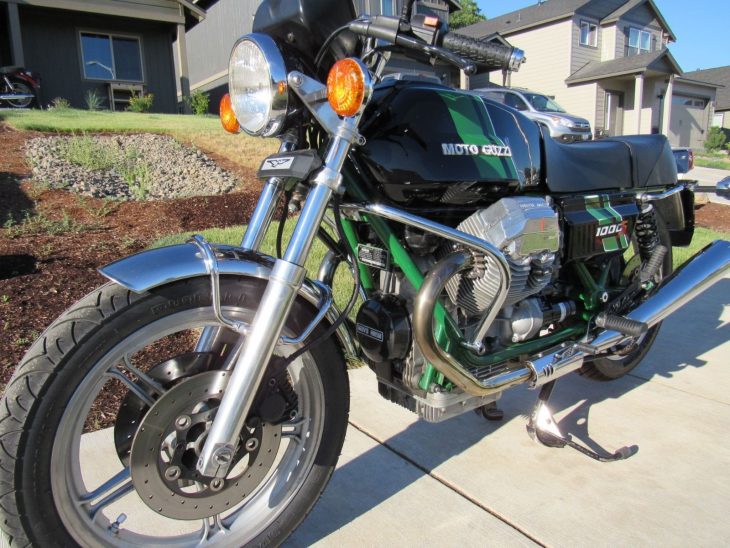 Looking very much like a mid-1970s 750S, this Moto Guzzi 1000S was retro before retro was cool. In possibly the most Moto Guzzi-ist move ever, the company beat the classic styling craze by decades simply out of necessity. Faced with an outdated product line, Guzzi needed a sporty machine to fill the gap before the introduction of the Daytona in 1992, so the company slapped their big, longitudinally-oriented 90° v-twin and shaft-drive combo into the long-serving Lino Tonti frame, fitted modern brakes and some 18″ wheels and called it done. Unfortunately, the concept was a bit too far ahead of its time and some sat unsold at dealers for years.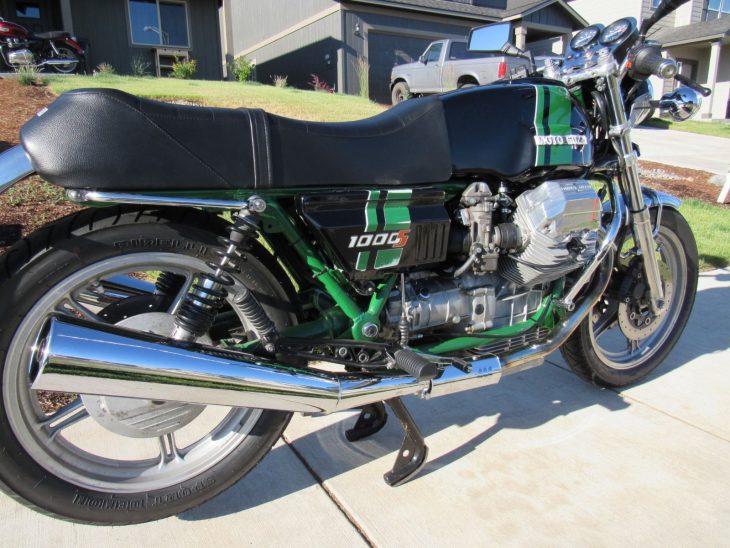 Power from the 949cc two-valve, air-cooled motor was unremarkable, even in 1991. But the twin's 82hp came with a very beefy 76 ft-lbs of torque, enough to push the 1000S to just a shade under 130mph. There was certainly nothing wrong with their proven Lino Tonti-designed frame, other than that it was nearly twenty years old in 1991 and the Guzzi combines long, low looks with decent cornering clearance and stable handling.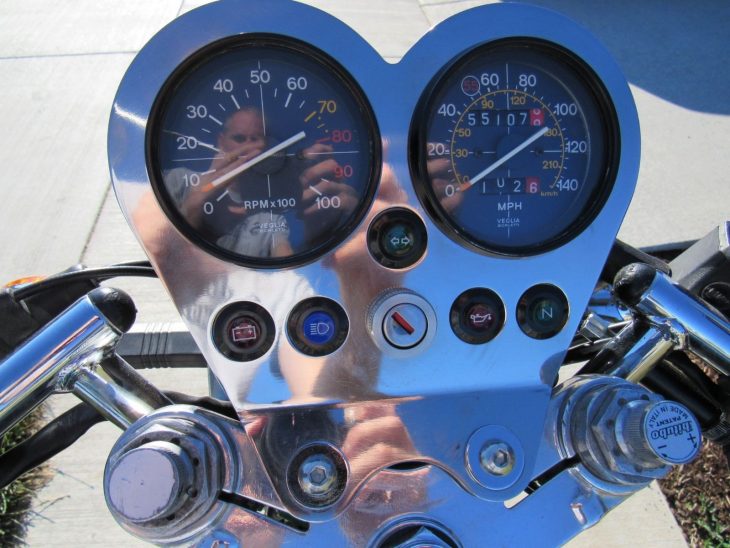 Triple Brembo brakes meant the 475lb machine could pull up pretty short, and the bike used Guzzi's linked braking system that had the brake pedal operating the rear caliper and one front caliper, with a proportioning valve to distribute pressure. The other front brake was operated by the the right bar-mounted lever. Purists have often complained and some have even de-linked their brakes, but the system has always worked very well.
From the original eBay listing: 1991 Moto Guzzi 1000S for Sale
Welcome! You are looking at a very stock and original 1991 Moto Guzzi 1000S with the big valve engine and green stripes and frame. This bike started life on the east coast and was bought by a friend of mine a few years ago from the original owner. My friend moved out here and looked me up to help him service the bike. I have been servicing, restoring, collecting and preserving Guzzi's for many years. The bike was a bit rough but was very stock. Short story is, I purchased the bike last year to preserve it and to get it back on the road as the loving beast it is.

I completely went through the entire bike. The heads were completely rebuilt with new valves, guides, etc. They were in great shape but I like to be safe with the intention of making sure someone is getting a great solid bike. All seals, gaskets, hoses, bearings, and rubber bits were replaced including intake boots. I also replaced the timing chain tensioner, timing chain, and oil pump sprocket. Carbs were completely rebuilt with new everything. The clutch had been replaced at one point but was in great condition so I left it alone. Rear drive was rebuilt and shimmed as was the trans. It is sporting a brand new pair of Pirelli Sport Demon tires. She also has a set of Dyna coils along with a brand new Dyna ignition. The original owner had rat holed away the original exhaust, seat, and chrome bits so they have very few miles on them and look great. The bike also has a brand new Duracell motorcycle specific battery and also has a brand new Valeo starter. It is rare to find one with all the original bits on it. This thing is running so good! I just re torqued the heads for the final time and gave it a good tuning.

She is a runner with an awesome personality. Cosmetically the bike has allot of honest riding wear from running up and down the east coast most of its life. The paint on the side covers is worn through and paling off in many places. I have another 1000S here I am looking after for a very good friend that has the same type of wear from being ridden allot too. Overall though, the bike just has a very cool character and loves to be ridden. Plus its not so nice you don't want to ride it! The decals and even new side covers are readily available if one wished to repaint a set. I am a stickler for keeping things as original as possible though. I will include a near new complete Lafranconi Competzione exhaust with head pipes and crossover. I will also include the stock points set, reflectors, and jets.
This example uses, as the seller mentions, the "big valve" version of the v-twin engine. The 1993 bike used smaller valves for improved midrange torque and better emissions, but it was down on top end power as you'd expect, with 71hp at 6,800 rpm versus 82 at a surprisingly high 8,000. The bikes came stock with wire wheels, with cast wheels as an option that are featured on this example. Just a few hundred of these were imported to the US in 1991 and 1993, making this one of the rarest Guzzis of the the "modern" era. The Buy It Now price for this bit of retro-performance is $15,000 which seems pretty on-the-money for a nice 1000S these days. Guzzis certainly don't appeal to everyone but if you're a fan, and looking for classic looks with modern-ish performance, they don't get much nicer than this.
-tad