Lebanon, NY – 18,595mi – $3,860 Reserve in place
sledgehammer adjective : marked by heavy-handed directness or hard-hitting force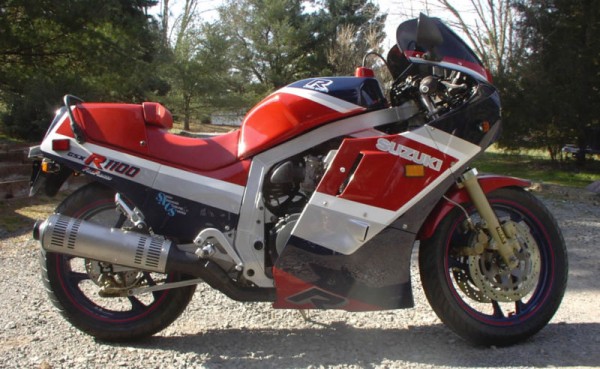 Here we have another RareSportBikes favorite up for sale. When the GSX-R1100 debuted on the scene, it was the answer to many of rider's prayers to a liter bike that was a hard-edged as the 600's and 750's of the time. The bike made roughly 130hp while weighing about 450lbs. That might not seem too impressive now, but back in '86 that meant a lot for a liter bike. The GSX-R1100 was a monster on the track as well with rock solid steering and capable suspension.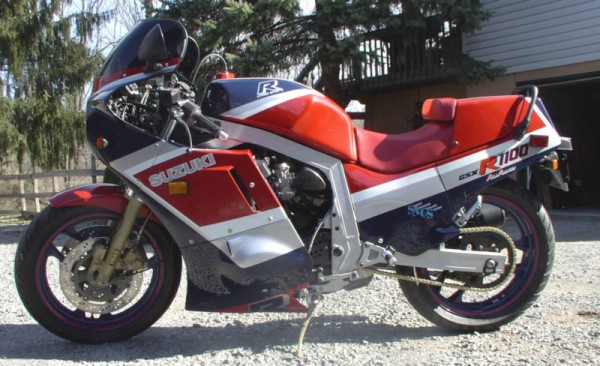 If you have been looking for a clean 1100, then look no further. This bike is presented as a number-matching and near full restoration to bring it back to 1986 showroom condition. It has a host of new parts and refreshed bits (see seller's description below). This thing is clean.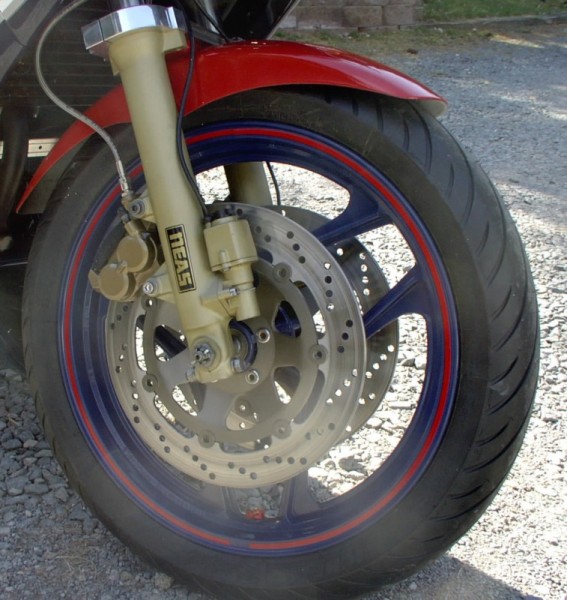 From the seller:
Offered for sale is my 1986 Suzuki GSXR 1100g. Recently restored it is a numbers matching original, nothing has been "swaped " to make. this bike. it has never been crashed.

It was painted by Roman Levin of Full of hate cycle fab- (fullofhatecyclefab.com)

the engine was torn down and the cylinder head was cleaned and valves reset by MICHELLE DISALVO- (google her name to find out her qualifications)

the Powdercoating was done by GSD powdercoating (gsdcoatings.com)

it has new michelin pilot road tires- galfer Stainless steel brake lines, EBC double HH brake pads.

new fork seals- and 15w oil- new steering head bearings all balls. new DID chain new valve stems

new wiring harness new switch gear-new shorai battery, new sparkplugs. fresh oil and filter. new piston rings new starter relay new flasher many new correct suzuki bolts. some stainless steel hardware. the brake calipers were disassembled and powdercoated- then reassembled and installed. it has a fresh Ohlins rear shock

the stock exhuast sytem has been ceramic coated inside and out and the stock stainless steel guard reinstalled

THIS MOTORCYCLE IS SPIT SHINE CLEAN INSIDE AND OUT.

she starts – runs- and rides perfectly. it is a smooth and correct GSXR 1100G

it needs only stock Suzuki directional's – fuel tank lower trim rubber and two or three correct fairing bolts.

otherwise it is a fine example of the first full liter gsxr.

if your interested in a keep sake bike or a novel machine and dont want any headaches- this is your chance.

the remaining few items have been ordered- the fuel tank trim piece a couple of rubber grommets and Suzuki Specific bolts. these items are expected to be delivered APril 12 2013.

they all will be installed and the bike will be complete missing nothing.
We typically see these first-gen GSXR1100's go for about $5k in clean condition. The seller has clearly put some time and money in this bike to bring it back to near-excellent condition. Does the seller hope to get every penny out that has been invested or does he realize that might not be possible? The Reserve will tell for sure. Honestly, I would put this bike at about $6k+ given it's relatively low miles and restored condition. It sounds like it could either be a turn-key retro rider or a living room piece. However you decide to use it, it is still badass and last time I checked, Suzuki wasn't releasing an '86 1100 next year. This may be your best chance to have as close to new as possible. Check out the auction here and place your bid today!
-JS