Before the introduction of the class-breaking BMW S1000RR, the company wasn't really associated with cutting-edge sportbikes, unless you go back a few decades to the R90S. After all, an air-cooled, 180° " flat" twin with shaft drive is a pretty inauspicious foundation for a true performance machine. A flat-twin is obviously very wide, which presents aerodynamic issues and limits cornering clearance unless the suspension is jacked way up. Air-cooling is simple and reliable, but the high compression needed for competitive horsepower generates heat that usually requires a radiator to control, and shaft drive is inherently heavier than a chain, making the BMW HP2 Sport a very unlikely sportbike, looking at the spec sheet anyway.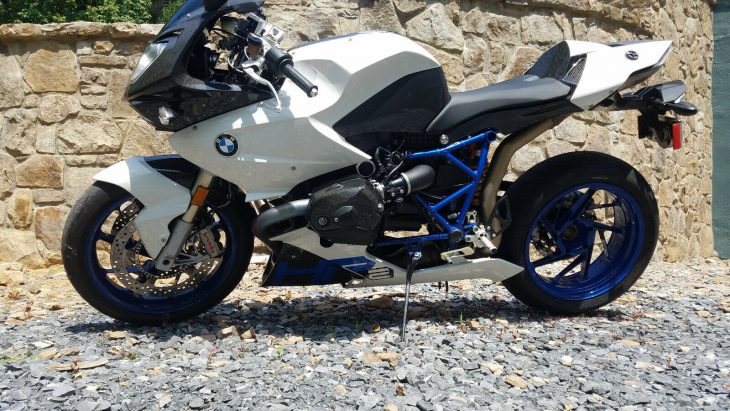 But German companies seem to have a knack for working around this kind of thing, as if they view it as an entertaining challenge. "Oh ja? Heir, halte mein Bier…" It's been said that the Porsche 911 is "a triumph of development over engineering," as it has a similar problem: sticking the entire powertrain out behind the rear axle is only marginally better than putting it all up front. But we know Porsche managed to make their ass-heavy car work brilliantly and, even though the HP2 Sport didn't achieve quite that level of success, it did the job for which it seems to have been intended: it showed the world that BMW was serious about updating their image and competing head-to-head with rivals in Italy and Japan.
The engine may not have been blessed with a radiator, but temperatures were kept under control using a hybrid arrangement, with the heads cooled by oil, and the barrels cooled by air. It has radial valves, and four of them per cylinder, operated by dual overhead cams, while lightweight titanium connecting rods let the 1170cc engine spin up to 9,500rpm and produce a claimed 128hp. Liberal use of carbon fiber reduced the weight to a claimed 392lbs dry, so weight was on par with class competitors, even if power wasn't. Adjustable ergonomics and the self-supporting tail section are very trick, quality touches in keeping with the bike's very exclusive nature: just 500 were built.
It's interesting that the biggest complaints about BMW's alternative Telelever front suspension is a lack of feel, but that seems to have been eliminated here with higher-spec Öhlins shock and a matching unit out back. Forkless front ends are naturally very stable under braking, an asset for a bike with a pair of stout Brembo Monoblock brakes on the front wheel.
From the original eBay listing: 2009 BMW HP2 Sport for Sale
I am the original owner of this rare 2009 BMW HP 2 Sport. I bought it brand new in spring 2010. The bike has always been stored in climate control garage, never ridden in rain, and meticulously maintained. All maintenance records from new. Last fluid service approx. 1000 mi ago. Tires replaced in 2015, due to age at 4700 mi. All factory recalls performed. Runs perfect. Showroom perfect condition. Part of multi-bike collection, selling collection because I can't ride them anymore.

listed for sale locally, I reserve right to end auction early if sold.

reserve price set below market value of recent sales

one of approximately 118 in US, 500 worldwide

sure to be a collectors item

clear/clean MD title
The BMW HP2 Sport is quirky and at the original list price of over $25,000 couldn't really compete directly against natural rivals like the Ducati 1098, but it handled well and was quick enough in isolation. These days, prices are much lower and it's a very rare and exclusive machine, with plenty of exotic materials inside and out and the high quality you'd expect from BMW. Bidding is very active, but up to just $10,000 with several days left on the listing.
-tad