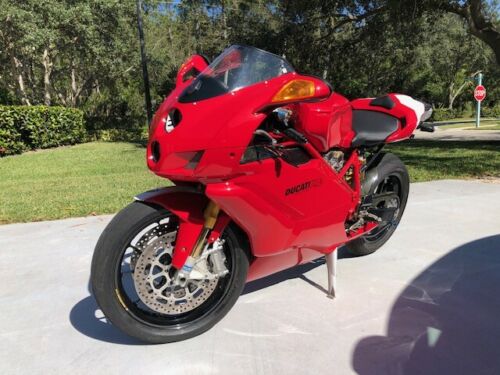 You'd think that, for sportbike owners, homologation specials would be the ultimate ride. And they technically are, but the whole point of homologation is to meet production requirements that allow certain parts to be used on a company's racing machines, whether or not they result in a better finished product. So it turns out a slightly steeper steering head angle will allow a bike to transition faster? That's great, but you have to use that same design on a certain number of machines available for sale to the public. Unfortunately, the advantages for road riders may be nonexistent in many cases. Or even a step backwards: flat-slide carburetors often found on 80s homologation bikes are generally less practical than the constant velocity units that came on the standard bikes. Luckily, the Ducati 749R manages to be a fantastic road bike, in addition to providing the foundation for a first-class racebike.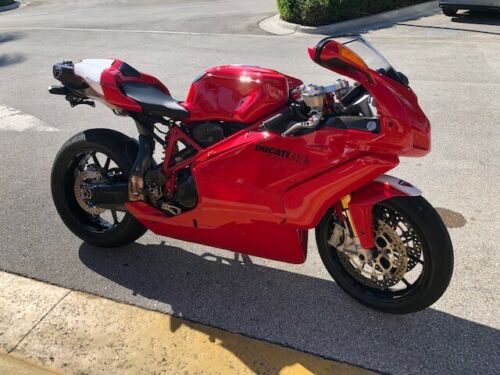 The 749R was developed to compete in the World Supersport championship. Unlike World Superbike, the rules for this series are very strict and allow extremely limited modifications to keep costs for the teams competing under control. WSBK machines are based on the production bikes, but liberal changes to the bodywork, suspension, and engine are permitted. Supersport rules, on the other hand, are so strict that even the stock wheels had to be retained! In order for Ducati's 750 v-twin to compete on equal terms with the 600cc inline fours from the Japanese manufacturers within these narrow parameters, the 749R ended up being one of the trickest machines they'd ever produced.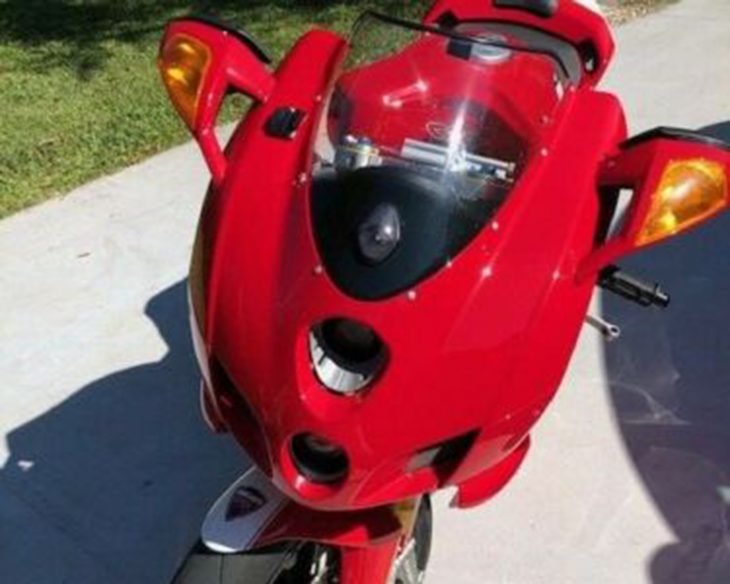 Available between 2003 and 2006, the 749R used larger, titanium valves, titanium rods, a lightweight crank, magnesium cam covers, and high-compression pistons with a much larger bore. The larger 94mm pistons were combined with a shorter, 56mm stroke to help it safely rev higher and gave an actual 749.5cc, unlike the 749 and 749S that had 748. Power was up from 108 to 121hp, and a slipper clutch helped keep the rear tire from locking up during hard downshifts.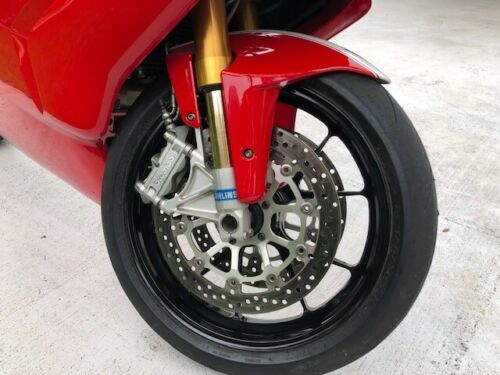 The frame was modified significantly and included an adjustable steering head. Suspension was heavily revised to match, with a different rear suspension linkage, a WSBK 999-style swingarm, and top-of-the-line Öhlins components at both ends. Radial Brembos up front meant the bike shared the 999R's stopping power, as well. The bike featured adjustable ergonomics as seen on the solo-seat 749S but actually had a smaller range of adjustment, due to the larger-diameter racing exhaust taking up some of the underseat space. Lightweight Marchesini wheels were used and the 2004 model year bikes were clad in carbon-fiber bodywork. Later years switched to a new, lightweight plastic, which works well but isn't nearly as sexy. The lightweight bodywork was paired with a larger fuel tank with increased capacity and exclusive to the 749R.
The 749R is an excellent sports motorcycle, with pedigree and performance. It's rare, too: supposedly just 500 originally made it to North America. But you paid a premium for that speed and rarity: in 2005, the 749S sold for $14,795 versus $21,995 for the 749R. For 99% of riders, the 749S was just as effective, for a much lower price.
From the original eBay listing: 2005 Ducati 749R for Sale
2005 Ducati 749R limited production #0172. Bike was meticulously maintained and needs nothing. It has a Termignoni racing pipe and exhaust, CRG quick adjust racing levers, Brembo front and rear brakes, adjustable titanium racing pegs, shifter and brake lever. Ohlins front and rear Suspension and steering dampener, forged Marchesini Forged rims and many carbon fiber parts. Please no low ball offers and no joy rides. I'm happy to answer any serious questions about the bike.
The Seller is asking for a $10,999 starting bid, with a Buy It Now of $16,892. In spite of all the high-spec bits and limited production, these are still usable roadbikes, as this example can attest: it's no garage queen, with 17,000 miles on the odometer. Not bad for an homologation machine with race-bred Italian heritage. Buyers shouldn't necessarily worry about a Ducati with that kind of mileage: if properly maintained, the basic components are pretty durable. The usage probably does damage the bike's collectability a bit, since folks picking up R-spec bikes these days are most likely well-heeled Ducatisti, and low-mile bikes tend to command more interest and higher values. If you have to have the very best though, just in a smaller package, this could be an excellent dual purpose sportbike that's even more at home on track than on the road.
-tad