Warning!
This post is in our archives. Links in this post have been updated to point to similar bikes available to bid on eBay.

For Sale: 2008 Bimota DB6R
From the little town of Rimini, Italy comes another piece of CNC and carbon fiber artwork from the legendary Bimota organization. Like nearly all Bimoto offerings that came before (save for the vDue), the DB6R relies upon a powerplant sourced from a major manufacturer. In this case, the "D" in the name refers to Ducati.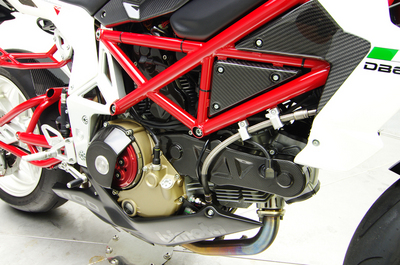 Powered by a Ducati 90 degree, air cooled two valve L-twin, the DB6R promises to marry torque and low-end grunt with light weight and agility. Compared to a "standard" DB6 Delirio offering, the "R" version features the more potent Ducati 1100DS (Dual Spark) engine with a dry slipper clutch, plus numberous component upgrades such as lighter forged wheels, Brembo radial brake and clutch masters, and lots of carbon fiber. All this adds up to a weight savings of 15.5 lbs over the DB6! With fuel injection added to the rest of this top shelf componentry, this is an exotic that can carry you on your commute to work as well as scream through the canyons with the best of them!
From the seller:
This 2008 Bimota DB6R is perfect. It's a stylish hand built bike that's ready to go and is a BLAST to ride! It's essentially new, has a ton of state-of-the-art features that make it exceptionally fast and incredibly easy to ride. If you've been looking for the perfect combination of style and performance in a super rare package but don't want to pay inflated prices, we've got you covered.
You can think of the DB6R as the Monster of the Bimota world. Where the DB5 and DB5R are more decidedly in the Ducati Supersport vein, the DB6 Delirio and R model are more along the lines of an agressive standard machine. Call them the new naked. Whatever you call them, they work as well as they look: quick acceleration due to the light weight and low bulk, willing and torquey vee twin engine, fantastic handling due to the upright seating position and world-class suspension bits, and A-list Brembo brakes to haul everything down from speed. All that you need now are more pictures:
The beauty of Bimota is neither strictly the artwork nor the performance but rather the seamless way they merge the two. Bimota is really about the artwork of going fast, even if you are just sitting still. This DB6R has the looks and the credentials to excel no matter how you want to use it, and with less than 300 miles on the clock it is as new as you can get without paying MSRP.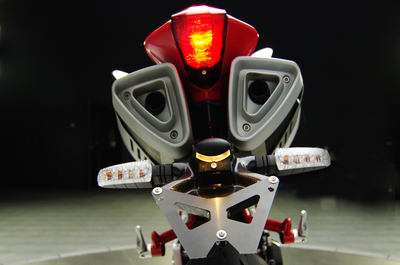 Which brings us to the price. This seller is asking $29,900 for this bike – which is pretty much in line for what they have been going for. We have seen a few with a lower ask than this, but all had more miles. While I don't expect many takers in this price bracket, it is more because 30 large is a big pile of money to the vast majority of riders today – and not because the price is wildly out of line with reality. Artwork on this scale is limited to a lucky few. For the rest of us, it is still fun to drool over the pictures. Enjoy!
MI