For Sale: 1984 BMW R65 LS
The BMW R65LS was another attempt by BMW to enter into the "sporty" market without building an acutal sport bike (the likes of which would not appear until the revolutionary S1000RR). By restyling an otherwise stock R65 with unique fairing, handlebar, tail section, engine colored valve covers, snowflake wheels and dual rotors, legendary designer Hans Muth created a visually impacting boxer twin.
The R65LS is no more powerful than the standard R65 (which is to say, not at all), and while braking is enhanced with the dual Brembos up front, this model shares all the common BMW weaknesses when the pace quickens: long travel suspension pogos and wallows, the shaft drive jacking effect, moderate ground clearance, and very modest power. At a more relaxed pace the R65 is a gem to ride and has the kind of longevity that made BMW boxers famous.
From the seller:
BMW R65 LS

RED

28 YEARS OLD -TRULY A RARE FIND

ALL ORIGINAL

NO RESTORATIONS

836 MILES – WITH ORIGINAL TIRES

FROM A PRIVATE COLLECTOR

I AM PROVIDING SOME HISTORY
The R65LS was a limited edition model – one that did not sell particularly well. This particular example has travelled fewer than 1,000 miles since new. That makes this a true survivor in my book, and also highlights this as an extremely rare example of a relatively rare model. The colors all appear to be correct, and the bike looks to be in fantastic condition considering it is past its 28th birthday.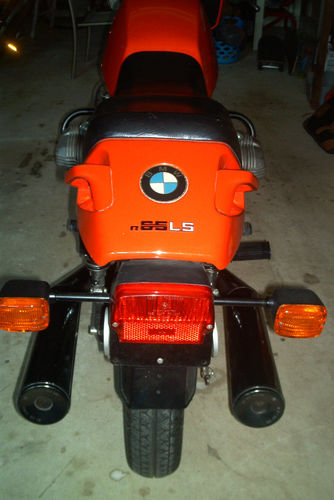 The R65LS might not be everyone's cup of tea. I can tell you from experience that these bikes can take an amazing amount of abuse without so much as blinking. Economic, reliable and comfortable, this could be a great bike to collect and ride. The seller is asking a considerable amount for this nearly new LS model, with the latest bid over $4,600 and reserve still in place. For more info on the bike (the seller included a LOT of text) and more pictures, click the link and jump over to the auction. Good luck!
MI