The Moto Guzzi MGS-01 found itself in a weird doldrums between an ultra-premium streetbike and a pure race bike for the well-heeled. It was bedecked with super high-end kit befitting a competition machine, but was portly and down on power compared to its peers.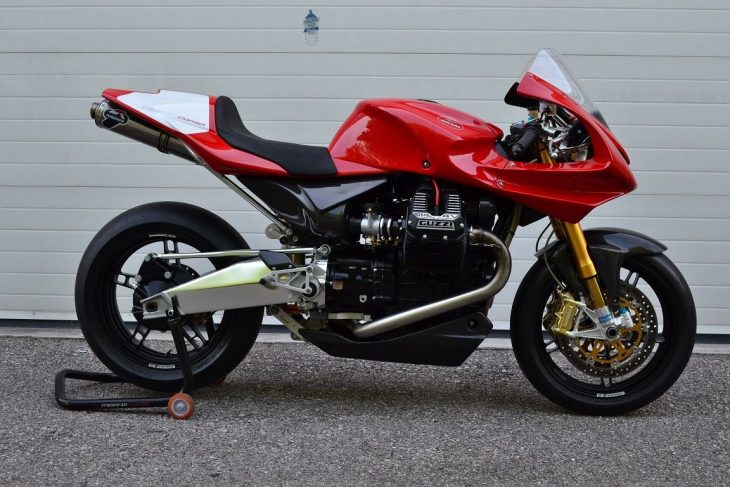 With 121 horsepower out of a 1225 cc version of Guzzi's sideways-mounted v-twin and more than 420 pounds for it to push around, the MGS-01 pales in performance to much cheaper options from Japan and its countrymen at Ducati and Aprilia.
Despite its ponderous weight and relative lack of horsepower, the big v-twin had torque in abundance, pushing out 80-odd pound feet well before redline. That made the engine friendlier than standard track bike fare, while still allowing the big Guzz to properly scare you. In a very Moto Guzzi touch, the bike carries a shaft drive set up, so all that power will come over with a velvet hammer delivery.
The bike listed here is gorgeous, and has been kept immaculately over the last 13 years, having covered under 100 miles in that time. It looks the every bit the part of the racer it's playing, too, with taught carbon fiber bodywork and a racebike dash draped over a hand-welded frame.
The seller appears to be the same Italian group that offered this 2006 MGS-01, though the bike seen here is in far nicer shape.
From the eBay listing:
Moto Guzzi MGS-01

model year 2004

VIN 0034

One of the most iconic Italian racing motorcycles of all times!
60miles, just test, NEW BIKE, perfect conditions, amazing bike.
It comes with manual, stand and original dust cover.

Parade race and collect.

Bike is currently located in 33080 Roveredo in Piano, Italy but i can get them delivered all around the World at cost, no problem. I can supply US references.
For info's please call +39 347 2656235 Gianluca or email gianluca@stileitaliano.com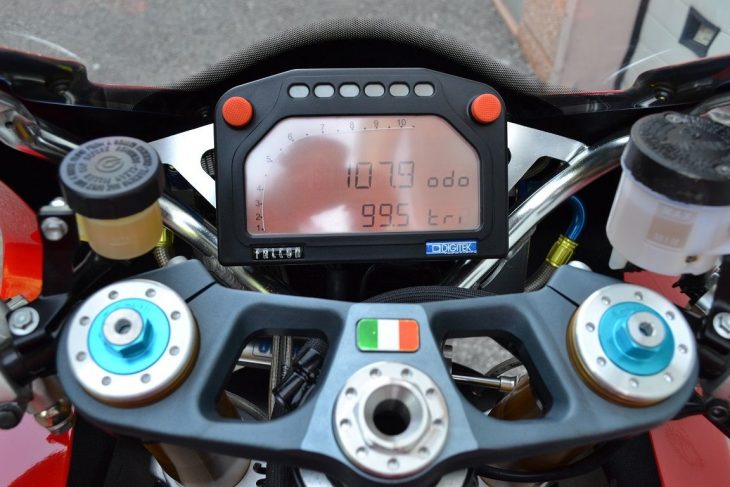 With about three days left, the reserve on this rare beast has not been met. Rarity and curiosity are not always good harbingers of value, but this is for sure a very classy footnote in the history of an interesting and storied brand.