More appropriately sized for Hugh Laurie than the 954RR he rode in the show, the CBR400RR is a Japan-only model which occasionally finds itself in North America via the grey market.  Name-dropping back to the CB400F Supersport ( well, for riders of a certain age ) the diminutive 400RR is updated in every way and revs to 14,500, making 60 hp available at 12,500 rpm.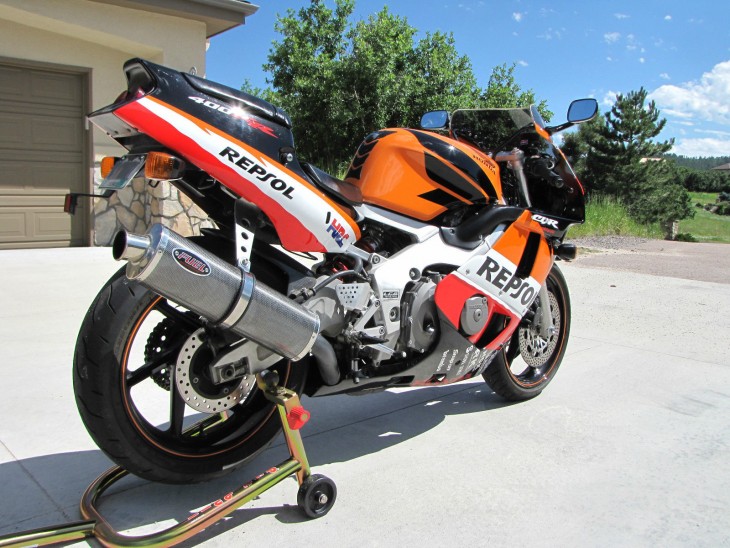 Closely related to the CBR900RR of the same vintage, the 400 also has an extruded aluminum beam frame enclosing the 399cc inline four.  Similarly, it has a reinforced aluminum swingarm, the chassis easily coping with the power available.  A smooth wet clutch sends power to the 6-speed transmission.  A steady and nimble handler, the preload-adjustable forks complement the rear shock adjustable for preload and compression.  Suitably-sized triple-disk brakes ( 275mm front / 220mm rear ) can handle the slowing.
With just over 6,000 miles, this 400RR has had only two caretakers.  The current owner re-bodied the bike in Repsol, but includes the factory fairing.  Updated muffler looks great, and CRG shorty levers are a known quantity.  Describing it in the eBay auction:
Bike runs strong and fast, extremely fun to ride. Everything works and is in great shape for a 24 year old bike. A few things to note:

I replaced the stock exhaust can with a 'Fuel Exhaust' (carbon, oval), sounds great.
I installed CRG 'Roll-A-Click' clutch and brake levers, "shorties".
I swapped out the OEM bodywork with 'Repsol' plastic. Tank has been painted to match. I will include the OEM bodywork with the successful bid (black/silver/teal scheme).  
I have all of the Japanese paperwork from the original owner, including the shipping manifest from Japan to the US.
The bike only has 6,337 miles on the clock (10,200KM).

This bike is very rare in the US. It has been meticulously cared for; always garaged, covered and properly maintained.
Recent maintenance included carburetor service, which can be a bugbear on older creampuffs.  Maybe you know a new rider or a collector on the smaller end of the scale…
-donn