It would have been almost impossible to find an H1 in this condition in the mid-1970's, Mach III's generally obscured by dirt accumulated in the oily mist coating the bike.  This one has had a nice restoration and the auction still has a couple of days to run.
Back in the day, the only way to approach 100 hp per liter was with a two stroke, and while Honda had moved on, Suzuki still had a competing 500.  The basically square cylinders ( 60 x 58.8 mm ) resulted in 60 hp at 7,500 rpm.  The chassis was unfortunately not up to the task, put in a lot of over-exuberant situations.  Brakes were the usual, that is to say wholly inadequate, but this owner has added a second front disk.
A sparkling restoration and though the owner doesn't divulge who did the work, the carefully detailed engine and wheels look great.  From the eBay auction:
The following services have been performed:

* Rebuilt Crankshaft, bearings, seals and gaskets 

* Pistons & rings (.50 over)

* Rebuilt Carburetors rejetted w/pods

* Fork tubes, seals & dust boots

* Stock rear shocks

* Triple tree bearings

* Controls, grips and mirrors

* Super bike bars

* New cables

* New signals & stems

* Polished: Engine covers, outer head fins, forks, rear hub

* Rebuilt calipers - Dual brake system with refinished rotors

* 5/8 master cylinder

* Stock brake lines

* original grab rail, brake pedal, shifter, front fender

* re-chromed fork ears, chain guard

* New Paint, decals

* Re-laced rims

* New tires & tubes

* Chain & sprockets 

* replacement clutch

* Original seat 

* Bill Wirges chambers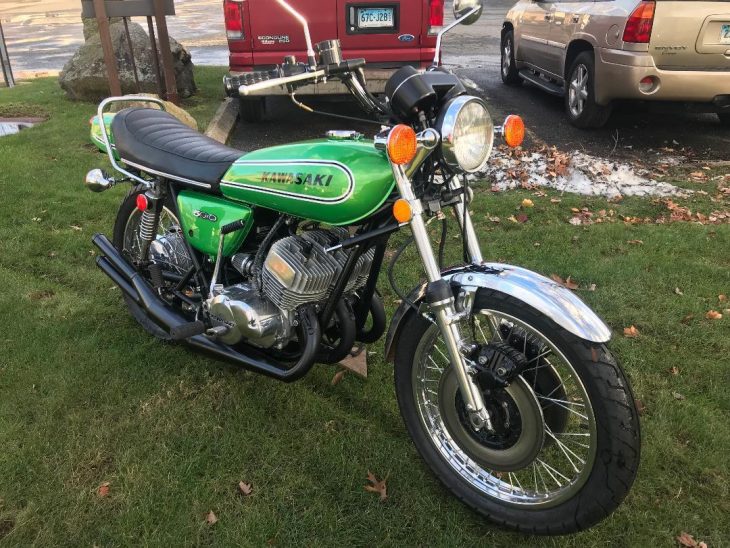 Reviews raved about the big triple, while things like mileage and changing spark plugs every other oil change were easily forgotten.  But no one's proposing the H1 as a daily rider in this day and age, especially looking like this.  Wish the owner had attached a video with the sound of those triple expansion chambers...
-donn