Pushing 30, the Ducati 750 F1B should almost be over on Classic Sport Bikes for Sale, but as such a quintessential desmodue, it belongs with its later sportbike progeny.  Built as a very racey road-going update of the championship-winning 600 TT2, the 750 F1 was also raced but enjoyed only occasional success.  With under 4,000 one-owner miles, this outstanding 750 F1 scores high for collectibility.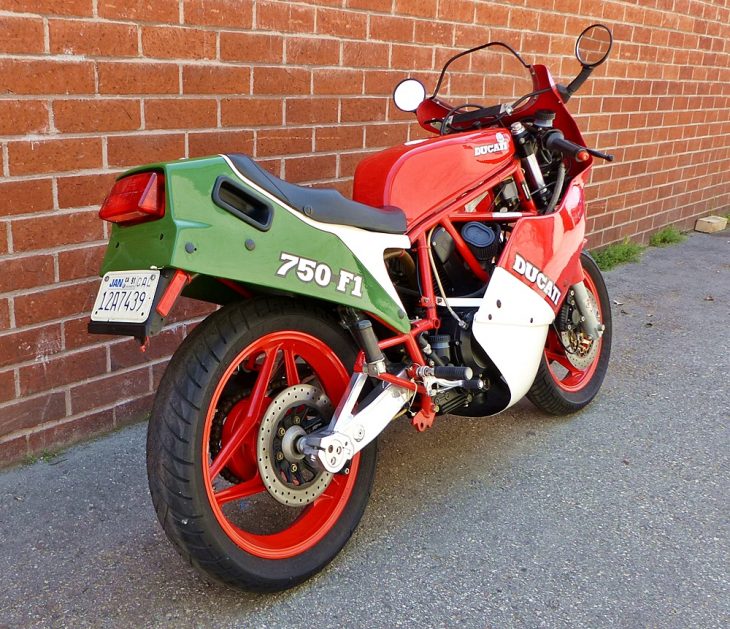 With single overhead cams driven by new-fangled belts, the F1 looked toward the future, but its 76 hp had only a very minimal sportbike to push around.  The steel trellis frame supported the engine from above and the fuel tank rested on top, fuel flowing into 36mm Dell'Orto carburetors.  Right-side-up 40mm forks are up front, with single monoshock behind.  Brakes are single piston calipers with 300mm front disks, and 280 mm rear.  Super light before it was a trademark, the fiberglass endurance fairing and seat console are wrapped in the tricolore.
Offered by an eBay store that has a few bikes but appears to concentrate on motoring collectibles, this 750 F1 looks the part.  It looks super-clean and substantially correct, though sharper eyes will find more than the missing side cover and modern grips and mirrors that caught my eye.  The seller doesn't offer much history but says this in the eBay auction:
We are delighted to offer this special Ducati 750 F1

Just ONE OWNER with 3972 miles!

Rare to begin with: Where on earth can you find a reference quality example like this?

Much more exotic and exclusive than any Japanese bike of this era.

The F1 series are now getting the recognition they deserve for the super bikes they are. They do represent a good value in today's collector world….not yet, are they at the inflated prices of the 750 SS and 900 SS.
Though Ducati was in the middle of a rough patch when the 750 F1 was designed, they pulled through and went on to bigger and better desmos.  Without anything not required for the sportbike mission ( fun ! ) on board, the limited horsepower, handling, and braking were plenty.  Though the company did inevitably get dragged into the features and specifications arms race, the 750 F1 is revered for its attention to the basics.  And while it might get to a surprisingly high price before the reserve is met, this example appears to stay on message perfectly...
-donn