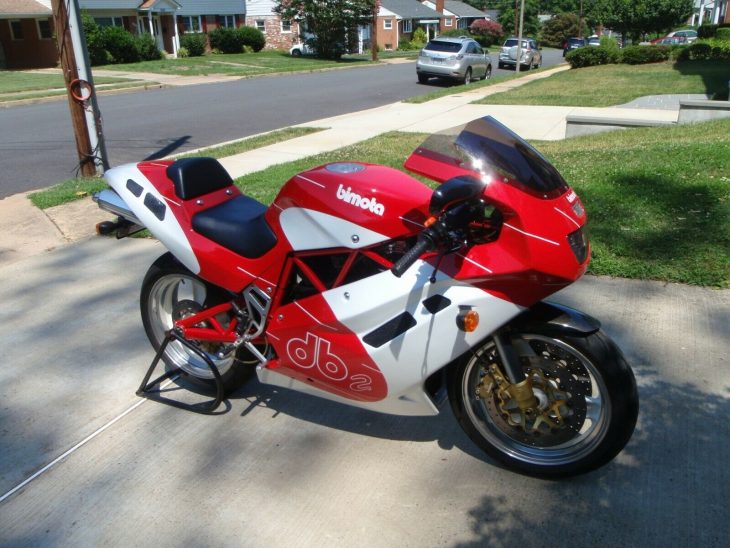 The Bimota DB2 is a bit of an odd duck [pun!]: the company's claim to fame was building high-spec, light weight, race-inspired sportbikes powered by Japanese engines. Those engines came from bikes that were overbuilt and often significantly heavy, so Bimota found a significant performance increase by building motorcycles as much as a hundred pounds lighter than the original machines that donated their powerplants. But Ducati, with a few exceptions, has always had the whole handling thing pretty much nailed, and the DB2 isn't much lighter than the Ducati 900SS that donated its engine to the endeavor.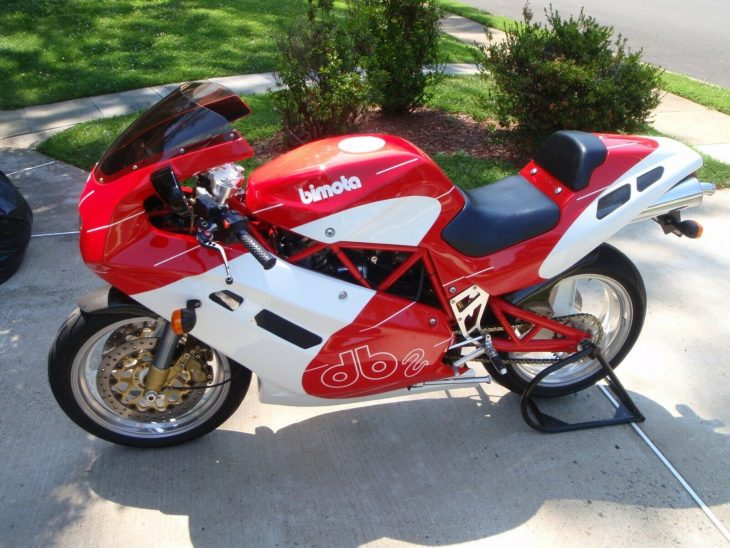 Bimota's naming system flies in the face of motorcycling convention. You'd probably think a Bimota SB6 would be powered by a 600cc engine. It's not. Instead, it's packing 1100cc of Suzuki heat. "SB6" means the bike in question is the sixth Suzuki-powered Bimota. The number has nothing to do with displacement. Because Italy. The original Ducati-powered DB1 proved to be a big seller and, at around 600 units, qualified as nearly volume production.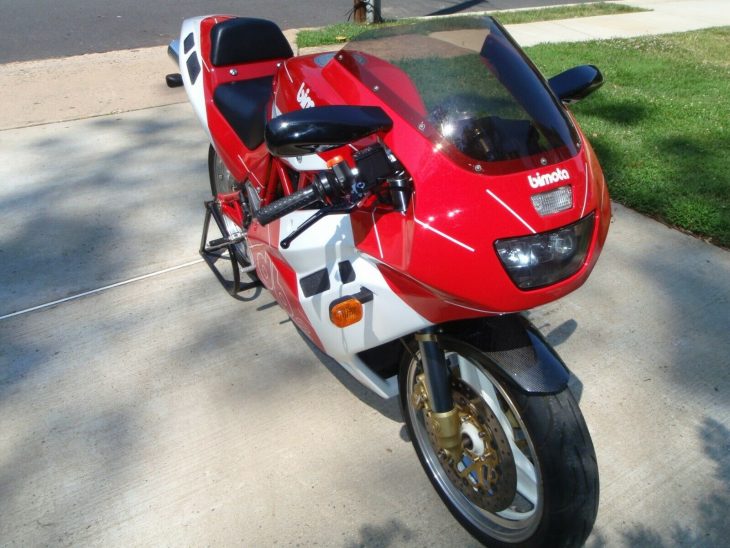 Luckily, the DB2 was a bit lighter than the 900SS at a claimed 373lbs dry. The one-piece tank shroud and tail section was held in place by a few fasteners, and was wrapped around a plastic fuel cell, all of which helped keep things simple as well as light. It was powered by Ducti's 904cc air-cooled Desmodue v-twin from the 900SS that produced 86 claimed horsepower. That charismatic engine was suspended in a trellis frame similar to the original Supersport unit, matched to a sexy tubular swingarm, with stout Paioli forks and an adjustable Öhlins shock out back.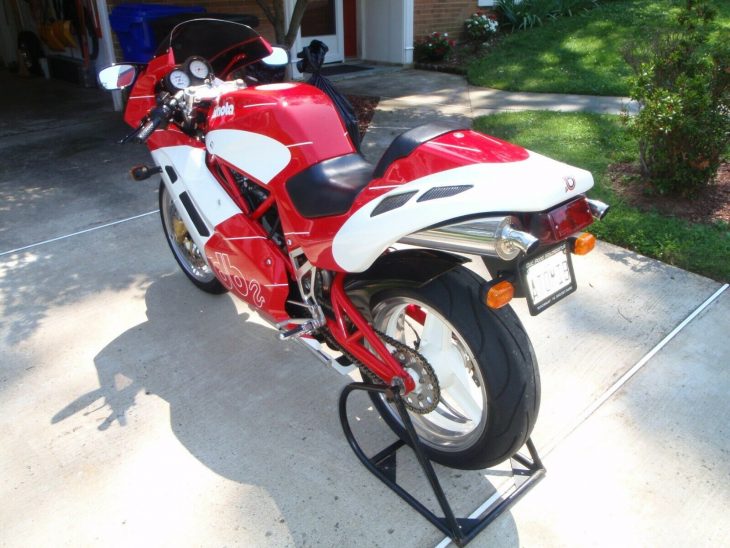 From the original eBay listing: 1993 Bimota DB2 for Sale
1993 Bimota DB2 VIN#ZES1DB21XPRZES018. 408 DB2s were manufactured and this is one of the 285 full-fairing models. I purchased this bike in 2014 and have put less than 1,000 miles on it since then. After picking it up it was fully serviced by DucPond (Ducati Winchester, VA) with valves, belts, fluids and a new clutch basket and plates. Most recently in Feb 2020 it was back for belts and fluids at DucPond. Bike has the air cooled Ducati 2 valve motor in it. This is a very light bike with remarkable handling and great brakes – only bike I have ridden with true floating front discs. Reliable, easy to work on and tons of options available for it. It runs strong and pulls very nicely.

Everything works on the bike. The low fuel level light comes on and off regardless of the fuel level – common to these bikes I think. If I was keeping it I would put fresh tires on it (the ones on it are past their shelf life); change the brake fluid again; and replace the blinker relay with an adjustable one (they blink too fast). Bike charges fine and has a newish battery in it. No warranty expressed or implied – it is 27 years old, but I would happily ride this bike anywhere. As a 27 year old bike it is not perfect and has a few flaws which I have tried to highlight in the pictures. The paint is probably as good as the factory, but has blemishes in it. Clear title in my name.

Not on the bike but included are the steering dampener and original airbox. It comes with two sets of keys and the original books. Separately I have a lot of spares for this bike, that are not included with the sale here but I will consider a good offer on them from the purchaser of the bike. Bike shows 1978 miles and if the below is correct, then total mileage would be about 5,000 miles.

Prior to my ownership what the previous owner stated (these are not my words). There is a letter in the paper work indicating acceptance of the bike as a gift.

"This motorcycle was completely restored in 2001 when it had approximately 3000 miles and donated to the Larz Anderson Transportation Museum in Boston, who elected to auction it to focus on their older collection of pre-war cars.

Enhancements performed in 2001:

"944cc big bore kit, stainless steel engine studs, carburetor jet kit, new timing belts, carbon fibre belt covers, braided brake lines, polished wheels, mufflers, intake manifolds, new chain and sprocket, adjustable brake and clutch levers, tinted windscreen, Euro headlight, new speedometer and tachometer, painted frame."

Bike is located in Northern VA.
Bidding is very active on this example, which is no surprise considering it hasn't even cracked $10k yet. I have to be honest: the Bimota DB2 is one of my favorite Bimotas, but I'm not a huge fan of those graphics with their dripping paint/urban camo design. I'd happily live with them though, even in the garish white/purple [?!]/white scheme that was also available. It's one of the purest expressions of Italian motorcycling, a light, nimble machine with striking looks and just enough power to be fun. The DB2 is easy to run as well, at least as far as the two-valve Ducati engine is concerned. Don't be put off too much by the scary Italian reputation: a well cared-for Desmodue is good for 100,000 miles or more, and servicing isn't all that expensive, or difficult for a handy home mechanic.
-tad