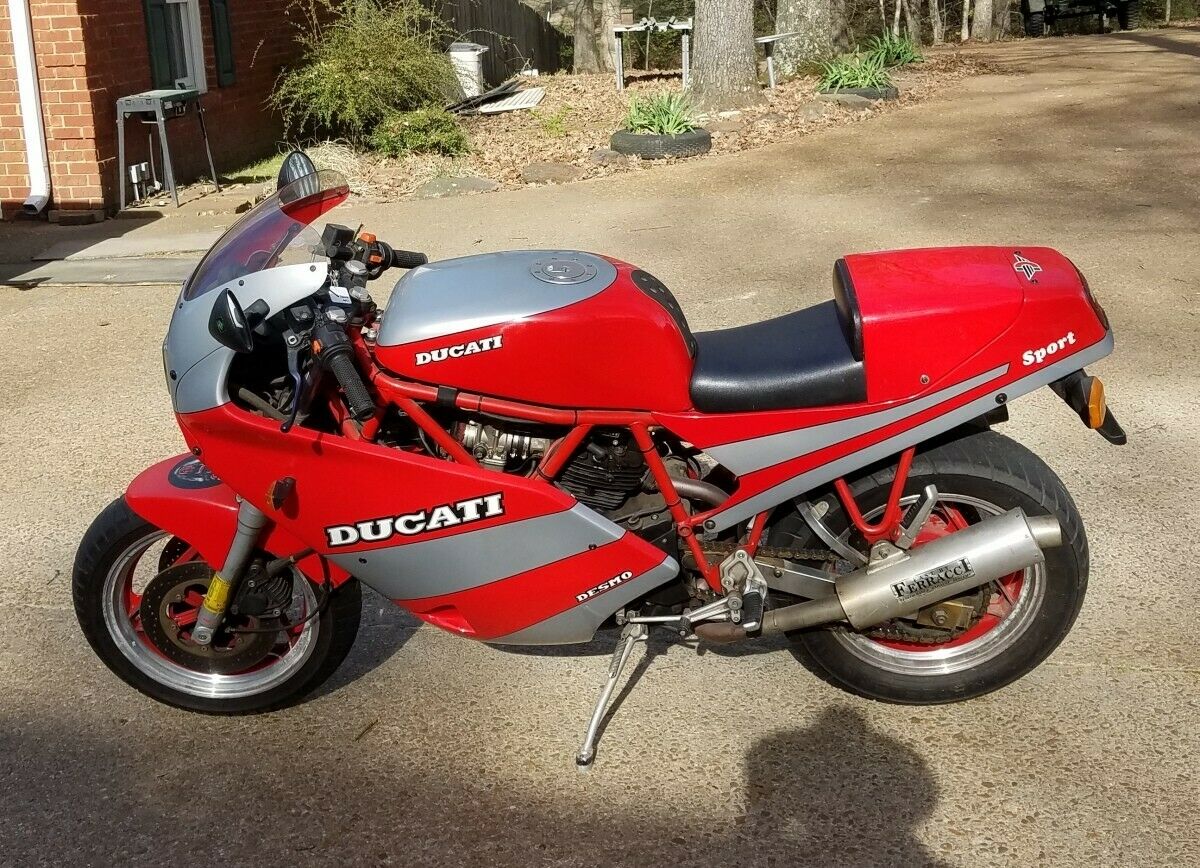 The writers here at RareSportBikesForSale have been accused of bombarding readers with Ducati's line of air cooled SuperSports.  The first generation 900SS has been featured many times, and for good reason.  They offer a wonderful handling package that makes and absolutely amazing sound.  Neither the buy in price nor the upkeep is eye watering.  The overall ownership experience is rather appealing.  If the 900SS simply feels too common for your, the often overlooked 750 Sport might be just the ticket.
For a while these were insultingly referred too as the "poor man F1".  Sure the F1 might have more history but that does not mean the 750 Sport does not have something to offer, and on the classic market there is even more of a case to be made.  Low weight, simple mechanicals and classic styling just ooze fun.  The weekend enjoyment use case erases all care about ultimate specifications and performance.  This is a bike purchased on emotions.  Something to stand apart from the sea of modern sport bikes at the local bike night.
1990 Ducati 750 Sport

Starts instantly and runs strong. Always garage kept. All original body work, never dropped (Paint has a few blems and rock chips here and there, but overall is in excellent shape.) Original Ducati toolkit. Owned since 1999.

New battery last season. Oil change last week (Amsoil 20/50 motorcycle oil). Valves adjusted 1500 miles ago. New chain and sprockets around 2500 miles ago.

$1000 Fast by Ferracci pipes. NOTHING sounds better than this bike. Video: https://youtu.be/D279b8a0yDQ

Racetech springs installed in the front. Original progressive springs included with sale. Also with sale, two brand new 16" tires front & rear. (Front tire on the bike is ok, rear could stand to be changed, but is still rideable.)

Original carb was replaced by previous owner with dual PHM40mm Dell Orto carburetors. These were difficult to tune, but gave the bike incredible top end speed, but I wanted a little more power and acceleration from lower down in the RPM range, so I changed the 40mm's for 38mm PHM Dell Orto's. I feel these are a much better fit for the bike, without sacrificing much on the top end. (40mm carbs not included.)

Less than 1000 of these bikes made and under 350 believed shipped to the US.

I will help with shipping any way I can, but buyer is responsible for shipping. Cash on pickup, or Paypal payment only. Located just a few miles south of Memphis, TN.
No buy it now price, but there also seems to be no reserve.  This bike is from an era when all Ducati were rare as they simply did not mass produce them the way they do today.  New owner will want to perform full service as well as a decent wash before heading out on the road.  A fresh set of tires are included in the sale, the OEM 16in wheels have limited modern tire options.  Parts to keep this beauty going are available from  Ducati as well as a few well known aftermarket suppliers.