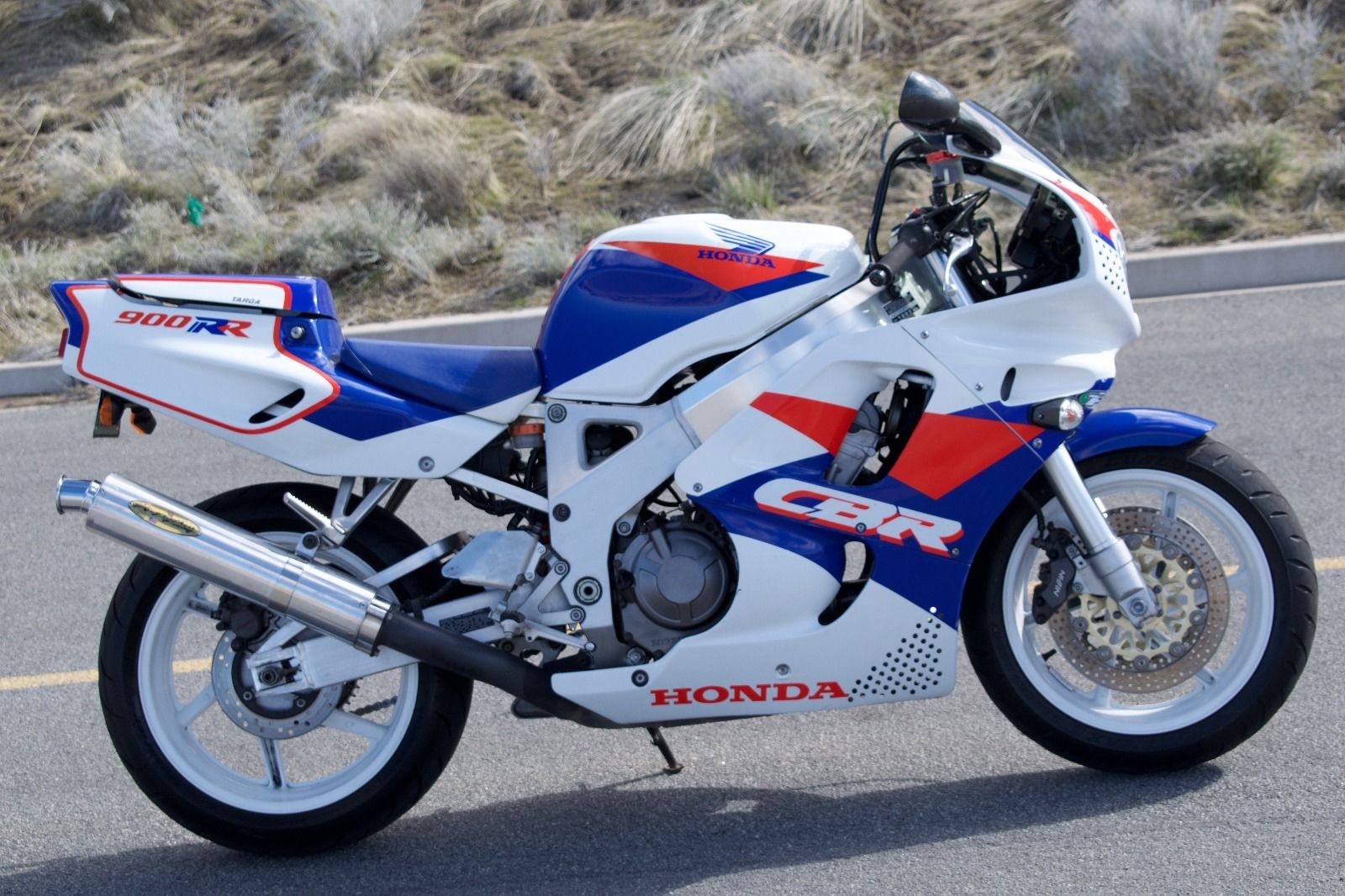 After a spate of Laverdas, Benellis and unobtainable Ducatis, this loved and used 900RR is a breath of fresh air. Here is a bike that begs to be ridden – and you CAN ride it because it is not a zero mile, museum quality garage queen. This is something mere mortals can own. And given that it is a first gen RR Honda, mere mortals *should* own one. At least once.
Created with the singular goal of mass centralization, the CBR900RR was essentially an upgraded CBR600 chassis stuffed with slightly less than a 1-liter powerplant. A true factory hot rod, this was literally the size of a middleweight – but punched in a much, much higher weight class than that. It may see a bit tame today in the eyes of 200 HP rockets from the Big Four and BMW, but in the early 1990s this was revolutionary. The CBR900RR was the poster child for the hyperbike. It was all about handling and speed, and the 900RR delivered. In time the line evolved to the 929RR and 954RR, but the bike that started the revolution was this one: the Honda 900RR.
From the seller:
This is a great example of a classic un-molested low miles fireblade.

Comes with a clear Nevada title in hand with keys ready to ride home today.

14k miles (if you aren't familiar with the 900rr they have legendary longevity when it comes to Japanese sportbikes look into it)

Also has original tool kit, original front turn signals, service manual, And also Original brake reservoir cover and matching tank cover (not shown in photos)

This is an absolutely iconic sport bike, and most consider this color scheme to be the most sought after of the bunch, It just has that look of the 90s. I won't toot its horn too much as I will assume most people know what it is.
The seller has included a video of the bike in question as well. You have been forewarned: jump to the 1:02 mark, or turn your speakers off. The canned music is truly horrible. Thankfully the video includes the bike running, which makes up for the first minute of torture:
This is a used bike that has some 14k on the odometer. Like most vehicles that are nearly 25 years old, this one has some minor aging issues. The seller notes the various items in the ad. The Two Brothers exhaust looks and sounds good. I'm not a big fan of the rear fender delete (or the saggy turn signals), but it looks like a pair of stock units are included in the sale; these look like the front stalks, so you might need to inquire about the rears. Other than that, this appears to be a pretty well-kept survivor.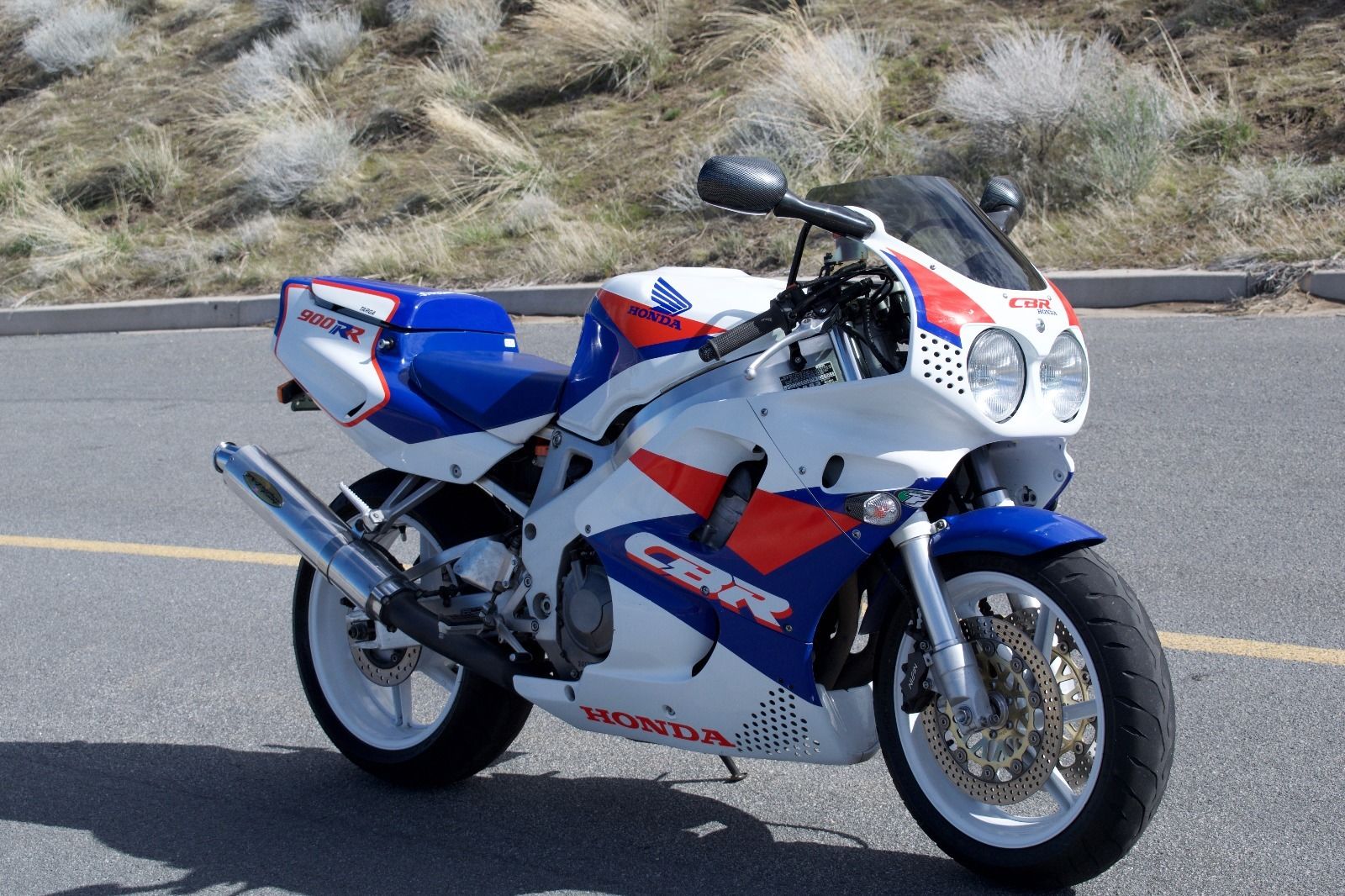 The best part of all of it is that this is a no reserve auction. Somebody is going home with a new-to-them motorcycle by the end of it all. Bidding is currently in the $3k arena at time of writing, and there are several days remaining before the gavel comes down. Bidding has been relatively active, which shows that there is interest in both this model as well as this price range. Check it out here. We do not see all that many first gen 900RR models, and when it comes to valuation these are likely the first to serious appreciate. Share your thoughts in the Comments section, and Good Luck!!
MI