Location: Wausau, Wisconsin
Miles: 3,362
Price: Currently $2,385 with Reserve in place
Update 3.12.2012: Originally posted in September 2011, this bike is back on eBay. Links updated. -dc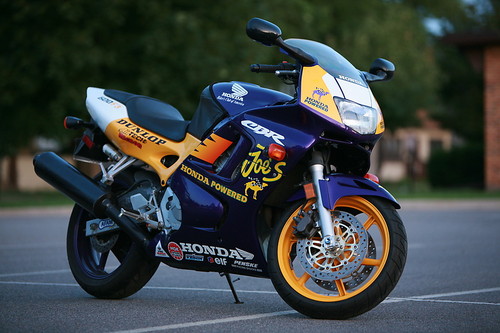 Oh how I love race replica bikes. Especially ones that feature the sponsorship of big tobacco companies such as this Lucky Strike RGV250SP and this Marlboro Yamaha RZ500 replica featured recently on the site. Ok, so maybe plastering a harmful product on the side of a bike isn't the most politically correct thing, but that is exactly why I dig it! And this CBR600F3 is definitely a reminder of days gone by.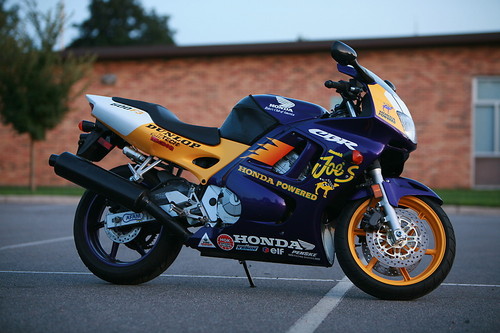 This Smokin' Joe's CBR600 sure appears to be in very good shape for a 14 year old bike. The seller does state that there are a couple small scrapes from rubbing against a brush while moving it and some black plastic pieces are a little dull from age. However, the bike is completely original, even down to the tires. Obviously if you wanted to ride this particular bike, a fresher tire would be recommended.
More from the seller:
" For sale is my 1998 Honda CBR 600 F3 Smokin Joes Special Edition with only 3362 Miles. To my knowledge there were only 500 of these bikes produced in the USA. I may be incorrect on this but the last 3 digits of the VIN are supposed to represent the number of the bike made. For this bike it is 214, which should mean this is #214 of #500 produced. This is a very sharp looking bike which I have rarely driven. I have owned this motorcycle for 10 years and it is just time for a change. The bike has never been modified and is completely original. I bought this bike a while back because I loved the looks of it. I ended up loving my car a little more so I never drove this much. I never wanted to part with it because I liked the way it looked. I drove it once every spring, once every summer and once every fall to make sure it was running fine. The bike was professionally tuned up twice and currently has a brand new battery that is just a couple months old. The bike was stored in a garage for the summers, once and a while I would keep it outside. In the winter it was stored in a garage a couple years but most of the time it was in heated storage. The bike was never laid down but it did rub up against a brush once while moving it. There are a couple minor scratches on the right side of the bike. Nothing major but they are there. The only other thing wrong with the bike would be a few pieces of black plastic trim look a little dull after the years have gone by. Other than the couple minor scratches, everything on the bike is in excellent condition. It would be what you expect for a bike with only 3362 miles on it. Most of these bikes have been crashed or parted out so the real number left is much less than produced. I would find it extremely hard to find another smoking joes bike in this condition with this low of miles. The bike always ran premium gas and the tank has the signature of Miguel Duhamel which was the driver of the race bike that this bike is modeled after. I took a photo of the front and rear tires. They are still the original tires, show a little weathering from being original but they still have tons of life left on them."
Sure the F3 isn't the highest performing bike by today's standards with 105hp and weighing roughly 420lbs. But finding a clean example of an F3 is becoming difficult and the Smokin' Joe's replica is even harder to come by. Bidding is active (up to $2,385), but with reserve still in place. And no, "Camel Cash" probably isn't an acceptable form of currency. Place your bid on this 1998 CBR600F3 Smokin Joes Edition here!
-JS