A poet once wrote that in the spring a man's fancy lightly turns to thoughts of love.  Fortunately for us here at RSBFS, spring is also the time when some nice bits of unobtainium start to appear for sale and here is one such example; a 1996 Kawasaki ZX7RR N1.
The ZX7RR was built to meet homologation requirements and was quite a different beast from the standard Kawasaki ZX7 machine.  Also known as the N1, the 750cc Kawasaki came with lots of track-oriented pieces such as an adjustable steering head, upgraded front forks, larger flatside carburetors, an upgraded rear shock, a close-ratio gearbox, 6 piston Nissin brakes instead of the standard Tokico, lots of carbon fiber bits (including an airbox) and no passenger pegs or seat.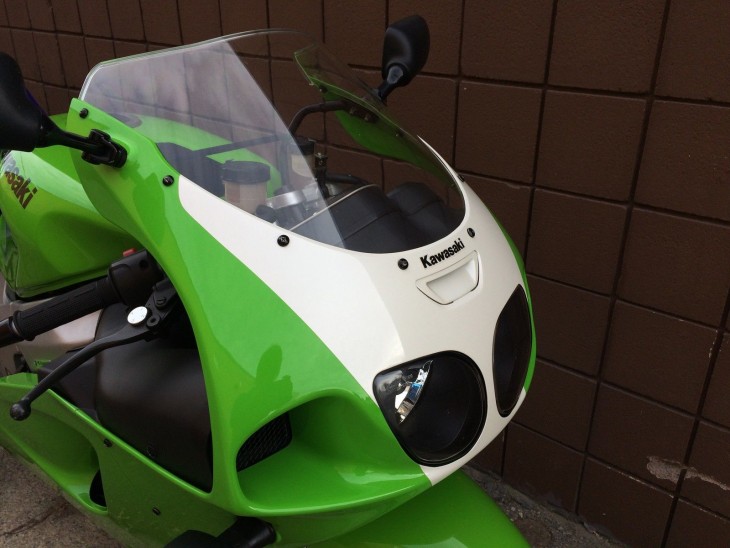 Its not really surprising Kawasaki only built about 1000 units of their street legal racer (this low production number was the minimum required to meet requirements for use in Superbike racing).  500 were designated for the USA with another 20 going to Canada.
NOTE:  Interested buyers in the US may want to check whether this is a US or Canada designated bike and if there are any import restrictions/requirements.

This particular ZX7RR looks to be in truly excellent shape, especially given that it is a 20 year old bike this year.  There do seem to be a few bits of non-OEM/aftermarket, including the exhaust, chain and a few mudguard stickers.  Also the reflectors seem to be missing off the lower fairing join screws but other than these items, the bike looks to be complete.
Here is what the seller has to say:
in great overall condition.
has just over 16,300kms/10,150 miles on it
has been regularly maintained
recent new spark plugs and air filter. I
close to all original condition aside from a chain/sprockets, stainless steel braided brake lines and a titanium Akrapovic full exhaust system
Its nice to see that the seller avoided some of the late 1990's trends such as chopping the rear mudguard, aftermarket mirrors or bar end weights and/or replacing the turn signals with flush mounted units.  I  do wish the seller had posted pics of the odometer and there is no mention of tire condition or ownership history which is a bit of a concern.  Still this is a really nice example of a pretty rare bit of late 1990's sportbike history.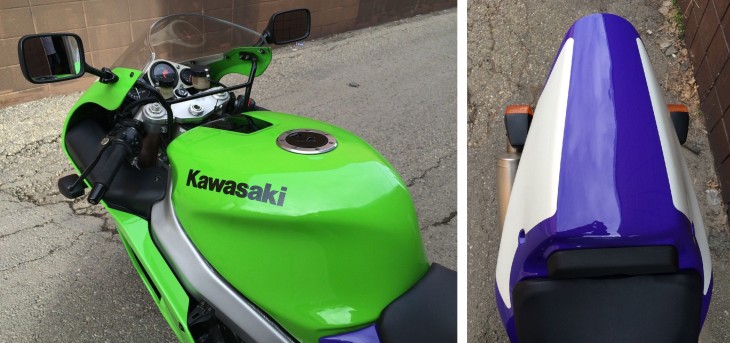 What is this lovely bit of late 1990's homologation history worth?  Well prices for these seem to vary depending on whether the bike was ever raced.  A search through RSBFS previous posts seems to show street versions with an opening bid of around $6000 a few years ago, although we did see a basically New-Old-Stock/NOS be bid up to over 17,000 USD last year.
Given the condition of this one and the location, I would expect reserve prices to be around $8000 USD but I wouldn't be surprised if it goes for over $10,000 USD.  I do think this one will attract both collectors and nostalgia-oriented riders and will probably move fast if the seller is accepting bids outside of ebay.
-Marty/Dallaslavowner