It's apparently time to sell yellow Super Lights this month.  Number 827 is currently looking for a new garage to call home.  This one has a Canadian accent and has been breathed on a bit.
What's the story you ask?
Up for sale is my Limited Edition 1993 900SS Superlight Mk1.  Bike # 827 out of 952 units produced worldwide with only 300 sent to the USA.  This is the geniune article and the most desirable of the Superlight that came to North America.  Only the Mk 1 bikes came with a full spectrum of upgrades directly from the factory that include full floating Cast Iron front disc brakes, Two piece Marvic/Akront 17″ Rims, Vented Clutch Cover, Carbon Fibre Front Mudguard and Rear Hugger, Carbon Fibre Slip-On Exhaust.  In addition to these very desirable factory exotic parts, the motor on this bike has been upgraded with High Compression 944 Big Bore Pistons fueled by a pair of Kehin flat side Smooth Bore Carbs.  Ohlin Front Fork Springs, Ohlin Steering Damper, Oberon Clutch slave Cylinder, Upgraded Master Cylinders with Aluminum Caps, Billet Aluminum Rearsets, Carbon Fibre Dash, Leather Corbin Seat, Zero Gravity Tinted Windshield, brand new Prirelli Corsa Tires and much more.

This is a bike that has been totally sorted out with an impressive array of performance upgrades and improvements over the stock bike.  This bike rewards riders who appreciates mechanical perfection; you would want to ride this one and not just admire her beauty.  The body work on the bike is a 9.5 out of 10 and the bike has been maticulously maintained and tuned.  This is the fastest air cooled 900SS I have ever ridden and she runs, sounds and handles as good as she looks.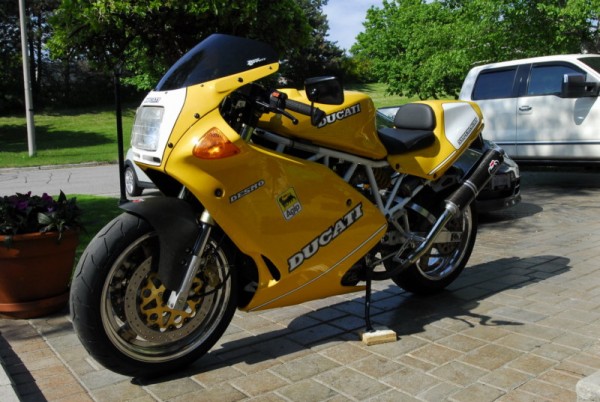 Help me out Ducatists;  I keep reading that only the 1992 (MK1) Superlights had the cast iron brakes, vented clutch cover and two piece Marvics yet it seems every 93 (MK2) I see has them as well.  Did North America get them a year late?
Hmm, it doesn't weigh much at all and it has  more go compared to stock.  That should make for a lot of smiles on a twisting road.
Sign me up;  a limited edition, light weight, some extra go and classic Ducati styling.
Ian